It's January 9, 2007.
Steve Jobs just introduced a revolution in cell phones to the world. He called it the iPhone…
And the smartphone as we know it was born.
In the 14 years since, not much has changed when it comes to the core smartphone technology. Apple (NASDAQ:AAPL) has released new iPhones with bigger and better screens, higher quality cameras and other high-tech capabilities. And other phone manufacturers have jumped on board to release similar models to compete.
But only now is the next revolution in smartphone technology starting.
Believe it or not, Apple isn't leading the game here. Another major smartphone is preparing to release its third iteration of the next-generation technology.
And its main feature is something that's only just starting to break into the mainstream…
Samsung is working to add a third type of foldable phone to its lineup. That's right … foldable.
I'm not talking foldable like the old flip phones that opened and closed on a hinge — with a screen on one side and buttons on the other. I'm talking about an honest to goodness smartphone that can fold into pretty much whatever device you need.
Tech giants like Apple and Alphabet (NASDAQ:GOOG, NASDAQ:GOOGL) have plans to release foldable smartphones in the coming years, but Samsung is way ahead of the game with two models already available for purchase — the Galaxy Z Flip and Galaxy Z Fold.
Now, it's working to add a third option. The new smartphone will be a double-folding model with two hinges and three segments. According to reports, the phone could be unveiled by the end of this year alongside new models of the Galaxy Z Flip and Fold phones.
While sources say the design is still being finalized, the screen is believed to have a more standard aspect ratio — think about your 16:9 wide-screen TV — that is better for videos and makes it easier on app makers when designing new games.
Here's a look at what the phone is expected to look like: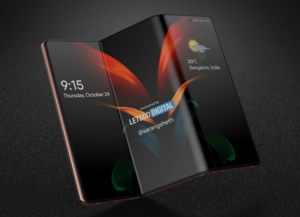 As cool as that device looks, it could look almost primitive when compared to the phones and displays we will have at the end of the Roaring 2020s.
It sounds kind of crazy, but I first wrote about foldable phones more than a year ago after getting a taste of them at the huge Consumer Electronics Show (CES) in January 2020. I was skeptical at first, but they turned me into a believer.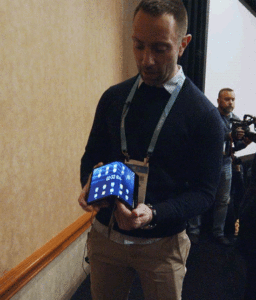 Foldable smartphones — like the one pictured above — are designed to bring even more convenience to people juggling multiple mobile devices. They can literally fold into and out of virtually any device as effortlessly as folding a piece of paper.
Say you're texting a friend and they send you a highlight from last night's game. You can unfold your smartphone into a tablet to watch it on a larger screen. Ready to go for a jog? Fold it back into a smartwatch and bring it with you. When you're done, unfold it into a laptop to finish off the workday.
That may be a bit further into the future, but the possibilities are endless. So it's no surprise that they world's largest smartphone makers are scrambling to bring these phones to market.
Of course, the new phones have their doubters. Just like the first iPhone did back in 2007.
Microsoft's (NASDAQ:MSFT) CEO at the time, Steve Balmer, rejected Apple's new smartphone initially. In an interview with Bloomberg, he laughed off the idea, saying it would never sell because of the high price tag of around $500.
Jim Balsillie, the co-CEO of Blackberry (NYSE:BB) maker Research In Motion, described it as "one more entrant into an already busy space with lots of choice for consumers."
And Nokia (NYSE:NOK) Chief Strategist Anssi Vanjoki said the iPhone would remain a niche product.
Well, we know how that story ends…
A similar opportunity to gain market share and dominate the next-generation smartphone field is cropping up today.
And this time, major smartphone makers are diving in headfirst. Smart investors should be, too.
A very small percentage of the world's population is currently using foldable phones, but we will ultimately see 3.2 billion smartphones being replaced by foldables. And I predict the industry will grow in a few years to reach a $13.9 billion market!
Many investors are taking a conventional route to gain from foldable phones' success. They're looking at the obvious plays — the phone manufacturers like Samsung, Apple and LG.
But not us.
Instead, I believe that the perfect strategy for investing in the coming foldable phone craze lies elsewhere — in the "picks and shovels" companies that make the "guts" of these next-generation phones.
Back in 2007, after Apple released the iPhone, a number of its suppliers hit it big. Semiconductor producer Skyworks Solutions (NASDAQ:SWKS) is up 24X since 2007.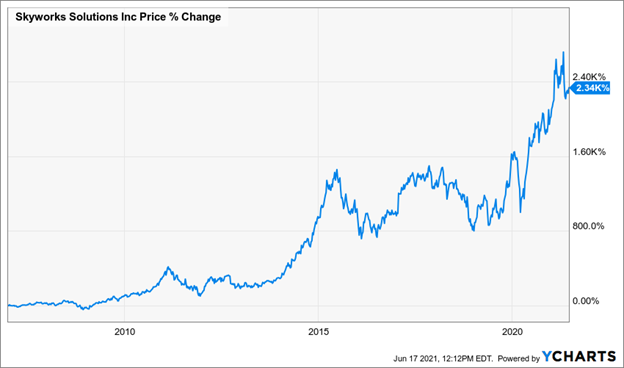 And Cirrus Logic (NASDAQ:CRUS) — a maker of audio, voice and haptics products — has climbed nearly 11-fold since 2007.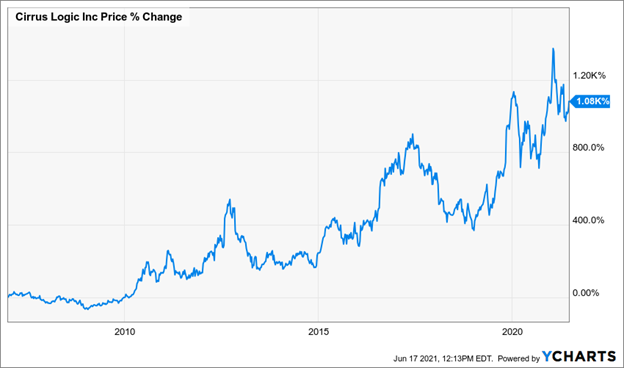 We can make money in a similar fashion with foldable phones.
The biggest change between future smartphones and the ones we have now is the bendable screen. Without that technology, foldable phones are impossible.
That's why I see such big opportunity in the select companies responsible for making the foldable displays. And it's why I've created a portfolio of four such stocks in my Investment Opportunities newsletter.
Click here to get the names of these companies and learn how to cash in on the biggest smartphone breakthrough in a decade.
It's still early, and that's the time to get in for the biggest profits.
On the date of publication, Matthew McCall did not have (either directly or indirectly) any positions in the securities mentioned in this article.
Matthew McCall left Wall Street to actually help investors — by getting them into the world's biggest, most revolutionary trends BEFORE anyone else. Click here to see what Matt has up his sleeve now.