Fact: When interest rates rise, you need to be in dividend-growth stocks.
Proof: They've handily beaten the S&P 500 in the 17 months since the Federal Reserve put the zero-interest-rate era on ice.
In just a moment, I'll show you 2 terrific off-the-radar dividend-growth plays to snap up now—and 2 surprising blue chips you'll want to keep well away from your nest egg.
First, take a look at how the iShares Core Dividend-Growth ETF (NYSEARCA:DGRO) has performed vs. the SPDR S&P 500 ETF (NYSEARCA:SPY) on a total-return basis since December 16, 2015, the day Janet Yellen raised rates for the first time in nine years.
The Dividend-Growth Edge in 1 Chart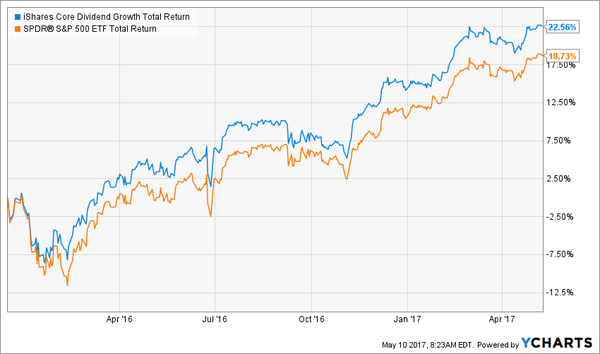 This is exactly why dividend-growers must hold pride of place in your portfolio: their rising payouts yank in buyers. And when the market takes a swan dive, you get some nice downside protection, as most folks keep a death grip on their favorite dividend growers no matter what.
You can see that in DGRO's climb, which is smoother and steadier than SPY's.
Most first-level investors stop here and pull the trigger on DGRO. Too bad that's the first step to leaving money on the table—potentially a lot of money.
ETFs: Resist the Siren Song
After all, why wouldn't you buy DGRO when the fees are a pittance, at 0.08% of assets, and the portfolio seems nicely spread out across the major sectors, adding a nice margin of safety?
An Attractive Portfolio—but Look Deeper


Source: iShares
Oh, and with a price-to-earnings (P/E) ratio of 20.7, DGRO's portfolio still trades lower than the S&P 500, at 23.8.
So what's not to like? Quite a bit, actually.
Let's take that P/E figure first. Even though DGRO's overall ratio is less than that of the benchmark index, the fund is still going to hand you some overbought names mixed in with the bargains.
That's a major pitfall of passive investing, as my colleague Michael Foster wrote in an article back in February.
Take Microsoft Corporation (NASDAQ:MSFT) and Exxon Mobil Corporation (NYSE:XOM), two stocks on my "avoid" list right now.
Microsoft, DGRO's No. 2 holding, sports a nosebleed P/E of 30.1 after running up 34% in the past year. The software giant also pays out 65% of its earnings as dividends, which doesn't mean it's about to sideswipe us with a dividend cut, but it could weigh down payout growth, especially if earnings take a hit.
No. 3 holding Exxon is far worse, with a P/E of 34.4 and a payout ratio of 125%. That's right—the oil giant is paying more in dividends than it's earning!
Where's it getting the cash? It's borrowing it, of course. Take a look at what's happened to Exxon's long-term debt in the last four years.
Exxon's Debt Hangover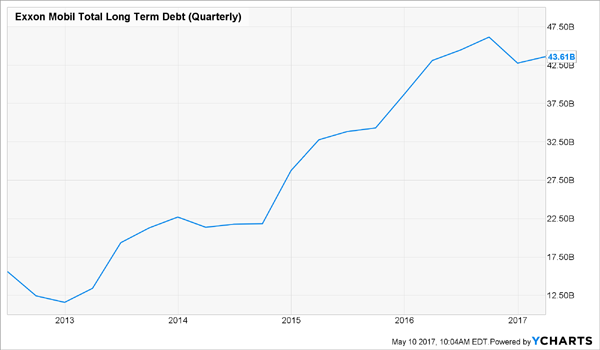 How We'll Beat the Passive Crowd
I'm not saying these two holdings will take down DGRO—not even close. But I am saying that with a bit of research, we can kick out pricey dividend laggards like MSFT and XOM and position ourselves for bigger gains and more income than folks who simply buy a dividend-growth ETF and call it a day.
Here are two off-the-radar buys I've turned up the "old-fashioned" way, zeroing in on bargain valuations, safe payout ratios, rising earnings and sterling dividend-growth histories: