Fears Surrounding Tesla's Viability
That's not to say that Tesla isn't without faults. From a gut reaction, shares are pricey. After all, Tesla stock was trading for around $30 a pop four years ago. At well over $200 today, that's a big percentage and psychological jump. Naturally, investors will question whether they've missed the boat.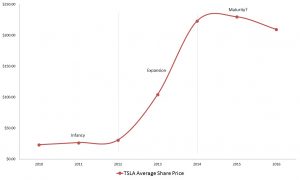 Click to Enlarge Drawing up a long-term technical chart of Tesla stock does not help matters. When assessing the publicly traded history of TSLA stock, you can't help but notice a sharp resemblance to the business S-curve.
In short, the S-curve is a graphical representation of the three main phases of a business or industry — infancy, expansion and maturity. The concern here is that Tesla stock has gone through an accelerated version of the S-curve, and is now sitting in the maturity phase.
Adding to those fears are the financials. Let's be honest — they don't look great. Free cash flow is always running in the red, profitability margins are stressed and Tesla stock is overvalued against forward earnings. Short interest for TSLA stock has also increased significantly since the second-half of this year.
Finally, as awesome as these folks are, they're not immune to making dumb mistakes. The buyout of SolarCity is an embarrassing example.
Moving Forward With Tesla Stock
Listen — Tesla stock isn't for everybody. But I'd like to leave you with this last statistic. Presently, everyone is talking about the EV revolution — which TSLA helped catapult — as if it's unprecedented. Yet the market penetration for EVs is only 3%. The mass excitement centers around forecasts calling for 7% penetration by the year 2020.
That's nice, but that's just scratching the surface. Assuming the forecast is accurate, that's only a quarter of what was achieved in 1900. With technology advancing at a clip rate, it's more likely than not that TSLA will end up on the right side of history.
The bottom line here is to not let the bumps in the road dissuade you from Tesla stock. It's risky, it's pricey, but it has all the right components working in its favor.
As of this writing, Josh Enomoto did not hold a position in any of the aforementioned securities.