You wouldn't know it by March's jobs report, but U.S. consumer confidence is pretty high at the moment.
On the surface, the Bureau of Labor's March jobs report was a disappointment with only 98,000 jobs created last month.
However, if you take out the retail industry, which is going through severe job reductions and store closures as a result of increased online sales and some particularly bad weather, the report's not nearly as jaw-dropping.
In fact, the unemployment rate hit a 10-year low of 4.5%. Say what you want about the true unemployment number, but a majority of the country is feeling good and that usually translates into spending.
How good are things?
The Conference Board said at the end of March that its consumer confidence reading jumped from 116.1 in February to 125.6 in March, well ahead of the expected decline to 114. Consumers, according to the Conference Board, haven't been this confident since 2000.
Who benefits most from high levels of consumer confidence? Consumer discretionary stocks, that's who.
For those who agree consumer confidence is high, these three high-profit stocks to buy will make you money in the months ahead.
High-Profit Stocks to Buy: Royal Caribbean Cruises Ltd (RCL)

It's not too late to get on the cruise bandwagon despite Royal Caribbean Cruises Ltd (NYSE:RCL) being up 19.5% year-to-date.
In fact, if you don't like RCL stock you can always take a look at two of its competitors — Norwegian Cruise Line Holdings Ltd (NASDAQ:NCLH) and Carnival Corp (NYSE:CCL) — because they're also handily beating the S&P 500 in 2017.
As consumers become more confident about their jobs and economic future, travel is one area where people willingly open their wallets.
If you look at Royal Caribbean's latest fiscal year, you'll see that business is booming at the cruise line and it will continue to do so. RCL's adjusted net income in 2016 was $1.31 billion, 22.4% more than a year earlier on $6.1 billion in revenue. Its operating margins in the past year improved 960 basis points to 24%. You can expect those to continue.
The company's outlook for 2017 is for net yields (similar to hotel occupancy rates) to increase by 4%to 6% on a constant currency basis, higher than the 3.9% increase in 2016. By most valuation metrics such as price-to-earnings and price-to-sales, RCL is a much better value than the S&P 500 on the whole.
I see it running much higher for the remainder of the year to blow through its all-time high of $103.40.
High-Profit Stocks to Buy: NVR, Inc. (NVR)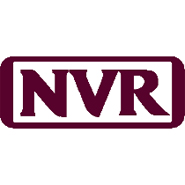 Nothing says consumer confidence like rising home sales. Things are so good in homebuilding right now that the S&P SPDR Homebuilders (ETF) (NYSEARCA:XHB) had its best quarter in more than two years up 7.8%.
It's not in the XHB's top 10 holdings, but I like NVR, Inc. (NYSE:NVR) just the same.
The Virginia-based company builds homes in 14 different states and 29 major metropolitan areas in the U.S. including Washington D.C. It is one of the largest homebuilders in the country.
In fiscal 2016 it had 15,583 new orders for homes, 10.7% higher than a year earlier at an price of $386,400, 2% higher year-over-year. All four regions where it builds homes saw increases in the past year.
It also has a mortgage banking business that generates fees for getting its home buyers mortgage loans. It's very profitable and growing. In 2016, it earned pre-tax profits of $60.6 million from $4 billion in mortgage loan originations, 13% higher than a year earlier.
With a backlog approaching 7,000 homes at an average price of close to $400,000, I expect good things to come for NVR stock in the months ahead despite being already up 24% year-to-date.
High-Profit Stocks to Buy: Ulta Beauty Inc (ULTA)


Formerly known as Ulta Salon, Cosmetics & Fragrance, it changed its name to Ulta Beauty Inc (NASDAQ:ULTA) earlier this year.
A rapidly growing and highly profitable business that seems to have hit the sweet spot in women's specialty retail, it combines the sale of beauty products with a full-service salon under the catchphrase "All Things Beauty. All In One Place".
Consumers have gone from wanting lots of stuff to wanting unique experiences. In the case of ULTA, its stores remind me of Starbucks Corporation (NASDAQ:SBUX) where people go to what they call a "third place" that represents somewhere to hang out that's neither your workplace or your home.
As consumer confidence rises, ULTA will see its market share in both the $74 billion beauty products and $53 billion services markets increase — it currently has 6% of the U.S. beauty products markets and less than 1% of the services market — and that will drive profits even higher.
In fiscal 2017, ULTA expects comparable store sales to grow at least 8%, e-commerce revenues to increase by 40%, open 100 net new stores and earnings-per-share growth of at least 20% over 2016.
I haven't seen a retail concept this unique since I first learned about Tractor Supply Company (NASDAQ:TSCO) back in 2008. I've been a fan of ULTA stock for many years, but now it's hitting its stride.
Of these three high-profit stocks to buy, my best bet would be ULTA, but with consumer confidence rising, I think all three of them to do well.
As of this writing, Will Ashworth did not hold a position in any of the aforementioned securities.