Vanguard International Dividend Appreciation ETF (VIGI)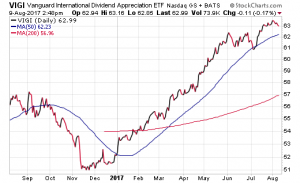 Click to Enlarge If you love VIG, then it's time to get to know its international cousin in Vanguard International Dividend Appreciation ETF (NASDAQ:VIGI). This low-cost index fund is one of the newer Vanguard ETFs with about 18 months of track record under its belt.
Over that time frame, VIGI has managed to accumulate $425 million in total assets as the tailwind of a falling U.S. dollar and attractive valuation comparisons bolster the case for international stocks. The reasonable 0.25% expense ratio doesn't hurt either.
VIGI owns 245 foreign stocks with a history of dividend increases. The international exposure includes both developed and emerging market components to support a wide swath of large and mid-sized companies outside of the United States.
A fund like VIGI could potentially be used as a core or tactical international holding to augment traditional domestic equity holdings.
For those investors who prefer currency-hedged international stock exposure, take a look at the WisdomTree International Hedged Quality Dividend Growth Fund (NYSEARCA:IHDG) as an alternative.