Today's parents of school-aged children will undoubtedly notice a distinct difference between what "back to school" shopping meant when they were kids and what the late-summer retail season means now.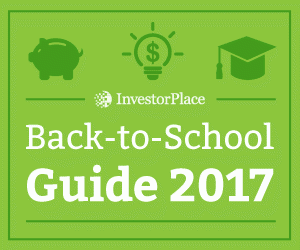 Then, school shopping was a three-day melee at your local J C Penney Company Inc (NYSE:JCP) store and the nearest location of a Wal-Mart Stores Inc (NYSE:WMT) unit.
The back-to-school bump for the obvious retail stocks came and went in August, and then the whole event was put in the rear-view mirror until the next year.
Now, the back-to-school shopping season not only doesn't nudge retail stocks in the way it used to, it's also not clear which companies are the true beneficiaries of any spending during back to school.
With that as the backdrop, here's a closer look at the biggest ways school-shopping has changed, and how investors may want to change their strategy should they choose to make a play on the consumerism swell … if there still is one.
The Amazon Effect
There's no need to pretend there's not an 800-pound gorilla in the room. For the same reason it's caused trouble for most other retailers — by capturing ever-increasing levels of market share — Amazon.com, Inc. (NASDAQ:AMZN) is also one of the biggest disruptors when going back to school.
That's not to say the benefit of Amazon's reach only becomes evident in late August and early September, though. A closer look at this July's Prime Day hot deals included a healthy dose of school supplies. In fact, Prime Day was such a momentous event that it inflated U.S. retail sales in July to a seven-month high.
No industry, ranging from pencils to pants, has been immune to the effects of Amazon's dominance. "The Amazon effect" is even creeping into the apparel industry. Right now, Amazon claims about $3.4 billion of the apparel market's $200 billion, but Jeff Bezos & Co. are growing apparel sales at a 25% clip. With Prime Wardrobe looming, Amazon looks ready for war.
It's All Happening a Lot Earlier
Although the completion of the back-to-school shopping season still happens in the third quarter, it no longer happens in the latter half of the quarter. This may be an after-effect from the financial crisis and gas crunch of the mid- to late-aughts, as retailers and advertisers stepped up their efforts to put deals in front of cost-conscious consumers. Now, off the lows of the economic downturn, back-to-school deals are still forgetting to take the summer off.
For the same reason that Cracker Barrel Old Country Store, Inc. (NASDAQ:CBRL) already has its Christmas goods proudly displayed (yes, just a few feet away from its Halloween knickknacks), most retailers are offering school-centric deals in July and even as early as June. Just look at Prime Day, as mentioned above.
Even JCP and Office Depot Inc (NASDAQ:ODP) got in on the act, launching campaigns for back to school to piggyback off of Prime Day's success. Sure, that's still the third fiscal quarter for most companies, but for organizations that don't close out their quarter until the end of July, they may get their big revenue bump in the prior quarter.
The mass adoption of mobile shopping likely has had some effect, as mobile makes it more convenient than ever to shop. According to Adweek, 73% of parents of school-aged children use mobile for their school shopping, while 96% used smartphones to compare prices. No need to put off shopping until the last-minute when you can just throw stuff in your digital cart from your office chair.
Retailers Trying New Tactics
After losing out to Amazon for years — and perhaps seeing the writing on the wall — retailers like Walmart and Staples, Inc. (NASDAQ:SPLS) are finally wising up.
Walmart, for instance, is offering same-day pickup for certain school supplies ordered online, while Staples allows shoppers to compose school-shopping lists that store employees then pick and pack for consumers. Shoppers simply walk in, pay for all the pre-packed items and walk out.
That expected convenience is an extension of the mobile-shopping experience, as consumers have come to expect a certain level of ease while shopping. Few retailers understand this better than Amazon, which recently introduced a frictionless shopping store concept, Amazon Go.
A Categorical Shift
This year, spending on clothing and accessories is expected to make up 55% of family spending on back-to-school items. But with more schools sending home back-to-school lists, which allows parents to buy their supplies in one fell swoop, parents have more budget and time to splurge on tablets and laptops. And according to Deloitte's vice chairman, Rod Sides, the current "technology-based" school system breaks with traditional school supplies, like scientific calculators and graphing calculators. Computers have since taken their place and, in many high schools and most colleges, netbooks and notebooks are an outright requirement.
The shift bodes well for all computer companies, but there's one overarching winner — Microsoft Corporation (NASDAQ:MSFT), which makes the operating system found on most of the machines recommended by schools.
While Apple Inc. (NASDAQ:AAPL) and Alphabet Inc (NASDAQ:GOOGL, NASDAQ:GOOG) operating systems are used in plenty of classrooms, Windows is still the go-to operating system schools know they can count on.
Back to School: A Huge Opportunity
These are only a few of the major paradigm shifts that have taken shape over the years, and they're certainly not the only ones. Actually, there's one thing that hasn't changed at all …
… That is, back-to-school shopping is still a huge opportunity for retailers, and by extension for retail stocks. School-related spending accounts for about 17% of the retailing industry's revenue, making it second only to the end-of-year spending driven by holiday gift-giving.
It's just a question of who gets the most creative and the most competitive to earn that business in today's retail environment.
As of this writing, James Brumley did not hold a position in any of the aforementioned securities. You can follow James on Twitter.