Shares of International Business Machines Corp. (NYSE:IBM) haven't done too well this year, but that's not much of a surprise. The company hasn't grown its quarterly revenue in over five years, with 21 consecutive quarterly sales declines. Who's going to pay a premium for that? Since August though, IBM stock price has actually been on the move, climbing about 5% since the middle of the month. Are trends reversing?
That depends by what "trend" one refers to. The trend of IBM stock price might be improving. But I wouldn't say the underlying fundamentals are getting much better.
International Business Machines
Analysts expect the revenue slide to continue. Estimates call for a 2.7% decline this year and a further 0.2% erosion in 2018. Let's say that's true and it's spread out equally among each quarter. IBM shareholders would be in for six more quarterly sales declines. Although, the 0.2% decline in 2018 is admittedly as close to a bottom in sales as IBM's been in a long time.
Honestly, it doesn't get much better on the earnings front. Analysts expect just 1.2% growth this year and 0.6% growth in 2018. Operating margins continue to contract, now down about 25% from year-ago figures. On a trailing basis, they're the worst margins since 2009. Same story with free-cash flow, operating cash flow and total debt.
Is it any wonder shares trade at just 10.5 times forward earnings estimates? With rising debt, falling margins, five years of declining sales and earnings growth that's only stagnant because of the big buyback define Big Blue today.
Are there positives? The IBM stock dividend is one, which now yields 4.1%. The other is that IBM has a payout ratio of less than 50%, meaning it can continue to pay its dividend and even raise it should management decide to.
The IBM Way
Overall, the underlying business is struggling mightily and I'm wondering when CEO Ginni Rometty's plans will finally reveal any successes. The hope is that it's at least close to a bottom. IBM's been touting its supercomputer, Watson, for years now. It's failed to light a notable spark in the stock price or in sales. Will it ever?
Watson is a supercomputer geared toward A.I., a new wave of technology that almost everyone in tech thinks will be the next big thing. However, Nvidia Corporation (NASDAQ:NVDA), Amazon.com, Inc. (NASDAQ:AMZN), Microsoft Corporation (NASDAQ:MSFT), Alphabet Inc (NASDAQ:GOOGL, NASDAQ:GOOG), Apple Inc. (NASDAQ:AAPL) and seemingly every other big tech player is putting a focus on A.I. Can IBM really topple these companies and emerge as an A.I. leader? Doubts are justified, although it's possible.
Further, we recently covered IBM's potential in a new technology known as blockchain. Blockchain, the technology necessary for bitcoin and cryptocurrencies, is quickly making its way through big banks and how they process transactions. This could be a big potential for IBM, which some consider a leader in blockchain.
One could argue that IBM has dropped the ball with Watson. Will it do the same with blockchain? That's the worry with this emerging industry, too.
IBM Stock Price Forecast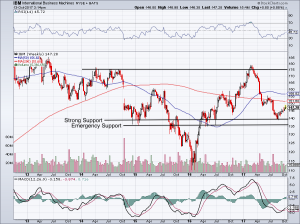 Click to Enlarge All the disappointment makes it hard to believe IBM will turn its woes around. Maybe it will, though. Buying now is a low-valuation bet that IBM can do just that. If it doesn't, many investors can likely bail without too much of a loss.
However, there is a way to get exposure to IBM's future potential and the IBM stock dividend without taking on massive risk. A look at our chart provides us with an IBM stock price forecast.
Currently trading near $147, investors can see there is strong support near $140. Also worth pointing out is the "emergency support" near $130. On occasion, the $140 level gives way to very temporary declines down to $130.
Rather than risk a position from $147 down to $127 (assuming both support levels fail and we stop out), I would rather buy between $130 and $140. Should both levels fail, investors can bail with minimal losses. Should IBM stock price hold up, they can collect a 4% dividend yield and wait for a longer-term recovery.
That's how I'd aim to play IBM.
Bret Kenwell is the manager and author of Future Blue Chips and is on Twitter @BretKenwell. As of this writing, Bret Kenwell did not hold a position in any of the aforementioned securities.