U.S. equities drifted lower on Thursday as headline velocity picked up. But what really got the bulls spooked late in the session was word President Donald Trump met with Stanford economist John B. Taylor — creator of the "Taylor Rule" formula for setting monetary policy — regarding the Federal Reserve's chairmanship. Taylor has been a vociferous critic of the Fed's post-crisis stimulus obsession and focus on discretionary policy setting versus his preference for a transparent, ruled-based approach.
In the end, the Dow Jones Industrial Average lost 0.1%, the S&P 500 lost 0.2%, the Nasdaq Composite lost 0.2% and the Russell 2000 lost 0.1%. Treasury bonds were stronger, the dollar was mixed, gold gained 0.6% and crude oil fell 1.4%. REITs led the way with a 0.7% gain while telecoms were the laggards, down 3.5%. Breadth was mildly positive as volume picked up a bit, at 93% of the NYSE's 30-day average.
AT&T Inc (NYSE:T) fell 6.1% after it reiterated fiscal 2017 guidance but cited a decline in video subscriber losses at its DirecTV unit citing natural disasters as well as heightened competition and tighter credit standards. Ulta Beauty Inc (NASDAQ:ULTA) fell 8.5% after being downgraded by analysts at Cleveland Research citing industry pressures in cosmetics and promotional activity.
The third-quarter earnings season kicked off with results from JPMorgan Chase & Co (NYSE:JPM) and Citigroup Inc (NYSE:C), which fell 0.9% and 3.4%, respectively, despite relatively solid results. Both reported beats on the top- and bottom-lines driven by operating leverage. Trading was a drag, as expected, as low volatility limits upside. The category fell 21% year-over-year at JPM.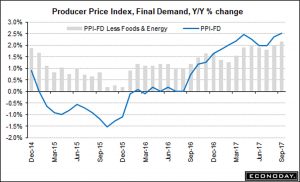 Click to Enlarge On the economic front, inflation was in focus after this weeks Fed meeting minutes revealed a lot of discussion on whether or not recent weakness will prove transitory. Producer prices rose 0.4% on a monthly basis, matching estimates, and up 2.6% on an annual basis. That's the hottest reading since the 2.8% gain reported back in early 2012.
Conclusion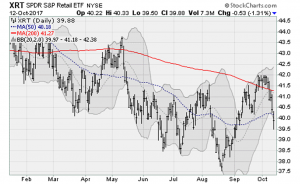 Click to Enlarge The tone in the air seems to have changed over the last 24 hours, with Q3 earnings revealing some uncomfortable truths and Trump's Fed chairman pick looking increasingly like it will take the central bank in a more hawkish direction.
Moreover, the inflation data seems to be heating up as well supporting the Fed's more aggressive rate hike projections vs. where Wall Street is.
And it's not just bank stocks that are feeling the heat of selling pressure: Retail stocks are hurting as well — battered by the competition as Amazon.com, Inc (NASDAQ:AMZN) and Wal-Mart Stores Inc (NYSE:WMT) step up their attacks — with the Retail SPDR (NYSEARCA:XRT) collapsing back below its 50-day moving average, losing its lower Bollinger Band in the process.
Watch for the selling to intensify and broaden in the weeks to come.
Check out Serge Berger's Trade of the Day for Oct. 13.
Today's Trading Landscape
To see a list of the companies reporting earnings today, click here.
For a list of this week's economic reports due out, click here.
Tell us what you think about this article! Drop us an email at [email protected], chat with us on Twitter at @InvestorPlace or comment on the post on Facebook. Read more about our comments policy here.
Anthony Mirhaydari is the founder of the Edge (ETFs) and Edge Pro (Options) investment advisory newsletters. Free two- and four-week trial offers have been extended to InvestorPlace readers.