U.S. equities slide sideways on Wednesday, with large-caps moving higher and small-caps moving lower. Yawn.
In the end, the Dow Jones Industrial Average gained 0.2%, the S&P 500 gained 0.2%, the Nasdaq Composite gained 0.3% and the Russell 2000 lost 0.1%. Treasury bonds strengthened, the dollar weakened, gold lost 0.4% and oil gained 0.7%.


Click to Enlarge Breadth was positive, with 1.5 advancers for every decliner on light volume with NYSE activity at just 88% of the 30-day average.
REITs led the way with a 0.5% gain while telecoms were the laggards, down 0.7%. PayPal Holdings Inc (NASDAQ:PYPL) gained 2.6% after enjoying an upgrade from Morgan Stanley citing potentially accelerating growth. Groupon (NASDAQ:GRPN) fell 3.2% after Goldman Sachs assumed coverage with a sell rating on worries over a long payback period for marketing spending.
On the economic front, the big news was the release of the September Federal Reserve meeting minutes. They were largely digested uneventfully, as policymakers largely confirmed expectations for another rate hike in December despite tepid inflation pressure. Why? Because by multiple measures, the labor market is extremely tight suggesting wage-push inflation could materialize at any time.
In Washington, the chatter was that President Trump was likely to make changes to his tax plan within the next few weeks with a focus on state and local tax deductions.
Conclusion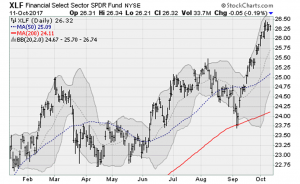 Click to Enlarge Bank stocks are zooming higher ahead of the release of third-quarter earnings later this week. The Financial Select SPDR (NYSEARCA:XLF) is up nearly 10% from its early September low as it exits the consolidation range that has been in place since last December as hopes of a post-Trump drawdown of post-crisis regulations faded. They're coming back now as Trump considers a nominee to replace Fed chairman Janet Yellen, who is a fan of the Dodd-Frank reforms.
JPMorgan Chase (NYSE:JPM) and Citigroup (NYSE:C) will kick things off before the bell on Thursday. JPM is expected to report earnings of $1.66 per share on $24.9 billion in revenue while C is expected to report earnings of $1.29 per share on $17.8 billion in revenue. Bank of America Corp (NYSE:BAC) and Wells Fargo & Co (NYSE:WFC) will report on Friday morning.
Check out Serge Berger's Trade of the Day for Oct. 12.
Today's Trading Landscape
To see a list of the companies reporting earnings today, click here.
For a list of this week's economic reports due out, click here.

Tell us what you think about this article! Drop us an email at editor@investorplace.com, chat with us on Twitter at @InvestorPlace or comment on the post on Facebook. Read more about our comments policy here.
Anthony Mirhaydari is the founder of the Edge (ETFs) and Edge Pro (Options) investment advisory newsletters. Free two- and four-week trial offers have been extended to InvestorPlace readers.