Like most stocks, Walmart Inc (NYSE:WMT) got caught up in the market-wide correction in early February. Arguably though, WMT stock deserved to fall. Not that the company necessarily did anything wrong, but what warranted its 10% rally from $100 to $110 in January? Nothing, really.
Particularly given that Walmart stock is up a ridiculous 50% over the past 12 months. Some may be expecting strong growth given this move. However, analysts are only forecasting 2.7% sales growth and 2.8% earnings this year.
With this type of growth profile, many might think WMT has a low valuation. But that isn't the case either, with shares trading at a not-so-attractive 23 times 2018 earnings estimates.
Given the big rally in WMT, shares now yield just 2%. So what's left for investors who have no position in Walmart? It seems they have to wait. Had they bought last year below $70, perhaps hanging on for the ride would be prudent. But as it stands, I find it pretty tough to be a buyer near current levels.
The Future of Retail
In my view, those buying or owning Walmart are doing so with a long term outlook. In the end, the battle for retail could very well boil down to Walmart vs. Amazon.com, Inc. (NASDAQ:AMZN) as the latter continues to scale its e-commerce business and acquired Whole Foods Market for $13.7 billion last summer.
Walmart punched back with its $3.3 billion acquisition on Jet.com and is reportedly eying a large stake in Flipkart, an e-commerce company in India. Will it work out? Those buying Walmart stock today are betting that it will.
In truth, it's hard to imagine Walmart beating Amazon, particularly given the leniency that the latter's shareholders afford to management. With that being said, it's hard to imagine Walmart not being around for the future of retail.
Given that the future likely holds both AMZN and WMT as the top two retailers, some investors may find it worthwhile to bet on one (or both) now. That's despite Amazon's always lofty earnings-based valuation and even the elevated valuation of WMT stock. While WMT is cheaper than Amazon, my problem with the former is growth.
Amazon still sports wildly impressive sales growth while its free-cash flow powers investments in new growth. Conversely, Walmart has low double-digit growth annually, which doesn't exactly scream "pay a premium!"
Being one of the largest domestic operators, WMT is also a big beneficiary of the new tax plan. Not that it doesn't have enough money to contend with Amazon in the first place. But with a lower tax rate and a fatter bottom line, it can pour even more resources into becoming a staple in the next generation of shopping.
Trading WMT Stock
You can see just how powerful WMT stock has been when looking at the chart. Walmart has made a pattern of resting after strong rallies. After gapping from $90 to $95 in November, WMT stock had the wind at its back. Shares eventually hit $110 before running out of steam.
As it stands, there seems to be decent support in the mid-$90s. WMT stock pulled back a few times toward $97 during the market's correction earlier this month. Was that the buying opportunity investors needed? It very well may have been.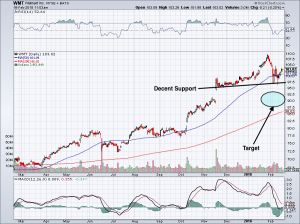 Click to Enlarge
It probably won't happen, but I'd love for Walmart stock to correct toward $90 and fill that gap from November. The yield would be higher and the valuation would be lower. Further, the 200-day moving average would likely act as support.
Thanks to its wide-reaching footprint, Walmart has the firepower to contend with Amazon while growing its online business. If its shareholders can be as relaxed as Amazon's, perhaps the stock has further upside.
Even though the U.S. economy continues to churn along, no doubt a benefit for WMT, I just don't want to chase it. Shares are up too much over the past year and the valuation is stretched too far for my liking.
I'd rather be in names like Bank of America Corp (NYSE:BAC) and Apple Inc. (NASDAQ:AAPL) with their given valuations and growth profiles. That or I'd rather buy Amazon stock on a deeper correction.
Bret Kenwell is the manager and author of Future Blue Chips and is on Twitter @BretKenwell. As of this writing, Bret Kenwell did held a position in AAPL.