Rising bond yields again pressured stocks in early trading Wednesday. However, U.S. equities were able to shake off the worries and run higher. Here are our top stock trades for Thursday.
Top Stock Trades for Tomorrow #1: Macy's (M)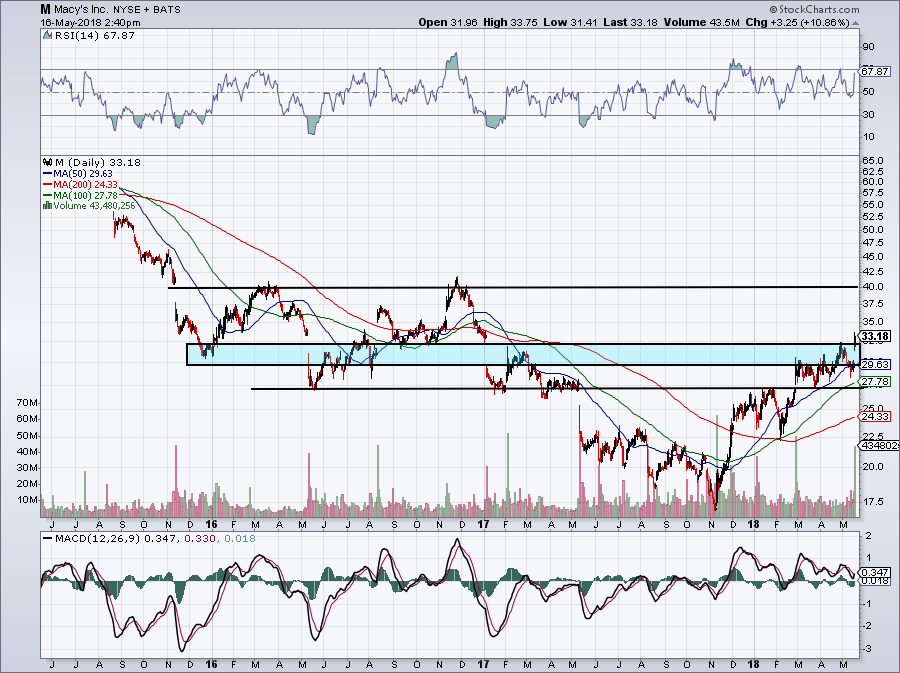 On Wednesday morning, Macy's Inc (NYSE:M) reported better-than-expected earnings and revenue results. It also provided strong guidance.
Thus the 11% rally in M stock can't be too surprising. The question now is, where does Macy's go from here? Any kind of momentum that M stock can build in the the first half of 2018 bodes well for investors. In the second half of 2018, they have back-to-school shopping and the holidays to give them a boost.
That $30 to $32.50 level was a big area of resistance. If M stock finds support there, I wouldn't doubt that a move up to $40 could be in the cards. M stock has a big yield — 5% — and a low valuation to entice investors. So any momentum is just icing on the cake.
If $32.50 doesn't hold up, bears can try to run M stock down to the 50-day moving average. At this point though, I'd rather look to buy pullbacks than sell into them.
Top Stock Trades for Tomorrow #2: Nike (NKE)
I love a straight-forward chart and it doesn't get much more obvious than Nike Inc (NYSE:NKE).
Shares finally broke out over the $70 level with a 2.7% burst on Wednesday. Look for further gains in NKE so long as $70 holds as support. If it fails, trend-line support is next for a retest.
Top Stock Trades for Tomorrow #3: Advanced Micro (AMD)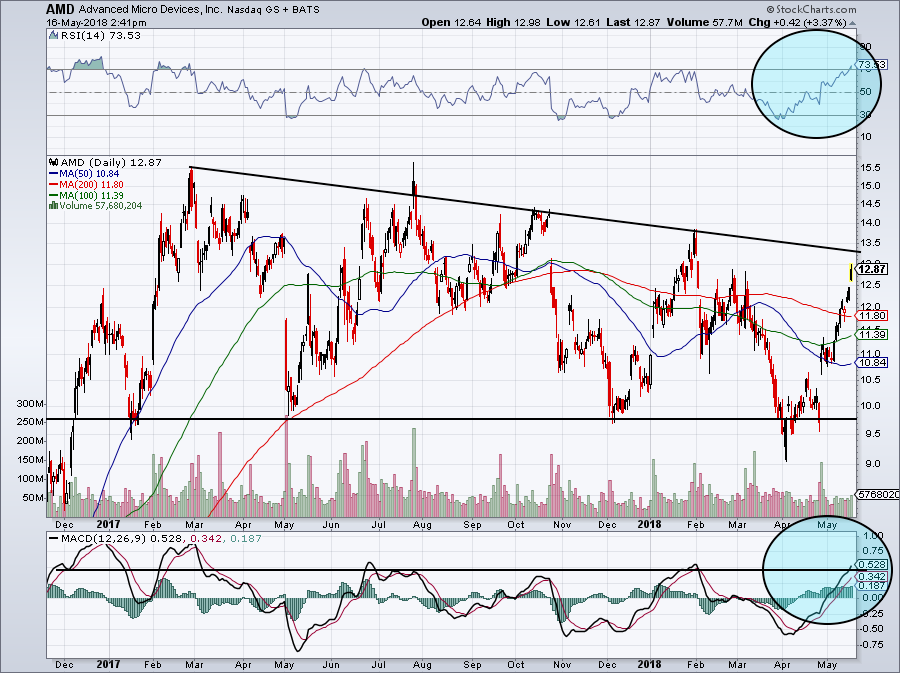 Ever since reporting earnings in April, Advanced Micro Devices, Inc. (NASDAQ:AMD) has been on fire. Gains in AMD persist even amid the current weakness in Nvidia Corporation (NASDAQ:NVDA) and after the latter's management said it expects crypto-based revenue to slow.
Still, AMD continues to power higher — not that anyone should be too surprised.
Where to now? Well, that's the tricky part for bulls. Downtrend resistance near $13.25 could certainly come into play. After all, it's been in place for the past year — although at some point I expect it to break as AMD's fundamental story is so good.
AMD is getting extended though. Shares are up about 17% in just a few weeks. Further, the RSI suggests AMD is getting overbought (blue circle), while the MACD says momentum could begin to wane (orange circle). In short, the probability of a pullback/consolidation is getting pretty high.
The problem for profit-takers is, where do they get back? I would surely be a buyer between $11 and $12, provided AMD can't push through downtrend resistance.
Top Stock Trades for Tomorrow #4: General Electric (GE)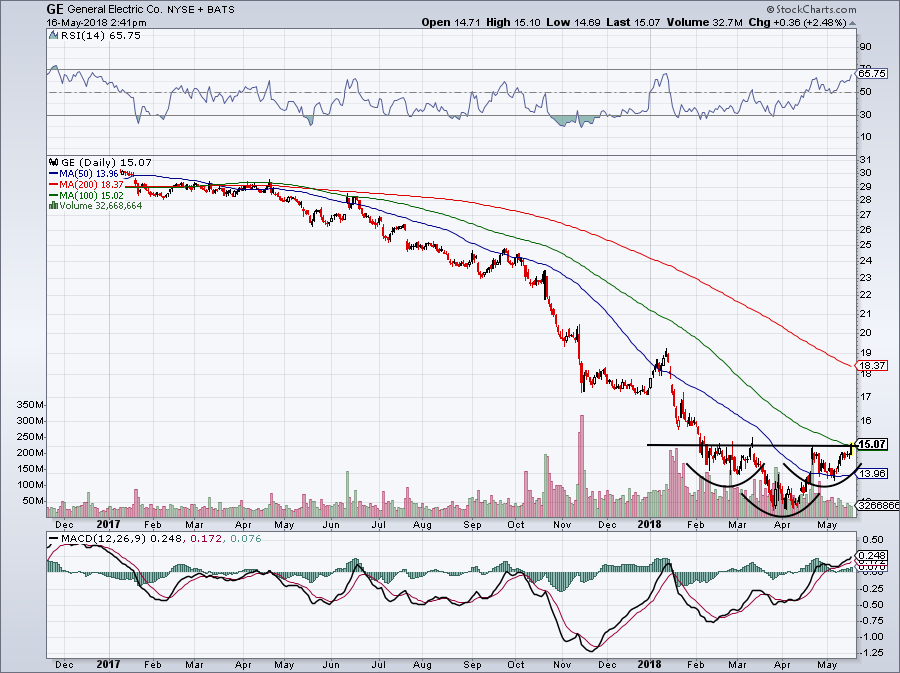 Is it finally time to call a bottom in General Electric Company (NYSE:GE)?!

The $14 level held, which is exactly what we needed with GE. And while I'm not much of a head-and-shoulders trader, we have a bullish inverse H&S forming right now.
GE pushing through the $15 level and 100-day moving average would allow investors to buy with confidence and have a very risk-defined trade in place. If it gains some momentum, GE could have some upside.
Fingers crossed.
Top Stock Trades for Tomorrow #5: Southwest (LUV)
Time to "Luv" Southwest Airlines Co (NYSE:LUV)? Okay that was super lame, I know.
But with Wednesday's 3% bounce in LUV, some investors are wondering if now's the time to buy. I think we're almost there, but not quite yet.
LUV carved out some support near $51, which is promising. Unfortunately though, the airline stock is stuck in a vicious downward channel right now. A close near $54 would do wonders for bulls' confidence. Admittedly I'm not on the bull train just yet, but I wouldn't want to be short LUV anymore. Shorts who are interested in the name though don't have to completely give up. Even if bulls latch onto a quick breakout trade, there's likely plenty of resistance near $56.
Make no mistake, putting in a low near $51 and breaking out of the channel would be good news for LUV bulls. But with all three major moving averages overhead, there's bound to be some resistance.
Bret Kenwell is the manager and author of Future Blue Chips and is on Twitter @BretKenwell. As of this writing, Bret Kenwell held a long position in AMD and NVDA.