Social media companies have been in the news. Some of it is good, some of it less so. But what's fake versus real? And which of those stories might arguably be buys for today's portfolio or on our wish list of stock tickers to purchase? Let's look at three recent reports and investors' reactions to those social media stocks in order to reach a more informed opinion on how to proceed.
Nobody doubts that today's socially distanced reality has been made a bit easier due to social media platforms of all kinds. From scrolling and trolling posts, staying abreast of what's trending, instant messaging, group video get togethers, influencing others, discovering fresh ways to tackle an interior design project and more, social media's usage has hit record levels of likes, dislikes and emojis in 2020.
For its part, Wall Street has been largely appreciative. Snap (NYSE:SNAP). Pinterest (NYSE:PINS). YouTube's parent company Alphabet (NASDAQ:GOOG, NASDAQ:GOOGL). They're but a few of today's ever-popular social mediums which are positioned near all-time highs with solid year-to-date gains to boast.
But what about as an investment right now or as we approach a new calendar year with maybe slightly more hugs in our future? Let's check out some recent and still breaking news stories for three social media stocks and what a trade based on what's happening off and on the price chart might look like.
Social Media Stocks to Trade: Facebook (FB)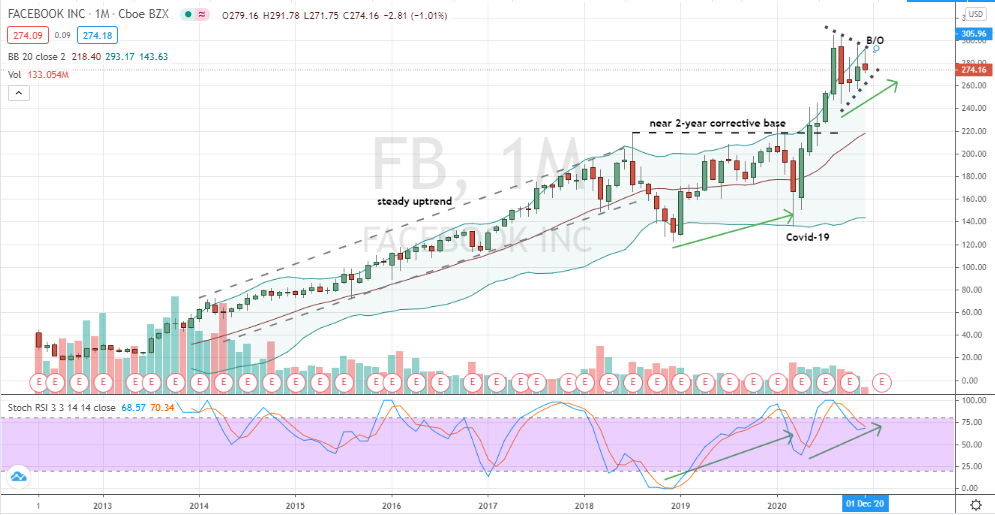 Source: Charts by TradingView
The first of our social media stocks to buy is Facebook, parent company of Instagram and WhatsApp. The parent is getting scolded as regulators from the Federal Trade Commission and dozens of states claim the company needs to be broken up. Twin antitrust lawsuits will attempt to make the case of anticompetitive behavior and unfair market dominance centered on its popular social media acquisitions.
Stay tuned, but be sure to have your CNN live video stream plugged in. A decision isn't going to happen overnight. Moreover, it could turn out to be a massive overreach, given there's no evidence of a smoking gun according to CNBC's James Cramer.
Technically, one smoking gun favoring this social media stock's investors is the monthly price chart. Facebook continues to hold tight within a monthly symmetrical triangle. It's bullish.
A congestion pattern of this type is commonly used for entering into an existing trend. And it's easy to see the current path of least resistance is up. To improve the chances for a successful breakout above triangle resistance, make sure a well-positioned stochastics indicator is confirming the price action with a bullish crossover. Case closed.
Favored Strategy: Long intermediate-term FB stock $315/$350 call vertical on breakout through $295
Twitter (TWTR)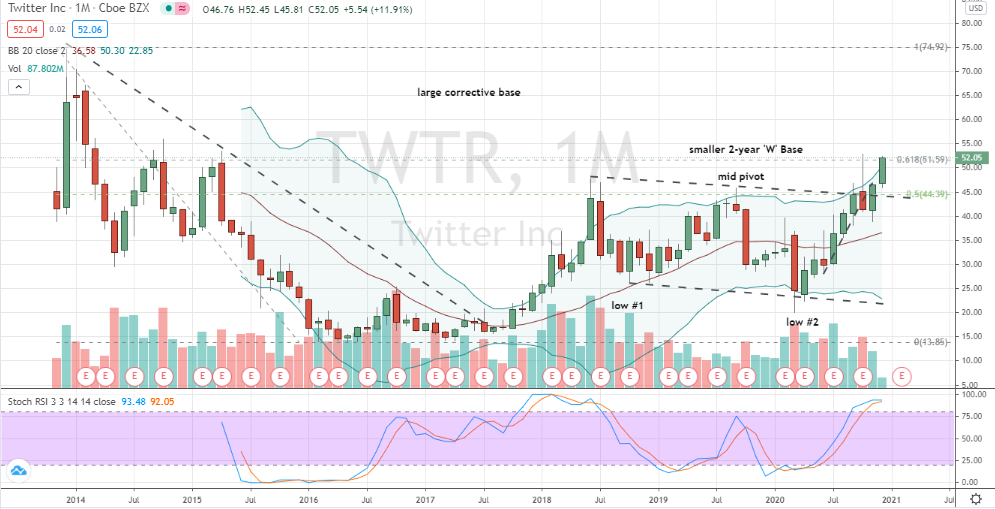 Source: Charts by TradingView
The next of our social media stocks to buy is Twitter. Twitter shares surged higher Thursday by nearly 8.5% after word the hashtag-driven platform's tweets can be shared on Snapchat. Maybe that will help with Donald Trump's 2024 run by building up his base with Millennials?
We'll have to see how those tweets and retweets play out. Right now though, the news has established a strong-looking college-style try from a two-year long "W" base following late October's ill-timed first-attempt breakout in front of earnings.
Stochastics are overbought, which is a modest concern. But with shares of this social media stock closing in on new relative highs and tackling its lifetime 62% retracement level, the benefit of the doubt sides with a good finish to 2020 and great start to 2021.
Favored Strategy: Jan $45/$60 Collar
Zoom Video (ZM)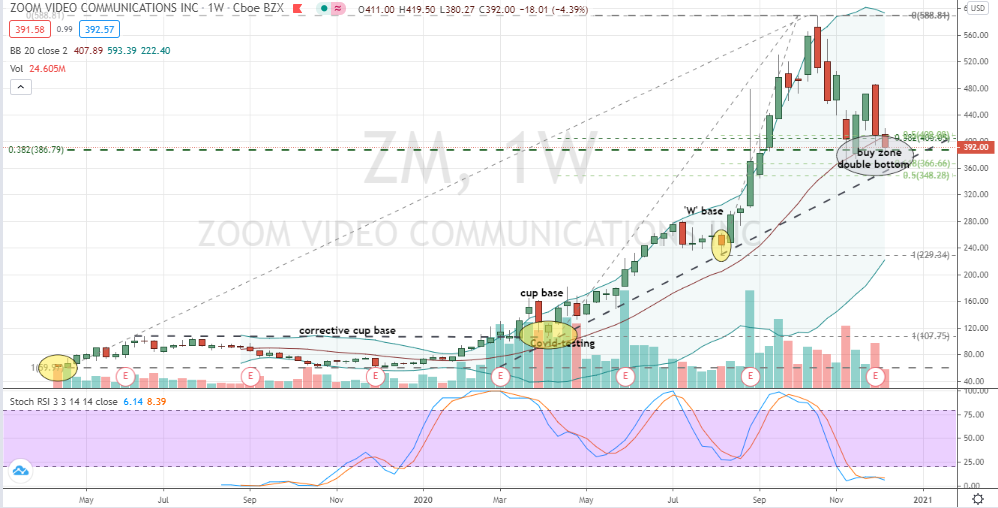 Source: Charts by TradingView
The last of today's social media stocks to buy is Zoom Video. While social media has done great overall during the pandemic, Zoom's Brady Bunch-style conferencing platform has almost become an essential service. Still, even when Covid-19 is fully in the rearview mirror, it's unlikely ZM stock will have seen its best days as well.
Bottom line, the trend in remote working is showing real staying power with many employers. And let's face it, many connections with friends, family and colleagues are still better via video than with face-to-face meet and greets and possibly unwanted hugs. As such, there's reasons to remain upbeat on this social media stock, even in the face of slower growth worries following last week's "beat-and-raise" quarterly results.
Technically speaking, Zoom Video's shares are also shaping up nicely on the price chart after "finally letting investors down." The thing is, all stocks correct — even the best of them. Right now ZM's decline of 24% from mid-October is demonstrating just that sort of inevitability.
Of course, it's human nature to think something more ominous is at play when a stock is under pressure. Maybe more so if it follows an earnings report. But when it comes to a stock of Zoom's caliber, near-sighted disappointment often gives way to the opportunity to buy growth at a discount. And with this social media stock's price chart carving out a weekly double-bottom pattern inside a well-supported buying zone, this kind of optimism doesn't appear misplaced.
Favored Strategy: Intermediate-term Married Put with weekly chart pattern and stochastics confirmation
On the date of publication, Chris Tyler holds, directly or indirectly, positions in Pinterest (PINS) and its derivatives, but no other securities mentioned in this article.
Chris Tyler is a former floor-based, derivatives market maker on the American and Pacific exchanges. The information offered is based on his professional experience but strictly intended for educational purposes only. Any use of this information is 100% the responsibility of the individual. For additional market insights and related musings, follow Chris on Twitter @Options_CAT and StockTwits.