Cryptocurrencies continue to be a red-hot with Wall Street in 2021, along with the occasional bout of less triumphant, stomach-churning volatility. But in a market also made up of stocks, three Nasdaq-listed crypto plays are offering investors risk-adjusted exposure that's more secure both off and on the price chart. Let me explain.
Both Bitcoin (CCC:BTC-USD) and Ethereum (CCC:ETH-USD) have been roiled by policy makers' rumblings. It's been a couple weeks since Treasury Secretary Janet Yellen hinted strongly at the U.S. government's interest in 'curtailing' the crypto market given the decentralized digital currencies' ties to bad actors and their illicit wheeling and dealings. The warning sent digital currencies tumbling into bear markets. And don't think for a second that regulatory risks will disappear.
More important, the crypto market and its tethered blockchain technology are seeing explosive growth and acceptance as an incredibly important tool for business.
Already Bitcoin is nearing $1 trillion in valuation. Then there are Square (NYSE:SQ), JPMorgan Chase (NYSE:JPM) and PayPal (NASDAQ:PYPL). Those titans of finance are some of today's early large cap adopters of the crypto market. Don't bet against the house, right? They're not alone either.
Last week EV giant Tesla (NASDAQ:TSLA) announced a purchase of $1.5 billion in Bitcoin and plans to accept the market's biggest digital currency for payment. At the same time Mastercard (NYSE:MA) and Bank of New York Mellon (NYSE:BK) announced they'll begin allowing various financial transactions in select crypto coins.
Digital Currency Plays Offering Smarter Strategies
The writing appears to be on the wall. Even in the face of stricter future oversight, digital currencies promise to continue providing very lucrative investment opportunities. A word to the wise before jumping in is warranted.
As we've witnessed throughout crypto's re-emergence to all-time-highs, investors still need to be prepared for wild price action which can induce second-guessing, run-for-the-exits sell orders at the expense of one's trading account. But is there another way to participate with more defined exposure?
Today, let's examine three behind-the-scenes crypto stocks within this burgeoning market. Instead of just being wise to the challenges and potential failures ahead, these Nasdaq-listed digital currency plays are offering smarter money strategies which won't extend or put the wallet at unnecessary and outsized risk.
Crypto Stocks to Buy: Bit Digital (BTBT)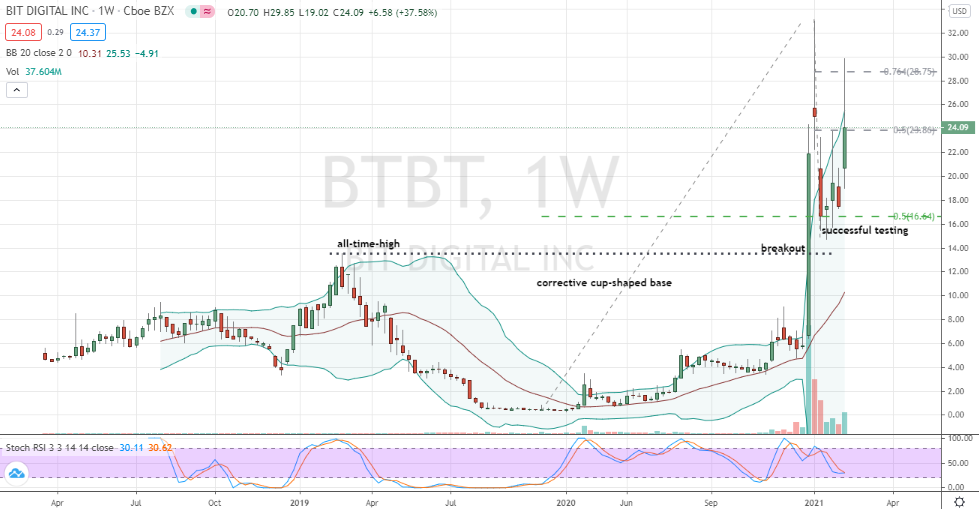 Source: Charts by TradingView
The first of our crypto stocks to buy are shares of Bit Digital. According to Yahoo Finance the company engages in Bitcoin mining and recently changed its name from Golden Bull to better reflect its business activities. Despite being a fairly new entrant into the space, New York-based BTBT is one of the largest Bitcoin mining companies listed on Nasdaq.
To be fair, I'm always suspect of a company name change and business pivot of this kind. And being lured into a long stock position by year-over-year quarterly sales growth of around 64,000% isn't a great idea. The fact is revenues for the latest period came in at $13 million compared to a valuation of nearly $850 million for this crypto. It's steep. Bit Digital also remains in the red.
Still, investors are buying in to the BTBT stock story in a big way and it looks worthy of calculated exposure.
Technically, Bit Digital recently broke out of a massive corrective cup-shaped base to new all-time-highs to finish off 2020. To complement that bullish price action, in 2021 shares of this crypto have put together a well-supported test of the stock's prior high.
BTBT has pulled back near its 50% retracement level within a smaller corrective 'V-shaped' base. And coupled with a favorable bullish stochastics crossover, this crypto looks ready for buying into.
Favored Strategy: May $25/$40 Bull Call Spread
Riot Blockchain (RIOT)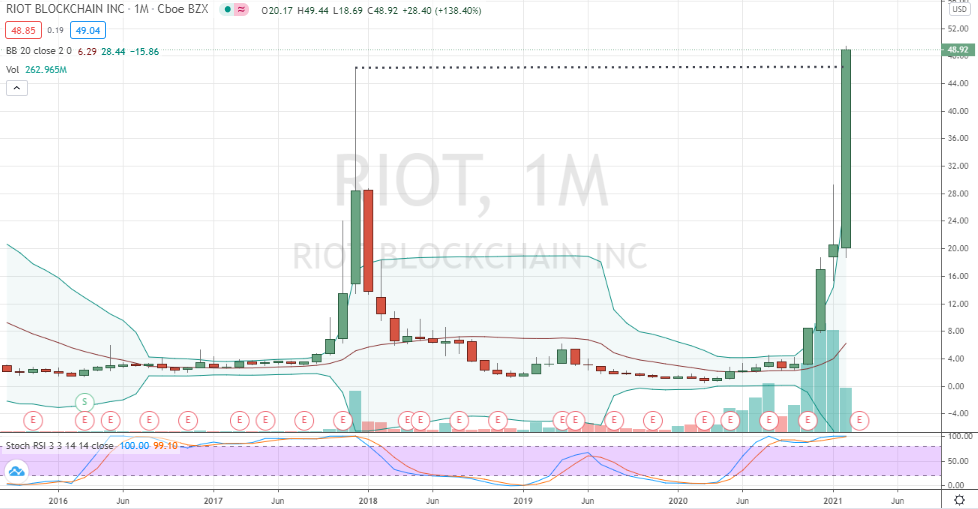 Source: Charts by TradingView
Riot Blockchain is the next of our crypto stocks to buy. RIOT was one of the digital currency market's more notorious listed stocks during the asset group's 2017 – 2018 run-up and subsequent crash. And like BTBT, this diversified blockchain play seemingly came out of nowhere, pivoting and changing its corporate name. It was suspect to say the least. Today however, it's time to let bygones be bygones.
Technically, this crypto stock has just taken out its own bubble high. Even a minor correction could cause RIOT stock investors to blink or more aptly, barf, given the stock's underlying volatility. As much, playing for continued momentum while maintaining ironclad downside risk is the way to position.
Favored Strategy: March $55/$65 Bull Call Spread
Canaan (CAN)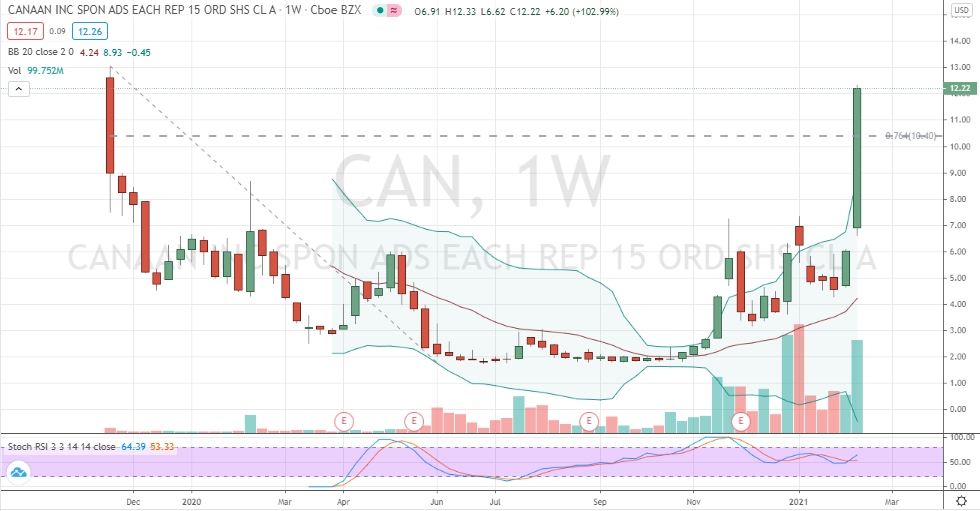 Source: Charts by TradingView
Canaan is the last of our crypto stocks to buy. China-based CAN is the picks-and-shovels play of today's stocks. The outfit manufacturers equipment used to mine Bitcoin. Canaan is also involved in the development of blockchain technology and, teasingly, the booming artificial intelligence and data center markets.
Technically, CAN is gunning for a breakout to all-time-highs as shares muscle their way toward the high of a pattern lifetime cup-shaped base. With the stock jumping past the 76% retracement level and weekly stochastics signaling a bullish crossover in neutral territory, a bit of strategic exposure to this crypto looks ripe today.
What could possibly go wrong? Let's not find out. At the same time, investors might consider using CAN's less desirable price volatility to their advantage by hedging a purchase of this crypto stock with a defined risk and highly flexible collar strategy.
Favored Strategy: April $10/$20 Collar
On the date of publication, Chris Tyler holds, directly or indirectly, positions in listed Bitcoin and Ethereum stocks (GBTC, ETHE and ETCG), but no other securities mentioned in this article.
Chris Tyler is a former floor-based, derivatives market maker on the American and Pacific exchanges. The information offered is based on his professional experience but strictly intended for educational purposes only. Any use of this information is 100% the responsibility of the individual. For additional market insights and related musings, follow Chris on Twitter @Options_CAT and StockTwits.