As the saying goes, what goes up must come down. And Nokia (NYSE:NOK) has certainly proven that point in recent weeks amid a more selective sideshow. But is now a time to steal from the poorer and enrich your trading account with a long position in NOK stock?
Let's look at what's happening off and on the Nokia price chart and what an appropriate risk-adjusted decision aligned with those findings might look like.
The stock market took it on the chin Thursday one session after the S&P 500 and Dow Jones Industrials struck fresh all-time-highs. Profit-taking or physics? I'll let readers decide.
What is known is large-cap technology shares led the decline as Treasury yields jumped to one-year highs. And investors collectively upgraded the risk-off trade.
From the Nasdaq's 3% swoon, Microsoft (NASDAQ:MSFT) and Apple's (NASDAQ:AAPL) similar sized losses, a 6% disconnect with pandemic darling Zoom Video (NASDAQ:ZM) or Tesla's (NASDAQ:TSLA) 7% skid, conditions were ugly.
And the session's rough patch was particularly troubling in 5G play NOK stock.
Investors slammed NOK shares by 8.64% on the session. I suppose there's some comfort in knowing these days that only amounts to 37 cents. Still, nearly 9% on a $24 billion telecom giant is something, right? And my guess is these days there's a lot of traders in agreement on that.
Reddit Sideshow
It wasn't that long ago, and for a brief moment in time, NOK was one 2021's meme trades. This was purportedly engineered by Reddit's WallStreetBets forum and investing marauders from upstart online retail brokerage Robinhood. Shares soared in late January alongside heavily-shorted names like GameStop (NYSE:GME), AMC (NYSE:AMC) and Koss Corp (NASDAQ:KOSS).
Specifically, NOK jumped 133% at its best in three sessions from a price of $4.20 to a high of $9.79. Why and how? Honestly, it's a bit of a mystery.
Unlike the other meme stocks of the day, Nokia wasn't prone to a short squeeze. The stock's short interest is miniscule. Thinly-traded? Not a chance. And unlike this sideshow's mostly near-bankrupt, has-been stocks NOK was lumped in with, Nokia's 5G business has been moving along smartly enough.
However it happened, today what NOK stock has become for many investors caught up playing the get-even and get-rich scheme against Wall Street's establishment, is a likely loss.
From its payday peak on Jan. 27, NOK lost more than 50% by the very next session. And it took only several sessions for shares to give back the entirety of those gains. Now and with most all tech stocks in the doghouse with investors, NOK is exactly flat on the year for longer-term shareholders and weighing a bit more heavily on a large band of less merry marauders.
NOK Stock Monthly Price Chart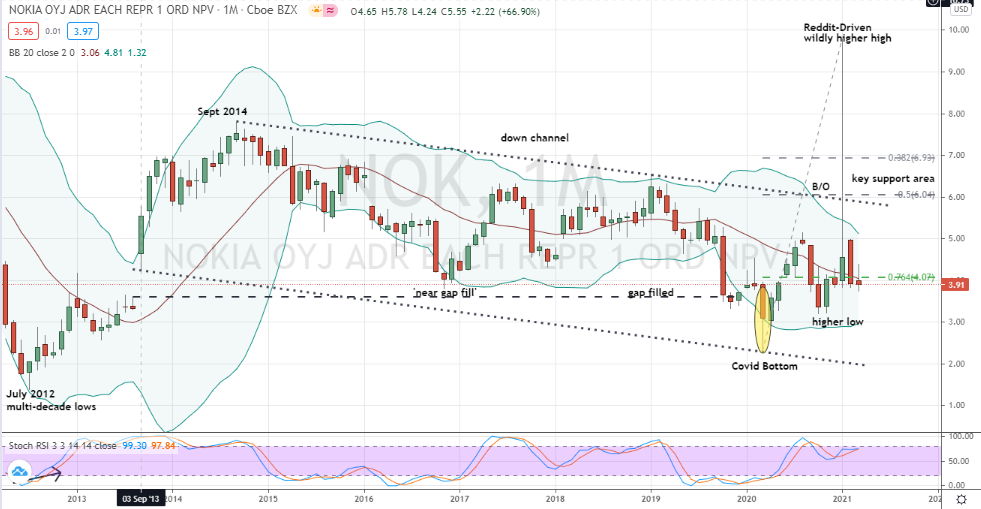 Source:
Charts by TradingView
Technically speaking, and to be quite honest (again), the stock's retracement is as mystifying as NOK's lightning quick ascent. The fact it happened in such a fast manner makes the round trip even more vexing.
As the illustrated monthly chart shows, January's price action launched shares through multi-year channel resistance before topping out at much higher levels near $10. Ordinary profit-taking or even a common correction after such a large rally should have found the backing of investors roughly in-between $5.75 to $7.75.
The wide but key support area holds NOK's 2014 relative high, a pair of Fibonacci levels associated with last March's pandemic bottom and former channel resistance line. Nokia shares didn't oblige though. Today, stochastics are in a challenged position and the stock is trading around the 76% level. Buying shares on weakness is an increasingly questioned strategy.
The Bottom Line
If over the next couple weeks NOK stock manages to hold near current levels, a second higher low could offer a more promising buy decision come April. And if that type of confirmation does reveal itself, a married put or even fully-hedged stock collar looks well-suited to capitalize.
Bottom-line, Nokia is unlikely to see a repeat January's performance. Selling premium above the market to finance downside exposure to protect against a bottom being stolen from the chart is smart business.
On the date of publication, Chris Tyler does not hold, directly or indirectly, positions in any securities mentioned in this article.
Chris Tyler is a former floor-based, derivatives market maker on the American and Pacific exchanges. The information offered is based on his professional experience but strictly intended for educational purposes only. Any use of this information is 100% the responsibility of the individual. For additional market insights and related musings, follow Chris on Twitter @Options_CAT and StockTwits.