It's all rainbows and puppy dogs for Wall Street this week – or at least for the major averages. But in a market also made up of disliked and heavily bet-against companies often left to their own devices, here are three of today's most-shorted stocks shaping up for big-time outperformance in the coming weeks.
Wall Street's bellwethers are making it a third straight week of gains as the clock ticks down toward Friday's closing Bell. The S&P 500 is up 1.20% for the five-day period and hitting new highs for the third time in as many weeks. The flavor of the day, or rather the past two months, the Dow Jones Industrial Average is tacking on a similar performance.
Differently this week, Nasdaq proxy Invesco QQQ Trust (NASDAQ:QQQ) is gaining similar ground percentage wise. New to the scene, QQQ is making a new all-time-high for the first time since mid-February's "risk-off" collapse sent higher growth stocks into a corrective tailspin. All is finally good and right with Wall Street once more. Right? Well, not in the market's most-shorted stocks.
When it comes to risk assets, a rising tide doesn't always lift all boats. Vilified companies sporting larger short interest are especially prone to cutting loose from the herd. And this week has certainly reinforced that point.
Ontrak (NASDAQ:OTRK). Root Inc (NASDAQ:ROOT). Blink Charging (NASDAQ:BLNK). They're today's top three most-shorted stocks. Each company's shares are also down on the week. Of the trio, BLNK stock has taken the pole position with a fairly large price drop of 19%. But that shouldn't dissuade bullish investors from these types of names, selectively at least.
Bottom line, some of today's most-shorted stocks will deserve to go the way of an Enron or WorldCom and reward those positioned bears.
But there will also be others like Tesla (NASDAQ:TSLA), Amazon (NASDAQ:AMZN) or Netflix (NASDAQ:NFLX) which had boatloads of skeptics, but proved to be legendary multibagger stocks for bulls. To be honest, I can't and wouldn't ever promise a TSLA, AMZN or NFLX opportunity. Nevertheless, the price charts of the following three companies stocks do look extremely encouraging for a test ride and maybe another investment of a lifetime down the road.
Most-Shorted Stocks to Buy: Carvana (CVNA)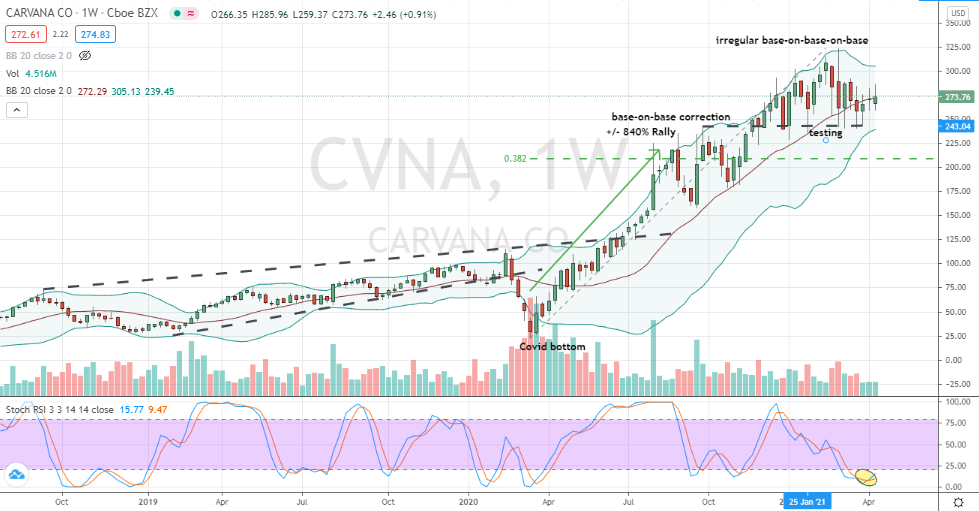 Source: Charts by TradingView
The first of our most-shorted stocks to buy is Carvana. The online auto dealer has turned into a big deal during the novel coronavirus pandemic. CVNA's 25% short interest doubts its staying power. However, the price chart hints that putting Covid-19 in the rearview mirror won't mean the demise of CVNA stock. And today conditions look roadworthy for bulls!
On the price chart, shares of Carvana have spent the past four and one-half months in a slightly irregular base-on-base-on-base weekly consolidation pattern. Smartly, the formation has made multiple successful tests of a modestly less unusual base-on-base. That much-needed technical pit-stop formed after CVNA stock's massive 840% rally off its March Covid bottom.
Currently, with a well-positioned stochastics buy signal and bottoming candlestick confirmation in hand, there's good reason to believe there's more gas in the tank for CVNA. My recommendation is to hop on board this most-shorted stock with a married put strategy that can be hedged at a later date with a short call to form a collar.
Beyond Meat (BYND)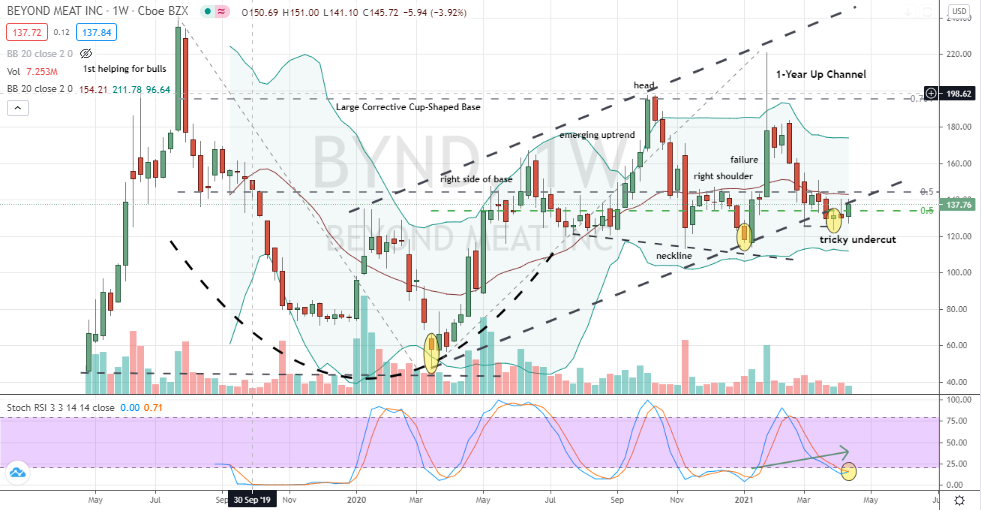 Source: Charts by TradingView
The next of our most-shorted stocks to buy is Beyond Meat. The plant-based meat upstart has maintained its share of skeptical shorts since coming public two years ago. Today that figure stands at a fairly healthy 25%. But as with other market-disrupting and once heavily shorted predecessors, this one is looking ready to be served up as a bull right now.
Technically, this most-shorted stock's shares have confirmed a higher-low pattern this past week. What's more, while the pivot proved tricky in narrowly undercutting Fibonacci and channel support, coupled with a stochastics buy signal, the spirit of BYND's bullish uptrend is alive and well and in position for purchase.
In this most-shorted stock, and for bullish investors wanting to sink their teeth into shares, I'd look to the options menu and order a somewhat unorthodox June $145/$180 collar combination.
GameStop (GME)


Source: Charts by TradingView
The last of our most-shorted stocks to buy is GameStop. Officially, this name doesn't even make the top 50 stocks with the highest short interest. However, a statistic of 19% of its float currently sold short is nothing to sneeze at. And those bears are setting themselves up for some nearby punishment.
Since hitting a post-earnings low, which challenged GME's 76% February low to March high retracement level, shares have formed a weekly hammer bottom. The bullish formation has been followed by three weeks of inside price consolidation. It's nice price action to be sure and looks even more promising as we move forward.
With Friday set to establish a weekly doji decision candle and stochastics in position for an easy crossover buy signal to emerge, next week promises to be a good one for this most-shorted stock's bulls. I'd suggest waiting for both price and secondary confirmation before entering long in GME. Then and to play the game more safely and smartly, a May $175/$270 collar is a favored combination.
Stocks Owned: On the date of publication, Chris Tyler holds, directly or indirectly, positions in Beyond Meat (BYND) and its derivatives, but no other securities mentioned in this article.
Chris Tyler is a former floor-based, derivatives market maker on the American and Pacific exchanges. The information offered is based on his professional experience but strictly intended for educational purposes only. Any use of this information is 100% the responsibility of the individual. For additional market insights and related musings, follow Chris on Twitter @Options_CAT and StockTwits.