Churchill Capital Corp (NYSE:CCIV) is the vehicle behind the highly-anticipated electric vehicle Lucid Motors SPAC. But given today's market environment and shares parked near $22, is CCIV still a "buy, buy, buy!!" or a name to steer clear of? Let's take a look at what's happening off and on the price chart of CCIV stock, then offer a risk-adjusted position aligned with those findings.
Out-the-gate in 2021 and briefly amid a period of elevated animal spirits for risk assets ranging from short-squeeze plays GameStop (NYSE:GME) and AMC (NYSE:AMC) or bitcoin miners Canaan (NASDAQ:CAN) and Riot Blockchain (NASDAQ:RIOT), shares of CCIV raced higher with the best of them.
It wasn't without cause either.
In early January, and in less than six weeks, Churchill went from a virtually unknown blank-check company with no known prospects and shares hovering near $10 to an over-the-top SPAC stock enjoying an EV-charged 550% thrill ride toward $65 on pace for an annualized return of nearly 4,700%.
Behind the excitement, some carryover enthusiasm in the EV SPAC market following 2020's dazzling run in QuantumScape (NYSE:QS), Fisker (NYSE:FSR) and others assisted news of CCIV's announced plans to bring Lucid Motors, a company many see as an heir apparent to Tesla (NASDAQ:TSLA), public.
Around the Block
While most of Main Street hasn't likely heard and definitely hasn't seen Lucid's electric vehicles juicing up in the driveway or on the road for that matter, Lucid Motors has been around the block. Lucid's been a private company for fourteen years. Moreover, with Peter Rawlinson, former chief engineer on Tesla's Model S, behind the wheel as CEO and promises of its Dream Edition Air sedan's rubber to meet the road this year, Wall Street's enthusiasm for CCIV stock had some decent-looking support behind it.
The dream-like bid in CCIV didn't last though.
Three days after the stock hit an all-time-high, CCIV plunged nearly 39% in a single session. A bearish disruptive shift in market sentiment just under away toward higher and often incalculable multiple stocks certainly played a hand in Churchill's selloff. But if timing is everything, that epiphany couldn't have occurred at a worse time for less-than-productive and concerning company-specific news coming out of CCIV and Lucid.
Bottom and top line, and where none have been realized as of yet, CCIV stock's undoing was news of the outfit's official commitment to take Lucid Motors public at a fairly steep $24 billion valuation and in-tow word of a delayed rollout of Lucid's Dream Edition EV into the back half of 2021.
It's as simple as that. Today is shaping up a bit differently, although still not for the better, despite the wear and tear.
CCIV Stock Weekly Price Chart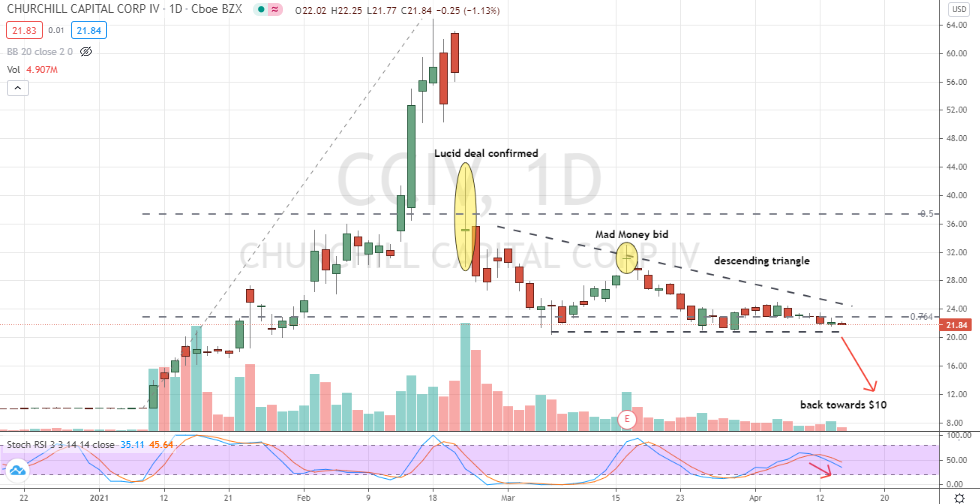 Source:
Charts by TradingView
If you're an active investor, the "next" of anything, whether its Tesla, Amazon (NASDAQ:AMZN) or a Netflix (NASDAQ:NFLX) should always be met with some skepticism. If, like Lucid Motors, you've also been around the block or more aptly, in the market for more than a decade and are intimately familiar with the Mad Money's infamous but sometimes misplaced "Buy, Buy, Buy!!" endorsements, maybe CCIV's inability to rally since the fallout isn't a mystery.
What is known is that since host James Cramer gave CCIV a rousing big "the next Tesla" style thumbs up following an interview with Lucid's CEO on March 15, shares have sunk steadily from an appreciative, well-bid price of $31.10 to a less-fetching price near $22 a share this past month. Of course, we all have less-than-great market calls. Admittedly, I was optimistic of Churchill's chances for a bottom to emerge. Still and more importantly, the persistent pressure on shares is increasingly hard to ignore on today's price chart.
Gathering of the Bears
Technically and as the provided daily chart of CCIV illustrates, since February's stock implosion, the price action has formed a series of lower highs while loosely holding support tied to the stock's 76% Fibonacci level in a lateral formation. The result is a bearish continuation descending triangle pattern.
Given the sustained stress in many EV stocks and numerous SPACs trading back toward – and even below their initial blank-check $10 offering price – there's a growing likelihood of a nearby pattern breakdown and for a markedly lower share price in CCIV. It's enough to consider a trade aimed at profiting from that trend.
To be fair, as well as market aware, chart patterns do change. And that can happen overnight, as Churchill investors can attest, too.
As much and to keep short exposure in CCIV stock from looking like a bearish "already" crash-test dummy, a long May $17.5/$15 put spread looks good from all angles both off and on the price chart.
On the date of publication, Chris Tyler does not hold, directly or indirectly, positions in any securities mentioned in this article.
Chris Tyler is a former floor-based, derivatives market maker on the American and Pacific exchanges. The information offered is based on his professional experience but strictly intended for educational purposes only. Any use of this information is 100% the responsibility of the individual. For additional market insights and related musings, follow Chris on Twitter @Options_CAT and StockTwits.