GameStop's (NYSE:GME) stock has tumbled 67% from its 52-week high of $483 per share. However, if fundamentals still matter, the stock will drop much more.
But we are living in the age of the retail trader. Last year, millions of Millenials and Gen Zers found themselves bored and stuck at home, with a meaningful amount of cash on hand. They discovered the allure of day trading.
They took to social media, and through the Robinhood app, they went to work, upending the markets in the process. GME stock became the symbol for this movement, and even though the investment world was divided on whether this phenomenon was a good thing or a bad one, there was no mistaking the influence that retail traders had obtained.
In the age of Amazon (NASDAQ:AMZN), when most felt that retailers were dead, the young traders rescued GameStop from the depths of bankruptcy. Even though the company is struggling, it has taken on a lot of debt and has plans to issue 3.5 million shares that could net it more than $600 million. So the company has lived to fight another day.
But the larger question facing investors is whether they want to bet on GME stock at this point.
Fundamentals ultimately decide the fate of every company. When investors decide to use their hard-earned cash to buy a company's stock, they need to be convinced that the firm has a solid business model and management team.
Sure, it's possible to make money trading names like GME stock. However, since the shares' overall trajectory is downward, it's best to take profits on GameStop and invest elsewhere.
GME Stock And the Age of Retail Trading
Based on GameStop's fundamentals, its stock should not have surged. Before the pandemic struck, this video game retailer was facing huge problems.
The bottom line and the top line are two of the most significant figures on companies' income statements. On both these metrics, GameStop has been performing badly for a while.
In many ways, the company's struggles are not unique. Many brick-and-mortar retailers have had a tough time competing with e-commerce giants like Amazon for quite some time.
The novel-coronavirus pandemic dealt a further blow to brick-and-mortar retailers. Afraid of potentially contracting the virus, consumers stayed in their homes and bought most of the products they wanted or needed online.
Video game retailers suffered as customers primarily bought new titles online and digitally. But then a "David and Goliath" moment occurred.
r/WallStreetBets, a Reddit chat room where participants talk about stock and options trading, became very bullish on GME stock and punished short sellers who were betting against it.
When the company's shares surged, hedge funds were outraged. They contended that retail investors had manipulated the market. Overall, it was a timely lesson of how young blood and new money are changing the business world.
What Will Happen to GameStop's Shares Going Forward?
A few months have passed since the height of Reddit mania. And while GME stock is still trading way above its 52-week low of $3.77 per share. it has been trending downward for the last month, in-line with the performance of other meme stocks like AMC Entertainment (NYSE:AMC), Nokia (NYSE:NOK), and BlackBerry (NYSE:BB).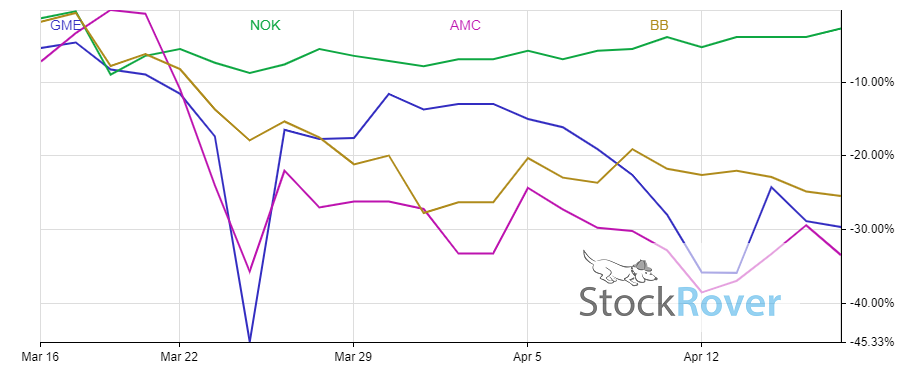 Should investors sell GameStop's shares now? If the last six months are any indication, retail investors should never be counted out . But inevitably, fundamentals will catch up to the stock in the next few months.
GME's core gaming business is incredibly pressured, as it is losing market share. Hopefully, once Ryan Cohen becomes the company's chairman following its June 9 shareholder meeting, he can reverse that trend.
Cohen has an aggressive plan to build up the company's e-commerce capacity. That's a good idea. However, the company's financials paint a dismal picture.
In the last five years, GameStop has found it tough to stay profitable in the face of mounting operational costs. In 2020, the company's top line was $5.09 billion, representing a decline of 45.6% since 2016. During the same period, the company went from earnings per share of $3.78 to a per-share loss of $3.31.
Its debt, meanwhile, has ballooned to $1.047 billion. Due to the large amount of debt that the company has raised, it's only natural that it will now look to sell more of its stock. In fact, it already has plans to sell 3.5 million shares.
The Bottom Line on GameStop
The rally was fun while it lasted for GameStop and its shareholders, but the writing is on the wall. Based on every possible metric, the retailer's market capitalization should not be as high as it is. However, the markets these days do not necessarily value stocks based on fundamentals.
Investors will gain very little from holding onto GameStop's shares, since the retailer needs more money to transform its business model. Already saddled with heavy debt, the company will have to keep selling stock to finance changes to its strategy.
And even if, by some miracle, the company manages to turn itself around and its EPS jumps to $3.78, the same figure it reported in 2016, I estimate that the stock will still have a fair value of just $84.74 per share.
Much more pessimistic is Edward Woo, an Ascendiant Capital analyst, who has a target of $10 on the stock.
GME stock is on the ropes, and you should not wan to be around when the bell rings.
On the date of publication, Faizan Farooque did not have (either directly or indirectly) any positions in the securities mentioned in this article.
Faizan Farooque is a contributing author for InvestorPlace.com and numerous other financial sites. Faizan has several years of experience analyzing the stock market and was a former data journalist at S&P Global Market Intelligence.