A yellow light of sorts has lingered over much of Wall Street. But in a market also made up of heavily-shorted electric vehicle stocks, a red light in recent months has changed to flash a green buy signal. Let's look at three of these most-shorted stocks price charts and offer investors, well-aligned strategies for safer passage.
Blame it on what you will. And for many investors riding the major averages to all-time-highs and solid year-to-date returns, fingers are pointed at public enemy No. 1, Jay Powell and Fed regulators, following hawkish-sounding testimony on interest rate policy midweek.
Inching toward Friday's closing bell, the Dow was in pole position for the bears. Led by losses in Intel (NASDAQ:INTC) and Walgreens Boots Alliance (NYSE:WBA), the venerable blue-chip barometer WAS set finish the week lower by 3.25% and matching its worst five session stretch since late January.
Don't feel too bad for those market bulls, at least not yet. The Dow Jones is still up a historically robust 9% in 2021. And mind you, the index is only 5% off its recent all-time-high of 35,091 set last month. The same, of course, can't be said for many of the market's most-shorted stocks.
Looking ahead and at many already crashed EVs and now sporting confirmed corrective bottoming patterns, as well as a potentially powerful additive of high short interest, here are three of those most-shorted stocks revving to deliver profits.
Most-Shorted Stocks to Buy: Blink Charging (BLNK)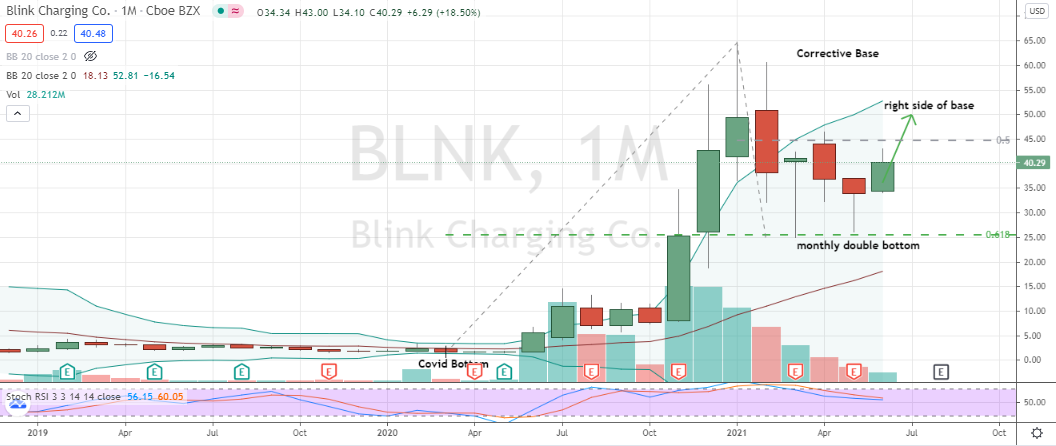 Source: Charts by TradingView
The first of our most-shorted stocks to buy are shares of Blink Charging. BLNK stock maintains short interest of nearly 35%. That figure has come in a couple basis points over the past month after Blink delivered a mixed, but well-received earnings report. The report featured sales growth of nearly 72% year-over-year and possibly triggered some shorts to cover.
Today and technically, the price action in BLNK has resulted in shares forming a healthy-looking corrective double-bottom pattern. The monthly view reveals May's hammer pivot candlestick has been confirmed. As well, there's a flattening stochastics in neutral territory. This is teasing a bullish crossover for investors be upbeat about.
The observation is this most-shorted stock has enough evidence in place for a purchase. But to make for a more secure buy of BLNK stock, an August $35/$50 collar is an alternative route to manage risk more smartly, off and on the price chart.
Workhorse Group (WKHS)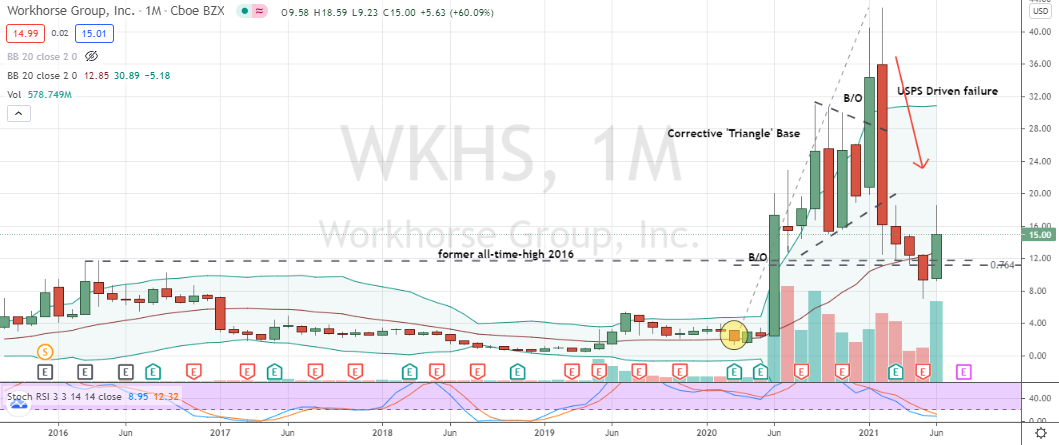 Source: Charts by TradingView
Workhorse Group is the next of our most-shorted stocks to buy. After losing out on a very well-publicized U.S. Postal Service deal for the mail carrier's Next Generation Delivery Vehicles (NGDVs) in late February, shares of WKHS took a massive hit of nearly 50% in a single session.
It wasn't without just cause either.
A lot was riding on a partnership which ultimately landed in the lap of Oshkosh (NYSE:OSK). WKHS enjoyed a mid-cap valuation and reached all-time-highs in anticipation of a massive $482 million initial order and contract to deliver 50,000 to 165,000 NGDV's over the next decade.
But today's WKHS stock is suggesting there may be life after the disappointment. Eternal life as an ongoing business entity? That's highly unlikely, according to InvestorPlace's Luke Lango. And I respect his two-cents on this most-shorted stock. Still, today's price chart trumps longevity worries for a shorter-term bottoming play. This might continue to squeeze WKHS's bear population of around 40%.
Technically, the provided monthly chart shows Workhorse shares have confirmed a monthly candlestick bottom. Reinforcing that bullish feature, WKHS has also reversed back through its former highs from 2016 and this most-shorted stock's 76% retracement level tied to its March pandemic bottom.
Along with an oversold stochastics oversold on the cusp of a bullish crossover, I wouldn't back up the truck – or umm a Workhorse van – on this trade. However, an August $17/$21 bull call spread is a well-priced, albeit slightly more speculative opportunity that has the goods to deliver.
Most-Shorted Stocks to Buy: Romeo Power (RMO)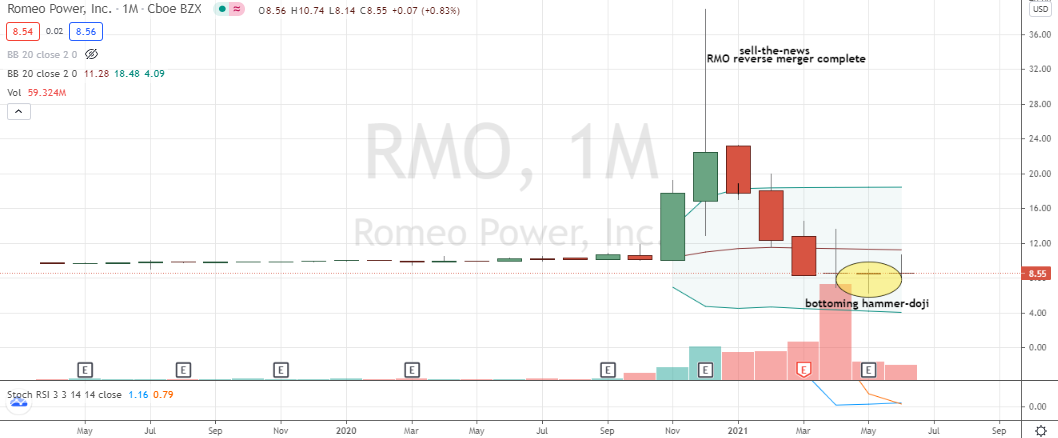 Source: Charts by TradingView
The last of our EVs most-shorted stocks to buy is Romeo Power. The outfit is an electric battery supplier that's fallen off the radar for investors other than RMO stock's short interest of about 24%. And with shares careening off course this year by 62%, the group has made hay of their own to be sure.
Today though, this may be a most-shorted stock for bulls to consider backing up the truck on.
As best as we can tell, an attractive battery deal with commercial rig manufacturer PACCAR (NASDAQ:PCAR) announced this past spring has taken a backseat to supply chain worries which could hurt production schedules and fail to accommodate end-user demand.
While unnerving, the good news is it's not as if bulls and bears have been blind to the situation. Again, RMO stock is off 62%. What's more and today, shares are showing indications of bottoming on the price chart.
Right now, RMO is idling near levels associated with a monthly chart corrective hammer doji formed off all-time-lows that was recently confirmed. Also this most-shorted stock is now signaling a bullish stochastics crossover. This is hinting the road ahead for investors could be a more pleasant ride.
To better prepare for "keep on trucking" price action in RMO and a bullish trend to emerge, I'd suggest an August $9/$12.5 collar for profitable upside, while avoiding the possibility of being a crash-test dummy.
On the date of publication, Chris Tyler does not hold (either directly or indirectly) positions in any securities mentioned in this article. The opinions expressed in this article are those of the writer, subject to the InvestorPlace.com Publishing Guidelines.
Chris Tyler is a former floor-based, derivatives market maker on the American and Pacific exchanges. For additional market insights and related musings, follow Chris on Twitter @Options_CAT and StockTwits.