It's been blockbuster style entertainment Wall Street style in the market's most celebrated and marquee stocks with high short interest. But in a universe of other most-shorted stocks, paying for admission still looks well-priced on the price chart, alongside a hedged and healthier side order from the options market. Let me explain.
Popcorn, really? In a you-can't-make-this-stuff-up kind of reality, this week cinema giant AMC announced free servings of buttery kernel goodness to its meme, short-squeeze and thrill riding audience. If the move by management were a movie, it might be called Embrace the Trolls Part II. Part I of course featured GameStop (NYSE:GME) with AMC, Blackberry (NYSE:BB) and Koss (NASDAQ:KOSS) receiving best supporting nods for their performances.
Today's arrangement between the notorious Redditors and AMC might not be so damning, if let's say the business pivot happened, maybe like, I don't know, when AMC stock wasn't already up more than 400% thereabouts in less than a handful of days and valued at more than half of the S&P 500's much healthier constituents. But it did. And the company's pandering is troubling to say the least.
That's not to say the market's other most-shorted stocks are also prone to a price sensitive reversion to the mean – or rather, a reversion of the meme! They' aren't. And right now we have three fairly well-shorted stocks investors might consider as healthier portfolio choices based on price patterns and strategically placed spreads to further skew that advantage.
Most-Shorted Stocks to Buy: Airbnb (ABNB)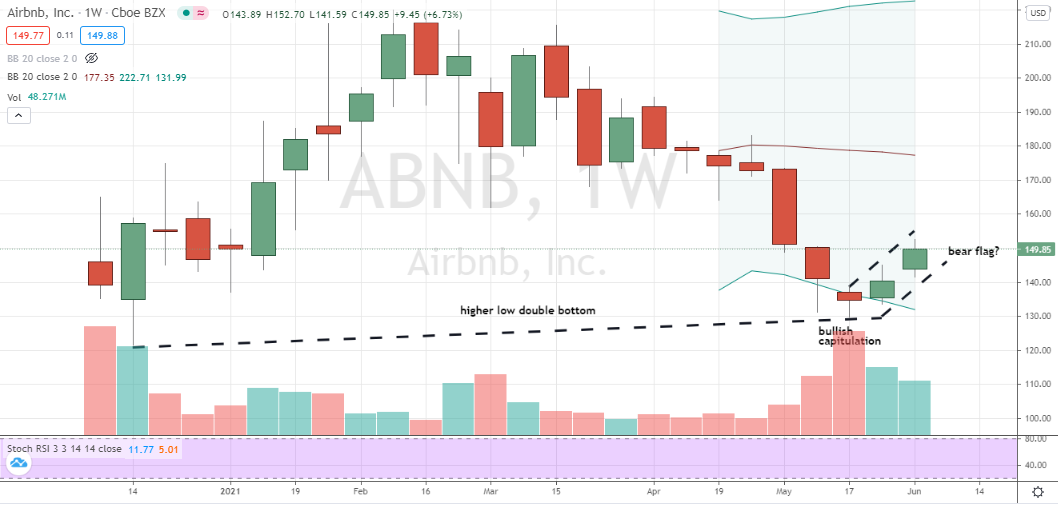 Source: Charts by TradingView
The first of our most-shorted stocks to buy are shares of Airbnb. The alt vacation rental operator's short interest comes in at 14%. It's not enough to catch the eye of Redditors, but appreciatively it's a relatively high percentage among publicly traded companies. And today the price chart is hinting it's time for those bears to pack their bags!
Technically, ABNB stock confirmed a weekly chart, lifetime higher-low variation of a classic double-bottom over the past couple weeks. Or is that a bear flag that's formed off the pivot low? There's always the chance. However, with capitulation-worthy volume formed during the bottoming candle, the observation is bulls have a spot, or rather, a well-discounted growth stock to reside in with confidence.
To position for the upside possibilities while keeping the downside exposure contained, I'd suggest structuring a modified July $180 call / ($140/$120 put) collar around this most-shorted stock.
Livent Corp. (LTHM)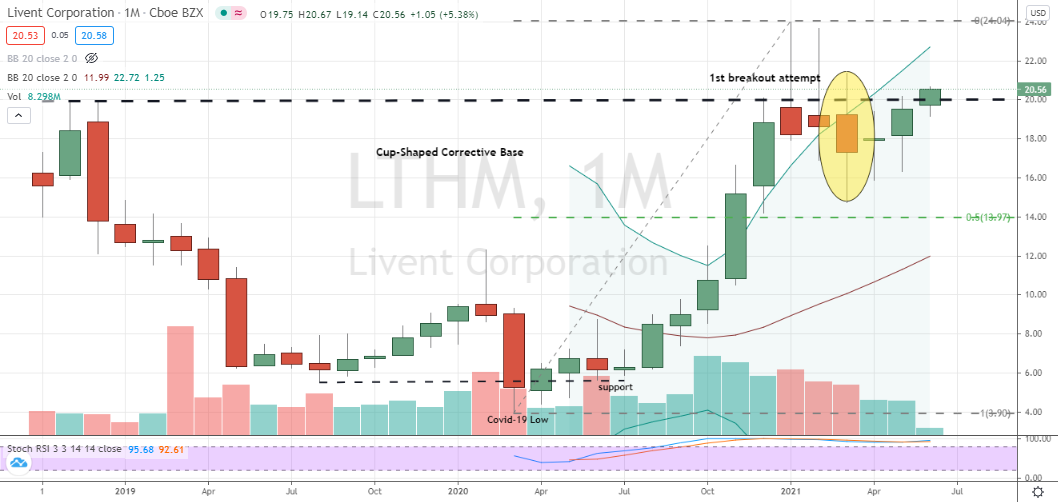 Source: Charts by TradingView
Livent Corp. is the next of our most-shorted stocks to buy. LTHM is a manufacturer of lithium compounds. And if for no other reason, it's big business these days with Tesla (NASDAQ:TSLA) and other EV outfits such as Churchill Capital (NYSE:CCIV) needing this critical material for their batteries.
Today, it's also time for LTHM stock investors to hop onboard a massive breakout and a resident bear population of more than 21% looking like imminent roadkill.
Technically, shares of this most-shorted stock are staging a second-attempt breakout from a lifetime cup-shaped corrective base. It's bullish. And with the pattern backed by more than two months of healthy inside price consolidation work within a bottoming doji candle formed around the cup's initial 2018 high, today's signal looks even more compelling.
Here, I'm favoring an October $22.50/$30 bull call spread as a vehicle with nice-looking risk-to-reward features.
Most-Shorted Stocks to Buy: C3.ai (AI)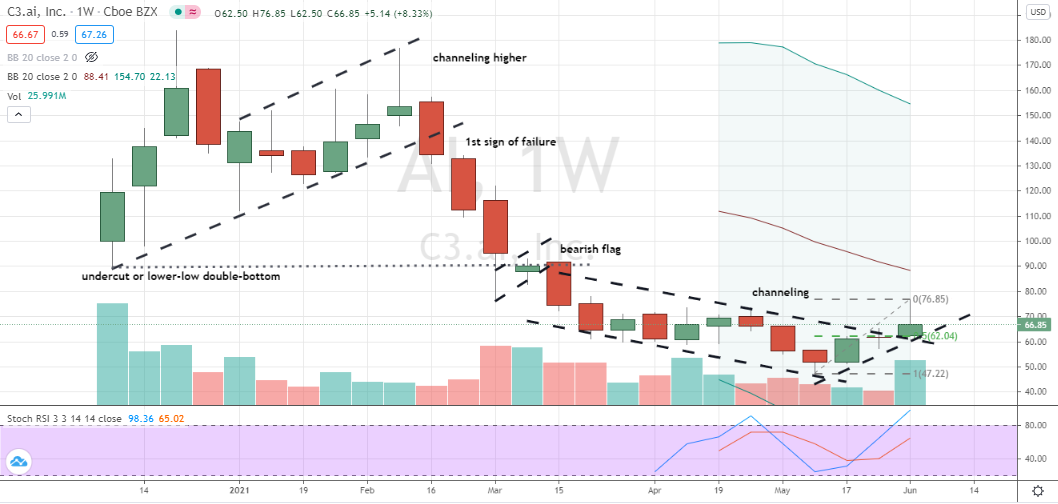 Source: Charts by TradingView
The last of our most-shorted stocks to buy is C3.ai. Earnings disappointed investors this week. OK, maybe not AI's short float of 22%. Still, was the 10% plunge in share value deserved? Especially for a growth stock of AI's caliber, earnings expectations can be tricky at best and quite often, short-sighted and short-lived business. Today as well, there's other big news for bullish AI stock investors to consider.
Shares exploded higher after energy giant Shell (NYSE:RDS.A) announced it was extending its strategic agreement with the enterprise AI play for an additional five years. Even better? Right now Wall Street's earnings reaction landed shares into a test of technical support made possible by the deal news.
Technically, we can see this most-shorted stock broke above channel resistance during the five-day period. Now and following the earnings sell-off, shares are challenging an intersection of trendline and Fibonacci support. And with support from stochastics, it looks like a nice spot to gas up the portfolio with AI stock and potentially, an emerging and well-discounted uptrend.
To make sure the Shell deal is the real deal on the price chart of this most-shorted stock, my suggestion is for bullish investors to park some AI stock into a July $65/$80 collar combination.
On the date of publication, Chris Tyler holds (either directly or indirectly) positions in C3.ai (AI) stock and its derivatives. The opinions expressed in this article are those of the writer, subject to the InvestorPlace.com Publishing Guidelines.
Chris Tyler is a former floor-based, derivatives market maker on the American and Pacific exchanges. For additional market insights and related musings, follow Chris on Twitter @Options_CAT and StockTwits.