If you're going to place a wager in Penn National Gaming (NASDAQ:PENN), today's sharper money play is to go with the 'da bears. Let's review what's happening in PENN stock, then offer a well-placed long debit put spread for solid offensive profits on the under and an equally strong defensive line for the over. Let me explain.
Bears have been on a winning streak in PENN during much of 2021. Shares are off roughly 7.5% on the year. And after sprinting 66% to a March all-time-high, Penn has backpedaled 43% with the stock stationed less than 9% from its corrective lows.
Don't feel too bad for PENN stock investors though.
Penn was one of the market's more spectacular rallies out of 2020's bear market bottom. From a low of $3.75 on March 18, 2020, shares soared by nearly 3,700% to $142 a year later. So what's gone wrong in Penn National Gaming's stock of late?
Challenges for PENN Stock
Broadly, 2021 has been a more challenging environment for growth narratives. And as a regional casino operator that's put its chips into the growing online sports and gambling markets vis-à-vis Barstool Sports mobile betting app, no doubt PENN has a seat at that riskier table.
But PENN floundered in a significant way compared its closest peers.
Caesars Entertainment (NASDAQ:CZR) and MGM Resorts (NYSE:MGM) are up big on the year. Churchill Downs (NASDAQ:CHDN) and DraftKings (NASDAQ:DKNG) are essentially breakeven propositions. Only Golden Nugget (NASDAQ:GNOG) has proven a similarly strong play for bears with a year-to-date decline of 33%.
So again, what's wrong in PENN? Nothing really. Sure, competition is always a concern. But PENN continues to smartly build its Hollywood casinos and online presence as states smartly embrace gaming's huge tax revenues and open their doors to legalization. To read more into PENN's current weakness as a mysterious and larger external threat is a mistake.
Bottom line, stocks correct all the time. Just ask today's forlorn Apple (NASDAQ:AAPL) or worse, Tesla (NASDAQ:TSLA) investors. This year hasn't proven kind to either stock despite their obvious muscle on major indices which remain firmly in-the-green in 2021.
As well, quite often the pressure on a stock of PENN's caliber is even less mysterious. It occurs as a natural ebb to a larger bullish cycle. And given the dizzying gains over the past year, which still find shares up about 2,000%, PENN certainly qualifies for this type of market reality.
The bad news is the relative discount in Penn National Gaming also doesn't make shares a buy. Not today at least.
PENN Stock Weekly Price Chart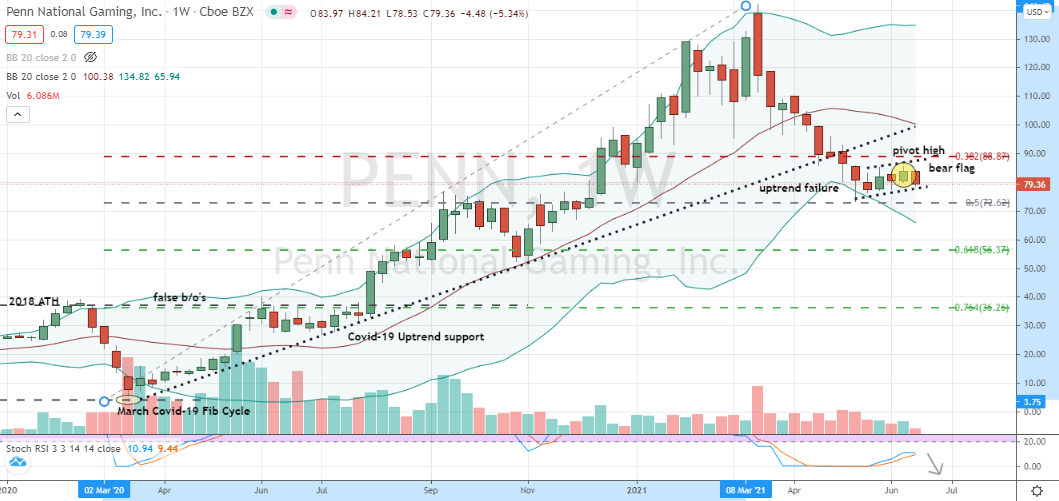 Source:
Charts by TradingView
Right now and of late you're bound to find plenty of table pounding, all-in optimism for buying PENN stock. There's ample declarations of investors being offered a gift or that Penn stock is a bargain. Some of those assertions of course are in my own backyard at InvestorPlace.
I can appreciate positive items such as a compounded return of around 30% over the next two years based on where PENN is today. But being early is the same as being wrong until the market and PENN stock say otherwise on the price chart. And at the moment, a correction is showing no indications of folding its hand on the weekly price chart.
Technically, May's failure of PENN's one-year uptrend has turned more ominous with shares forming a bearish flag pattern the past six weeks. With the consolidation failing against the 38% level which coincided with trend support, it's utility value for shorts has grown in our estimation.
There's more that's concerning. The flag just confirmed a weekly pivot high in Tuesday's session. Further, shares are sporting a shaky stochastics setup. That could turn ugly in a jiffy. All told, betting on a continuation of the bearish trend in PENN stock makes sense.
A Trade
For investors who similarly see nothing fundamentally wrong with PENN, but realize friendly trends in motion work both ways and can persist for longer than we think is possible, I'd recommend using a long put vertical spread to capitalize on today's bear market with greater authority.
Accounting for PENN's bearish chart, expectation of a challenge of the 62% support level could come into play on a full-blown pattern breakdown and listed options available. The October $70/$55 put combination is a favored play for betting on the under and maintaining an equally strong defensive line in case the over in PENN stock comes back into favor with other bettors.
On the date of publication, Chris Tyler holds (either directly or indirectly) long positions in DraftKings (DKNG) and its derivatives. The opinions expressed in this article are those of the writer, subject to the InvestorPlace.com Publishing Guidelines.
Chris Tyler is a former floor-based, derivatives market maker on the American and Pacific exchanges. For additional market insights and related musings, follow Chris on Twitter @Options_CAT and StockTwits.