Name calling aside, when it comes to today's Exela Technologies (NASDAQ:XELA), is now a good time to buy shares or is XELA stock a riskier investment proposition best to avoid? Let's review what's happening off and on the price chart, then offer a risk-adjusted determination aligned with those findings.
Meme stock!! GameStop (NYSE:GME). AMC (NYSE:AMC). Virgin Galactic (NYSE:SPCE).
They're among Reddit's ape population's most celebrated short-squeeze trading schemes. But whether you're an enthusiastic buyer or decidedly dismissive of the apes' brand of well-publicized tactics, as a group they've brought real value to the table in those select stocks.
The question today is whether XELA's meme stock status offers investors something more than a flash-in-the-pan play that's seen its best days? Surprisingly, the answer may be "yes."
The XELA Stock Story
Nobody, of course, not even an ape, should confuse Exela Technologies with a tech giant such as Amazon (NASDAQ:AMZN) or Salesforce.com (NYSE:CRM), let alone Reddit heavyweights GME or AMC stock.
For one, most investors haven't heard of XELA. That's in stark contrast to AMZN stock and CRM, as well as the apes' most prolific short squeezes. But maybe that's OK.
Stock investing isn't a popularity contest, right? If that were the end all, be all, Warren Buffet's methodology of buying under-loved companies wouldn't have made him one of the market's all-time greatest investors.
XELA also fetches just over $155 million. It's a tiny, small-cap and removed from the tens of billions and even trillions of dollars in market capitalization attached to GME, AMC, CRM and AMZN. Again, though, it may be best not to be snotty.
Delivering Revenue
In early May, the business process automation company delivered sales of just over $300 million or nearly twice the stock's valuation. Not bad, right?
More impressive, Exela Technologies' revenues aren't just a one-off either. On a yearly basis XELA's miniscule 0.11 trailing 12-month price-to-sales ratio is enough to even make other stock investors blush.
To be fair, XELA did come up modestly short of revenue estimates in its first quarter. And the outfit is still mired in red ink. Still, Exela is positive on an EBITDA basis. And this past week XELA announced its Digital Mailroom and DrySign products have seen record-breaking new users in the company's second quarter.
Investors can expect further clarity on financial items like those on Aug. 12 when Exela Technologies releases its Q2 earnings report. But if we're to believe in the forward-looking and predictive capacity of XELA stock's price chart, it could be all systems go for apes and other bullish investors today.
XELA Stock Weekly Price Chart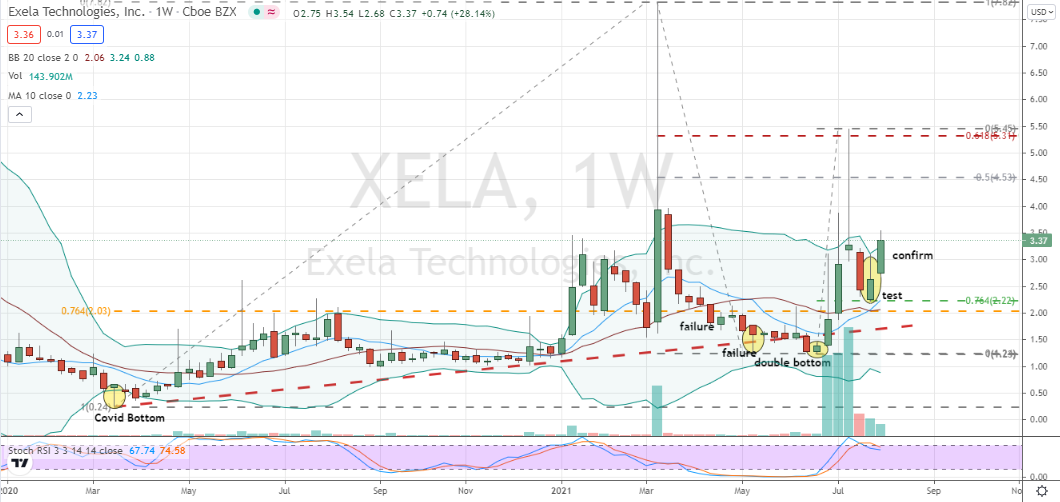 Source:
Charts by TradingView
XELA stock maintains short interest of 36%, according to data sourced from Marketbeat.com. That's among the most-shorted stocks in the market right now. And to be sure, those bears aren't looking to save the manatees or provide relief for Exela's 18,000 plus employees. They're in it to profit from a lower share price.
On occasion, bearish naysayers of this magnitude are proven wrong. Back in the post dot com apocalypse, AMZN stock had its share of shorts betting against the company.
More recently, Tesla (NASDAQ:TSLA) has run over legions of bears warning of shortcomings which never panned out. Most often though, it's the bulls and today, those crazy apes, coming up materially less well-off for their efforts over the long haul.
What to Do
Technically speaking, I'm a fan of building price momentum in XELA stock following a successful test of its 76% Fibonacci level and opening Bollinger Bands following a pinching pattern on the weekly time frame.
Given the price chart and bullishly, the idea of new highs and substantial profits on the back of flat-footed, heavy short interest is tempting to consider.
Bottom line though, if investors are committed to positioning for more than a swing trade, I'd add a hedge to that stock position. Right now, a December $2.5/$7.5 collar is one attractive way to leverage XELA stock's potential upside benefits, while limiting exposure to manageable levels off and on the price chart.
On the date of publication, Chris Tyler does not hold (either directly or indirectly) positions in any securities mentioned in this article. The opinions expressed in this article are those of the writer, subject to the InvestorPlace.com Publishing Guidelines.
Chris Tyler is a former floor-based, derivatives market maker on the American and Pacific exchanges. For additional market insights and related musings, follow Chris on Twitter @Options_CAT and StockTwits.