Some investors are still intent to talk up Dogecoin (CCC:DOGE-USD). But for the crypto meme-play, walking the talk these days and buying DOGE is increasingly likely to take a bite out of your trading account. Let me explain.
DOGE!! It was the original joke in the cryptocurrency market. Just ask Dogecoin's creators about what they birthed in 2013. But somewhere along the line, or rather in 2021, that fact got lost or swept under the carpet.
For a while in the vast ether of digital coins and tokens it was the Year of the DOGE. Or giving credit where credit was due, it was the Year of the Apes in Dogecoin.
A greater fool investment scheme made popular by Redditors bullish meme-seeking apes willing to price risk assets mostly on metrics tied to the number of tweets, retweets, hashtags and cute gifs gave new life to the dog-faced digital coin.
Rise of Dogecoin
Importantly, there was other social media muscle mostly backing Dogecoin's rise.
Led by Tesla (NASDAQ:TSLA) CEO Elon Musk and a few other entertainers and influencers, DOGE traded from less than a penny at the start of the year to a gluttonous cash cow price of nearly 75 cents and valuation in excess of $80 billion at its May peak.
But that was then, and this is now. And while Elon is still committed to tweeting frequently about the perpetually surprised Shiba Inu dog coin, it's no surprise DOGE has been in a more persistent campaign of biting back at bullish apes.
Today, Dogecoin sits at a more modest 22 cents. That still amounts to a rather significant $29 billion market cap, on par with Las Vegas Sands (NYSE:LVS) and Southwest Airlines (NYSE:LUV) and larger than nearly half of the companies in the S&P 500.
This Will Pass
I suppose these things take time? Or maybe it's hard to say goodbye to what had briefly been man's or rather an ape's best friend?
That too will pass, just as DOGE has already been passed in valuation by other cryptos like Solana (CCC:SOL-USD) and Cardano (CCC:ADA-USD) with stated purposes of providing various digital utility rather than a laugh.
Sure, once in a while old dogs can learn new tricks. And maybe that's what Elon and a few others are really focused on. A sequel and bigger picture for DOGE? I'll concede there are a couple morsels for Dogecoin owners to lick their chops over.
There has been buzz of crypto wallets at Reddit-friendly brokerage Robinhood (NASDAQ:HOOD) and meme stock ally CEO Adam Aron at AMC Entertainment (NYSE:AMC) mulling Dogecoin as payment for theater tickets.
Still, maybe Elon and those still paying attention to his DOGE tweets are just drawn to the cute-as-a-button Shiba Inu and can afford to lose? A DOGE price chart that continues to tear at investors like Cujo sure seems to indicate as much.
Dogecoin Weekly Price Chart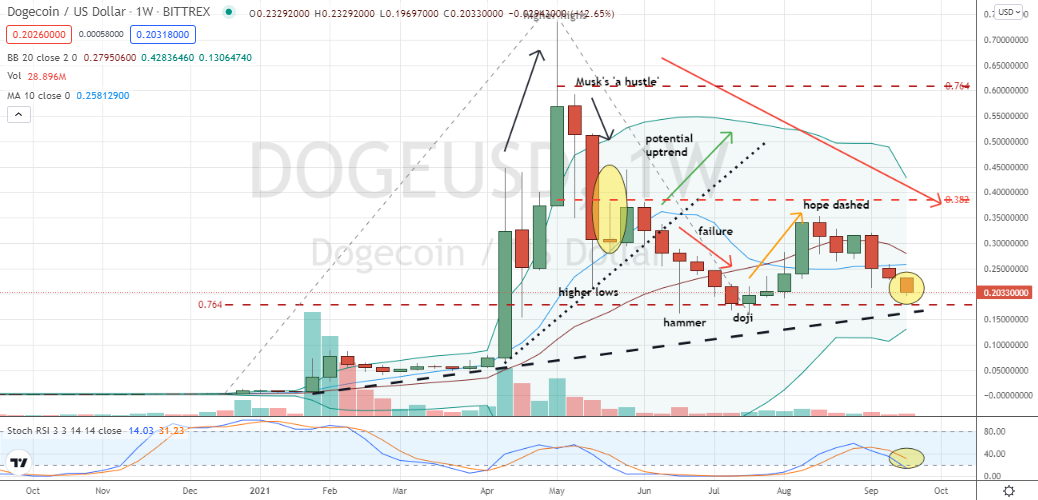 Source:
Charts by TradingView
Bow wow. OK, so I'm not a fan of Dogecoin. But the weekly price chart does also side with a token that's increasingly difficult to give the benefit of the doubt to.
Unlike other larger cryptos which swung to new highs this summer, revisited relative highs like Ethereum (CCC:ETH-USD) or at least challenged their 62% retracement level such as Bitcoin (CCC:BTC-USD), DOGE failed at its lowly 38% Fibonacci level.
Today, and following a less bullish month for most digital assets, DOGE has continued to bite its bullish base even harder than the market's most valuable cryptos with much larger losses of around 27% in September.
If you're lucky, maybe the price chart could help with a more friendly Shiba Inu making a short appearance. But don't take that behavior for granted.
Technically, the token is revisiting its 78% retracement level and near angular support. But with no signs of DOGE's stochastics turning friendlier yet, remember the signage "Beware of Dog(e)" when considering ownership of DOGE.
On the date of publication, Chris Tyler holds (either directly or indirectly) positions Grayscale Bitcoin and Ethereum Trusts (GBTC, ETCG and ETHE). The opinions expressed in this article are those of the writer, subject to the InvestorPlace.com Publishing Guidelines.
Chris Tyler is a former floor-based, derivatives market maker on the American and Pacific exchanges. For additional market insights and related musings, follow Chris on Twitter @Options_CAT and StockTwits.