It's a call, of sorts, which widows, orphans and apes aren't likely to make in today's market. I'm talking about a purchase of AT&T (NYSE:T) shares. But when it comes to tomorrow's T stock, are opportunities availing themselves to other investors?
Let's take a look at what's happening in AT&T off and on the price chart — with T stock down 8.6% in the last six months — then offer a risk-adjusted determination aligned with those findings.
In the world of income-generating assets, AT&T is committing the cardinal sin. Management announced it is slashing the T stock dividend by nearly 50%. In the process, today's yield of just more than 7.5% will shrink to about 4.3%.
A reduction of this kind obviously won't mean much to today's influential Reddit ape population whose only aim is to book capital gains. The thing is nobody is about to mistake T stock for GameStop (NYSE:GME) or AMC Entertainment (NYSE:AMC), two of this year's prolific Redditor plays.
So AT&T must not matter, right? Actually, that's an emphatic 'no.'
T Stock's Never Been A Rafter-Swinging Play
The thing is AT&T's dividend cut is undesirable big news for investors whose primary goal is regular and safe income measured over years and not the product of T stock swinging from the rafters from session-to-session in search of returns.
The good news, for other investors at least, while widows, orphans and apes may be pained or dismissive of T stock, AT&T remains a blue-chip whose payout is attractively priced at more than 2.5 times the yield of the S&P 500 index.
The better news is tomorrow's T stock is offering those investors an increased likelihood of capturing growth, along with that bonus of getting paid a fairly decent-looking dividend.
Not entirely unlike what GME or AMC's turnaround efforts are offering investors, AT&T's well-telegraphed divestiture of its WarnerMedia division and dividend cut allow what was once Ma Bell to pivot more forcefully into its 5G business in an effort to deliver multi-year growth to shareholders. T stock is down 12.6% since the news of the deal with Discovery (NASDAQ:DISCB) came out in mid May.
Bottom-line, T stock's woeful underperformance of the past few years was in serious need of an overhaul. I'm sure even widows and orphans would agree on that point.
Today AT&T is moving down a better path. At the same time and on the T stock price chart, shares could be moving smartly higher along another time-honored and bullish path in the near future.
T Stock Monthly Price Chart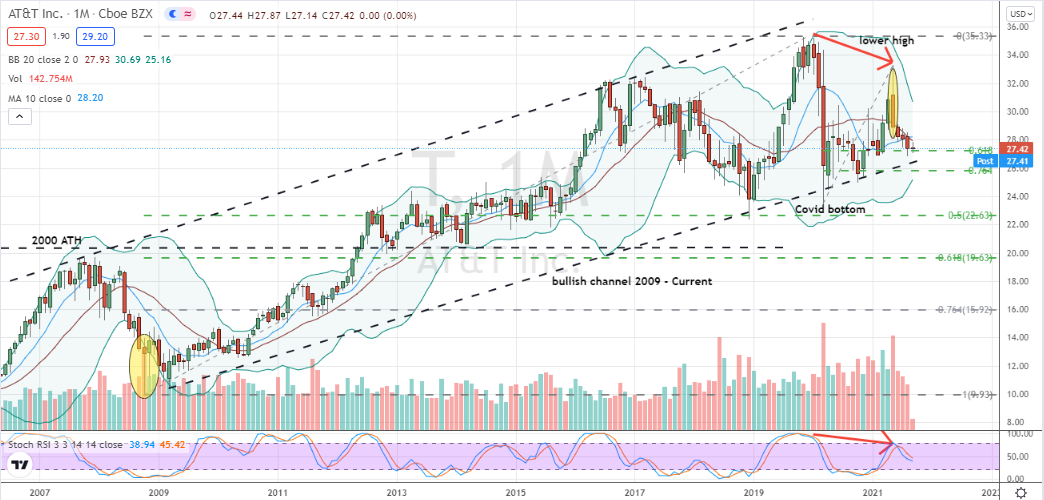 Source:
Charts by TradingView
Is it time to let bygones be bygones in T stock? Some investors may be wary of forgiveness. It was AT&T's ill-fated acquisition of WarnerMedia that's forced this year's tough regrouping. Understandably, I get it. The shares have lost 15.7% since that deal closed in June 2018.
Still, the decisive actions taken by AT&T's management do offer the chance for the shares to move back into more familiar and obviously focused territory. And there are a couple significant 5G deals with both General Motors (NYSE:GM) and Cisco Systems (NASDAQ:CSCO) to be positive about.
For investors who are upbeat on the possibility for a turnaround in T stock, I don't believe a purchase needs to happen today.
The observation is that for more meaningful value to be captured in AT&T shares, some key technical work needs to occur first. As the above monthly chart of T stock reveals, shares have been declining for a little more than three months since forming a lower high pattern.
To be sure, the price action has been bearish, particularly in lieu of the broader market's record-setting highs. But there's more than just one pattern at play. And it could be a very large positive.
Promisingly, AT&T is testing channel and Fibonacci support tied to the stock's 2020 Covid bottom. And with the uptrend dating back to the 2008 – 2009 financial crisis, it's absolutely worth monitoring for a low to form.
But that's all T deserves right now — watching, not touching!
If AT&T is going to transition into a bullishly profitable investment, in a complex world where unlocking value can be difficult, a simple candlestick pivot low in conjunction with a bullish stochastics crossover should go a long ways towards confirming better months and years ahead for T stock.
On the date of publication, Chris Tyler does not hold (either directly or indirectly) positions in any securities mentioned in this article. The opinions expressed in this article are those of the writer, subject to the InvestorPlace.com Publishing Guidelines.
Chris Tyler is a former floor-based, derivatives market maker on the American and Pacific exchanges. For additional market insights and related musings, follow Chris on Twitter @Options_CAT and StockTwits.