It's down big the past week. But when it comes to new IPO and electric vehicle (EV) pick-up play Rivian Automotive (NASDAQ:RIVN), is it time to back up the truck on RIVN stock?
Today let's look at what's under the hood both off and on the price chart in RIVN, then offer a risk-adjusted determination aligned with those findings.
If your pulse on the stock market extends beyond the 15 seconds dedicated to the S&P 500 or Dow Jones on the nightly news, you're aware growth stocks have quickly come under pressure once again.
Importantly the divergent price action jarringly confirms, as growth investors found out earlier this year, the stock market is truly made up of stocks.
And RIVN is caught in those market crosshairs as Wall Street revisits its fling with value stocks at the expense of higher and no multiple narratives.
But Rivian is different, right?
Rivian can name both Ford Motors (NYSE:F) and Amazon (NASDAQ:AMZN) as big-time stakeholders. Combined, they own nearly one-third of RIVN stock.
Also, there's Amazon's well-publicized order for 100,000 vehicles as the tech behemoth moves its massive commercial fleet of vehicles to renewables.
Obviously, when it comes to RIVN, there's confidence. It's not just talk, either. But to quote the Oracle of Omaha, price is what you pay, and value is what you receive.
And from investors other than Ford or Amazon caught buying RIVN's $78 a share IPO to those more aggressively buying shares for as much as $179.47 — or today's $118 and just north of $100 billion valuation — is RIVN a flying car?
It's a rhetorical question. Rivian is only an EV.
Among its peers, RIVN shares rank only behind Tesla (NASDAQ:TSLA) and Toyota Motors (NYSE:TM) in market capitalization. Be wary of today's RIVN sticker price.
Rivian bulls might contend — somewhat rightfully — that Tesla proved what had previously not been possible. Therefore, the bar in RIVN should be rightfully raised for up-and-coming EV stocks. And I get it.
I wrote about that exact dynamic in EVs with Lucid Motors (NASDAQ:LCID) this summer on a couple of occasions following the stock's car wreck-like multiple compression.
But again, today's Rivian makes LCID, even at its most reviled, appear like a stock with a price that almost manages to resemble value.
Sure, the Oracle might scoff at that. But Jim Cramer, a guy that knows a thing about momentum investing, hasn't minced words.
The former hedge fund operator says that — while you can't dismiss Rivian's pedigree given its sold out production line prior to entering mass production — "it's better to ring the register early and often."
RIVN Stock 60-Minute Price Chart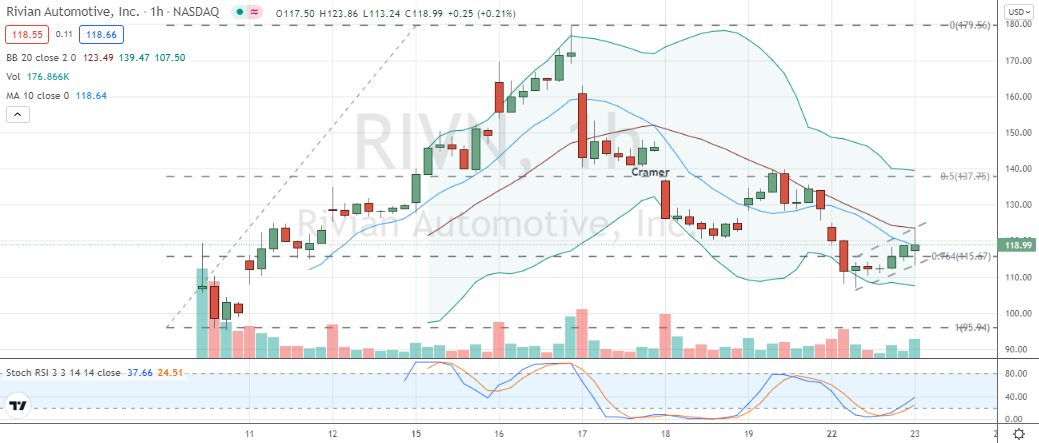 Source: Charts by TradingView
I agree with Cramer, in that if you're going to make a trade in RIVN stock, it needs to be one of the fast money variety. Given that agreeable argument and with Rivian shares just entering their second week, a more exacting approach to buying makes sense.
I'd proffer using RIVN's 60-minute price. But that doesn't mean a trade for Rivian exists just yet. Today, RIVN stock is in a downtrend which has formed a possible bear flag stationed around its 76% Fibonacci level.
A failure to hold pattern support near $113 which combines with a bearish stochastics crossover could find shares revisiting its low of $95 set on its first day of trading.
Were that to occur in the near future, some variation of a more meaningful daily chart double-bottom could come into play.
Bottom line, though — and given RIVN's very high market expectations — I'd suggest a short-term buy and test drive RIVN stock chart with a weeklies options strategy for managing risk.
On the date of publication, Chris Tyler did not have (either directly or indirectly) any positions in the securities mentioned in this article. The opinions expressed in this article are those of the writer, subject to the InvestorPlace.com Publishing Guidelines.
Chris Tyler is a former floor-based, derivatives market maker on the American and Pacific exchanges. For additional market insights and related musings, follow Chris on Twitter @Options_CAT and StockTwits.