This article is excerpted from Tom Yeung's Moonshot Investor newsletter. To make sure you don't miss any of Tom's potential 100x picks, subscribe to his mailing list here.
Bitcoin Is Back! Or Is It?
Bitcoin (CCC:BTC-USD) continued its volatile run on Tuesday, breaking back above $50,000 for the seventh time this year. One might compare BTC's indecisiveness to that of a housecat going outside, except no feline ever swayed $950 billion of value each time it decided to go out (or stay in).
As fears around the omicron variant subside, Bitcoin will inevitably run into other headwinds. A slowdown in the Fed's bond-buying program… a rate rise to combat inflation… a general decline in investor interest… the potential pitfalls are practically limitless.
But even as BTC struggles, other advanced cryptocurrencies promise a bright future. Perhaps it's time to leave the screen door open for the cat and figure out what the Doge (CCC:DOGE-USD) is doing.
3 Cryptocurrencies to Buy the Dip
Few Wall Street idioms are as polarizing among investors as this:
"Buy the dip."
Value investors will lick their lips at the thought. To them, Walmart (NYSE:WMT) dropping to $75 isn't just a buying opportunity. It's reason enough to stop by a store for party balloons and cheap champagne.
Growth investors meanwhile, will likely recoil at the phrase. Older investors will remember the dot-com bubble fallout when Amazon (NASDAQ:AMZN) stock went from over $100 to $20… then continued falling to $6.
Crypto investors however, have it the hardest. Prices can quickly go to zero because coins oftentimes only have value because people think they should. That tendency to self-fulfill prophecies is a big part of why my Momentum Master strategy explicitly sells meme coins during declines and stays out until prices start to rebound. You don't want to be left holding the bag, whether it's full of Beanie Babies or Cryptoblades (CCC:SKLZ-USD).
So is there ever a reason to buy any cryptocurrencies on the dip?
Certainly.
Ethereum (ETH)
My No. 1 crypto pick for 2021 has survived an unending onslaught of "Ethereum Killers," "Taper Tantrums" and Bitcoin wobbles to become one of the year's best-performing mega-cap cryptos. Now that its price has fallen from a peak at $4,858, Ethereum (CCC:ETH-USD) offers long-term buyers a chance to get in at a more reasonable value.
There are three critical reasons investors believe ETH is here to stay.
Non-Fungible Tokens (NFTs). NFTs have gone from a fringe interest to an acceptable medium for tracking digital art. Though the market will surely cool in the coming years, Ethereum currently supports 99% of these NFTs, giving it an almost unstoppable head start.
Ethereum 2.0. Ethereum's community of developers has continued to push forward with upgrades. Its latest, a "2.0" version, is an energy-efficient "Proof of Stake" (PoS) protocol that puts ETH on the same level of energy efficiency as Cardano (CCC:ADA-USD) and Solana (CCC:SOL-USD).
Now, there are admittedly some downsides to buying Ethereum above $4,000.
Price. ETH was in the $1,000 range when I picked it as a top 2021 coin to buy; its present $500 billion market capitalization makes it a far riskier gamble.
Macro. ETH won't be immune from a wholesale crypto selloff. Memories of the 2018 crash should still reverberate in any experienced trader's mind.
Fundamentals. Ethereum still produces no revenue or dividends. Though investors can earn some staking rewards, the value of Ethereum comes from its future potential, rather than its earnings power.
But for those looking to get started with crypto investing, Ethereum provides a balanced risk-to-reward payoff that many other coins lack.
Terra (LUNA)
I've written about this game-changing cryptocurrency before. With crypto prices in freefall, LUNA (CCC:LUNA-USD) could unintuitively go up as investors pivot to safer assets.
Here's how.
Terraform Labs is an ecosystem of stablecoins with a twist. Rather than backing its stablecoins with assets (which can easily be faked), the firm uses a mechanism to shift volatility to the Luna cryptocurrency. If prices of dollar-linked TerraUSD (CCC:UST-USD) begin to rise due to demand, arbitrageurs can trade in Terra to cap UST's rise, earning small profits in the process.
That has made LUNA a clear cryptocurrency to watch.
Bitcoin's recent fall created a gold rush into UST and other stablecoins for the lower-risk staking rewards they offer. Market capitalizations of the largest-3 have grown 5% in the past week even as crypto markets have shrunk by 12%.
Here's the trick: as arbitrageurs send in their Terra for arbitrage rewards, the system essentially burns the tokens and raises the price of LUNA instead. In other words, LUNA gains even as investors rush out of riskier assets.
Though Bitcoin's fall could prove temporary, LUNA's position as a proxy for stablecoin demand makes it a reduced-risk cryptocurrency to buy on the dip.
Algorand (ALGO)
Those looking for a cheaper alternative to Solana should consider my darkhorse favorite:
Algorand (CCC:ALGO-USD).
ALGO is much like the talented middle child in an overachieving family. It's well run and astonishingly well constructed, yet its older and younger siblings still get all the attention. But as the Bitcoin shakeout continues, that will change.
Technology. Algorand runs on a Pure Proof of Stake (PPOS) protocol, distributing voting power across its holders. Unlike regular Proof of Stake (POS) protocols, users are free to spend their staked tokens, making ALGO more attractive than coins like Cosmos (CCC:ATOM-USD).
Marketing. The Algorand Foundation has bet on smaller, meaningful sponsorships. Whereas outfits like Coinbase (NASDAQ:COIN) spend millions courting enterprises like the NBA, Algorand focuses on niches like the Drone Racing League, leaving its core fund available for grants.
Though ALGO will certainly bob up and down with crypto markets in the short run, it's quietly building out an ecosystem that could potentially survive Bitcoin's next rout.
Bonus to Watch: Crypto.com Coin (CRO)
Since I first dubbed CRO "the 35 cent crypto that could sink Robinhood," prices have taken quite the rollercoaster ride. Crypto.com's native currency almost touched $1 in November before losing nearly half its value in three short weeks. Prices have since settled in the 65 cent range, providing the Moonshot Investor with another 100% returner.
But is CRO a "buy" in the short term?
The answer is mixed. The Momentum Master strategy says to buy after Tuesday's recovery: prices at 65 cents broke back above its 25-day moving average.
But in volatile times like these, investors aren't always trading with consistent emotions. Bitcoin's sudden fall included block sales of 3,000 coins or more; those with leveraged positions would have been forced to sell out.
At 35 cents, CRO made the "buy" list. But now, at 65 cents, investors should slowly load up rather than jumping in headfirst.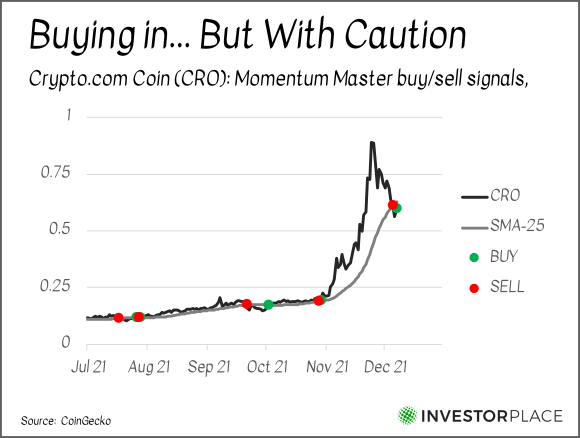 Picking the Next Meme Coin
Those who know me often ask: "I have $500. What cryptocurrency should I buy to make me a millionaire?"
On one hand, I'm sure they understand the long odds of the request. With 2 million tokens in existence, asking for the next Shiba Inu is like divining which slot machine in the world will next spit out a jackpot (Besides, anyone with true psychic abilities would probably find something more interesting to do than picking meme tokens).
But on the other hand, those looking for a crypto cash cow can narrow down their search.
Firstly, meme investors love patterns. Most top gainers are portmanteaus or recombinations of other successful tokens. ElonFlokiInu (CCC:EFLOKI-USD) combines "Elon Musk," his pet dog "Floki," and "Shiba Inu" into one satisfying soundbite. You could create a token out of paper mache and silly string. Call it "SafeDogeMars," and people might still buy it.
Secondly, trends matter. Omicron Token (CCC:OMIC-USD) rose 10x after a new Covid-19 variant made headlines. And Christmas Floki X (CCC:CFLOKIX-USD) surely owes its success to the holiday season. That's because these meme tokens thrive on attention: the more infamy, the better.
Finally, there's buzz. I suspect many tokens use Twitter bots to seed their follower lists — there's little other way for some projects to get off the ground.
These three criteria certainly narrow the field. Only 25,000 Binance tokens contain the word "Inu," and fewer have any social media presence at all.
Consider Hero Shiba Inu, a new cryptocurrency minted last Sunday. As of writing, its Twitter account sports 5,000 followers and claims to have 1,040,000 holders (though a factcheck on BSCScan shows just 444). Though it's unlikely that the "has a super power [sic] will fly to the moon" crypto is worth more than the site it's hosted on, I'd sooner bet on Hero Shiba Inu than on a randomly selected token.
P.S. Do you want to hear more about cryptocurrencies? Penny stocks? Options? Leave me a note at moonshots@investorplace.com or connect with me on LinkedIn and let me know what you'd like to see.
FREE REPORT: 17 Reddit Penny Stocks to Buy Now
Thomas Yeung is an expert when it comes to finding fast-paced growth opportunities on Reddit. He recommended Dogecoin before it skyrocketed over 8,000%, Ripple before it flew up more than 480% and Cardano before it soared 460%. Now, in a new report, he's naming 17 of his favorite Reddit penny stocks. Claim your FREE COPY here!
On the date of publication, Tom Yeung did not have (either directly or indirectly) any positions in the securities mentioned in this article.
Tom Yeung, CFA, is a registered investment advisor on a mission to bring simplicity to the world of investing.