Not that it ever left entirely. But Covid-19 is back with a vengeance. Today let's explore three sickly-looking Covid stocks to buy which should find successful resuscitation efforts worth investing for in 2022 and beyond, whatever that might really look like.
They say laughter is the best medicine. But hopefully we'll quickly find something even stronger against omicron, the latest and possibly most troubling Covid variant yet.
Unfortunately, based on what top vaccine manufacturer Moderna (NASDAQ:MRNA) warned Tuesday, nesting and performing as much of our daily lives from the relative safety of our homes may be a smart move once more.
The quick-spreading strain has gotten Wall Street's attention. Following Monday's buy-the-dip Pavlov response to Friday's plunge, the S&P 500 was sent tumbling nearly 2% to fresh relative lows while the VIX a.k.a. fear index made a second near challenge of the historically fearful 30% level.
And while investors have been known to laughably overreact from time to time, given the market's historic and record breaking rally since the virus' most damaging impact on risk assets back in March 2020 – a Roaring '20s Version 2.0 may be due for its own quarantine of its own accord.
Still, that's not to say there aren't Covid stocks to buy.
Hopefully, we're not staring at another round of the "new normal" schtick. But just in case, or to prepare for some variant of life as we know it, here are three Covid stocks worth getting reacquainted with which should help with your mental, financial and physical well-being.
Covid Stocks to Buy: Teladoc (TDOC)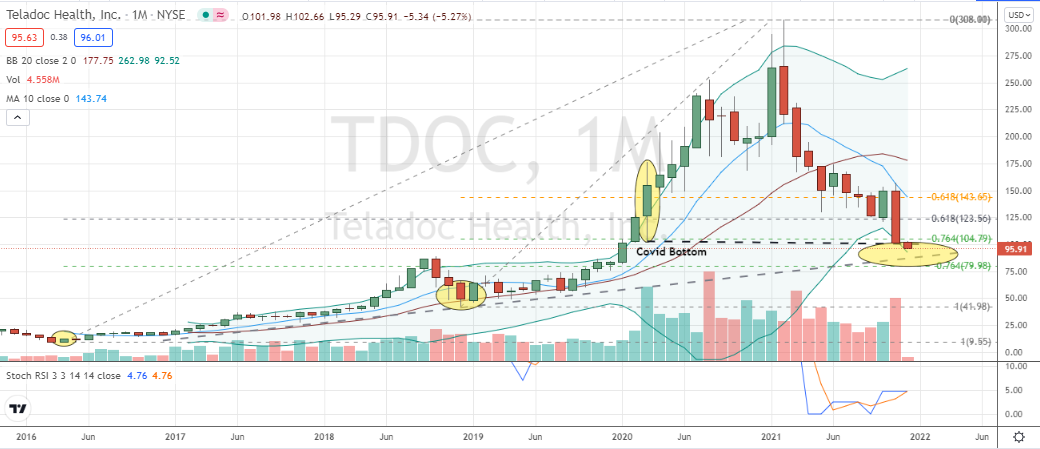 Source: Charts by TradingView
The first of our Covid stocks to buy is Teladoc.
November signaled a false positive for TDOC investors looking to snap up the virtual healthcare champ at a steep discount based on chart-driven and actionable bottom.
It happens. But a deeper technical tourniquet of sorts on the price chart should find an unappreciated and very well-positioned TDOC stock making a recovery in 2022.
Today and entering December, last month's price cut of more than 30% has turned shares into much more valuable merchandise.
As the illustrated price chart of this Covid stock to buy reveals, Teladoc shares are now inside a deep are of technical support backed by two 76% Fibonacci levels, trendline support, as well as TDOC's March 2020 bottom.
For a healthier purchase option, I'd prescribe the March $105/$125 collar as the right type of Rx for this Covid stock
Zoom Video (ZM)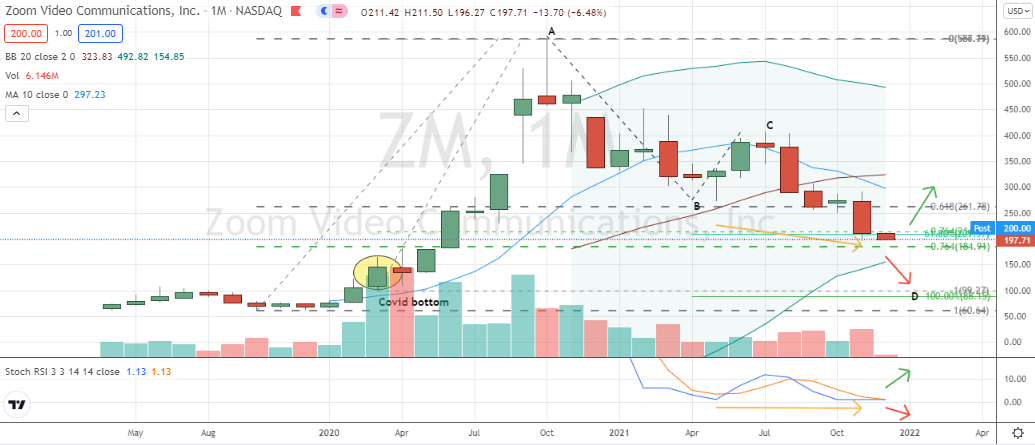 Source: Charts by TradingView
The next of our Covid stocks to buy is Zoom Video.
The Brady Bunch style video conferencing platform proved a sensation during this past year's lockdowns with, umm, virtually anyone and everyone in need of a more virtual mode for communicating.
Today and while physical hugs and kisses have obviously disrupted ZM stock's most ambitious and forward-looking investor enthusiasm, the price chart hints of a Britney Spears "oops, I did it again" scenario to play out next year.
Currently shares of this Covid stock to buy are testing multiple retracement levels tied to ZM's Covid bottom, lifetime all-time-low and a Fibonacci-based two-step pattern.
Combined with some positive divergence from Zoom's stochastics relative to its price action since May's initial bottoming effort, shares could be close to bottoming.
I'd suggest waiting on a fully visible stochastics crossover before chatting with friends, family and business associates about a well-timed purchase of ZM.
But given a rather wide technical air pocket stretching down toward $100, I'd also suggest bragging about a smartly-priced out-of-the-money vertical or collar on this Covid stock to buy.
Covid Stocks to Buy: Peloton (PTON)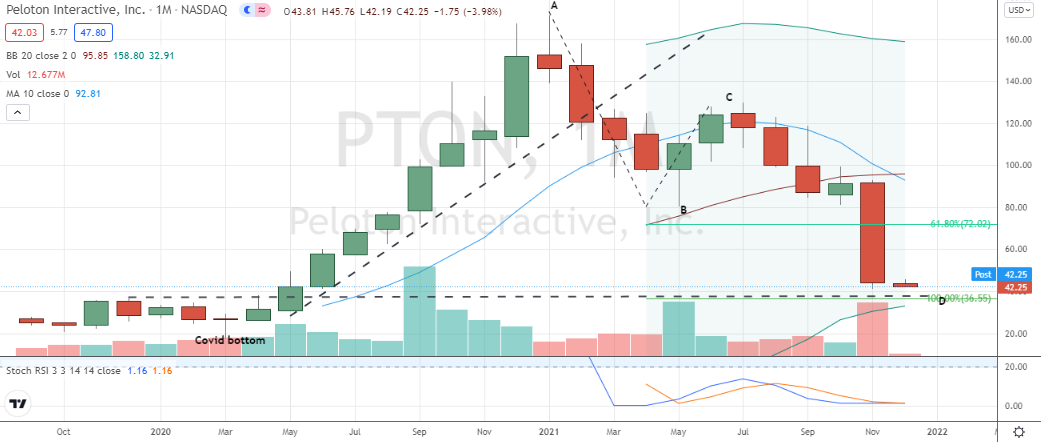 Source: Charts by TradingView
The last of our Covid stocks to buy: shares of Peloton.
For much of last year's rebound out of the pandemic's darkest days on Wall Street, PTON was hot-to-trot with investors. And for good reason too.
Shuddered gyms and PTON's next-gen, virtual bootcamp style workouts filled a significant void physically and mentally for many looking to get in shape in a supportive environment.
This year of course and riding the coattails or onesies of babies caught on its treadmills and bikes, the narrative and price action in this Covid stock to buy would be hard-pressed to get much uglier. And for good reasons.
Yet and as stocks ranging from Exxon (NYSE:XOM), Altria (NYSE:MO) or Johnson & Johnson (NYSE:JNJ) have shown, Wall Street can be a very forgiving place – even when there's much greater malice involved.
And with PTON shares positioned in a mostly, full-blown two-step pattern completion with leg CD matching leg AB courtesy of November's dizzying 52% plunge, it's time to hop back into the proverbial saddle of this Covid stock to buy.
Bottom line though, to ensure a sweat-inducing decision of this type doesn't make for larger punishment, suiting up with the July $50/$75 bull call spread in lieu of PTON stock looks like a wise one.
On the date of publication, Chris Tyler did not have (either directly or indirectly) any positions in the securities mentioned in this article. The opinions expressed in this article are those of the writer, subject to the InvestorPlace.com Publishing Guidelines.
Chris Tyler is a former floor-based, derivatives market maker on the American and Pacific exchanges. For additional market insights and related musings, follow Chris on Twitter @Options_CAT and StockTwits.