As the late comedian Rodney Dangerfield would say, "No, respect I tell 'ya." And that kinda sums up today's stock market. But how's that look in today's most-shorted stocks? I'm glad you asked.
With the ink still drying on the official announcement of Russian invading Ukraine, the Nasdaq's bear market, has come and gone in all of about the time it takes for an intraday candlestick to form.
A bloody market open on Thursday tied to the overseas invasion sent the tech-heavy index down more than 3%.
In doing so it also signaled an ominous loss of more than 20% for the bellwether from its January high. It officially triggered a bear market in the Nasdaq.
Buoyed by sharp intraday reversals in Microsoft (NASDAQ:MSFT), Tesla (NASDAQ:TSLA) and other heavyweights, the tangle with the baby bear has been easy business so far with the Nasdaq closing up 3.35% and adding another 1% in Friday's session.
No, respect I tell 'ya. Maybe?
Elsewhere though, it's fair to say the market's comeback and feel-good Roaring '20s ways continues to look quite different.
Today, let's examine the price charts of three of the market's most-shorted stocks and discuss whether investors have a more productive opportunity buying, selling or staying at arm's length from those tickers.
Most-Shorted Stocks to Trade: Blink Charging (BLNK)


Source: Charts by TradingView
The first of our most-shorted stocks is Blink Charging. And it's on our watchlist as a buy.
This $1 billion small-cap EV charging station play maintains hefty, short interest of 41%. And fairly, bears have mostly been on the right side of the trade.
Shares of BLNK stock are down 62% from their February 2021 peak. But being cheaper isn't why this most-shorted stock shapes up as one to buy.
Also, I wouldn't recommend charging into this most-shorted stock because shares soared 9% on Thursday.
Not that I'd totally fault that trade's logic.
The specter of higher oil prices as war unfolds in Ukraine and the U.S. further committing itself to home-grown energy alternatives for national security reasons has a ring to it.
Today's reason that BLNK deserves a spot on investors' buy watchlists can be found on this most-shorted stock's monthly price chart.
Technically, the longer-time frame reveals a potential bear trap setting up on the heels of this most-shorted stock's triple bottom failure in January.
At the moment investors need trade-through confirmation for February's inside candlestick.
With a modestly diverging stochastics in position to bullishly flip, a candle signal which also reverses the 62% level and a high concentration of bears possibly recognizing the need to cover, this most-shorted stock has other factors to support a purchase.
And with earnings on tap early next week and welcoming in the month of March, a stronger buy decision in BLNK stock looks close at hand.
Nordstrom (JWN)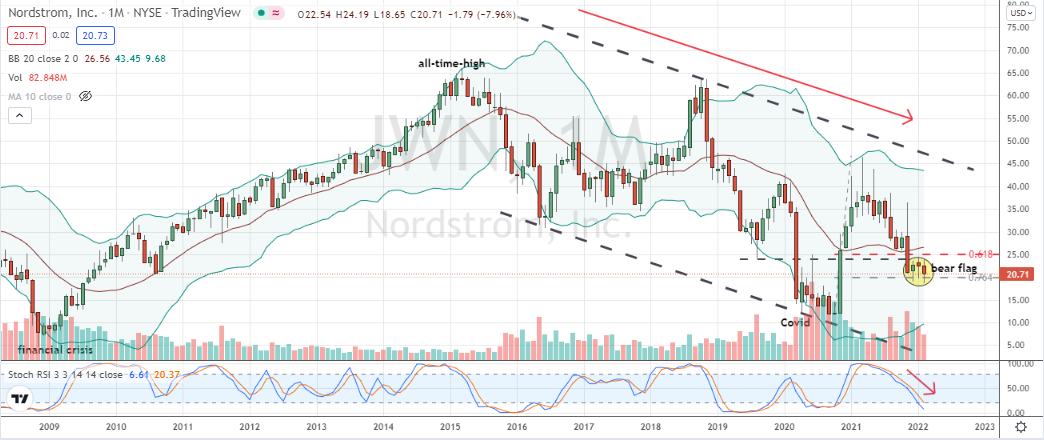 Source: Charts by TradingView
The next of our most-shorted stocks to trade is Nordstrom. And it's setting up as a short.
The upscale retailer holds short interest of around 20.50% and a mid-cap valuation of $3.3 billion.
Earnings for JWN stock are also on tap next week on March 1. Unlike BLNK, I don't see the need to wait on this most-shorted stock.
A monthly price chart has already narrowly signaled a short pattern entry from a bear flag formed beneath the 62% Fibonacci level.
Shares have worked their way back inside the bearish consolidation. But I see that as an opportunity for a limited risk bear put spread at a better price on temporary share strength in this most-shorted stock.
All told, combined with stochastics trending down and just entering oversold territory and looking at fellow retailer Foot Locker's (NYSE:FL) earnings plunge — the doors are open today for investors to go short JWN stock.
Most-Shorted Stocks to Trade: Beyond Meat (BYND)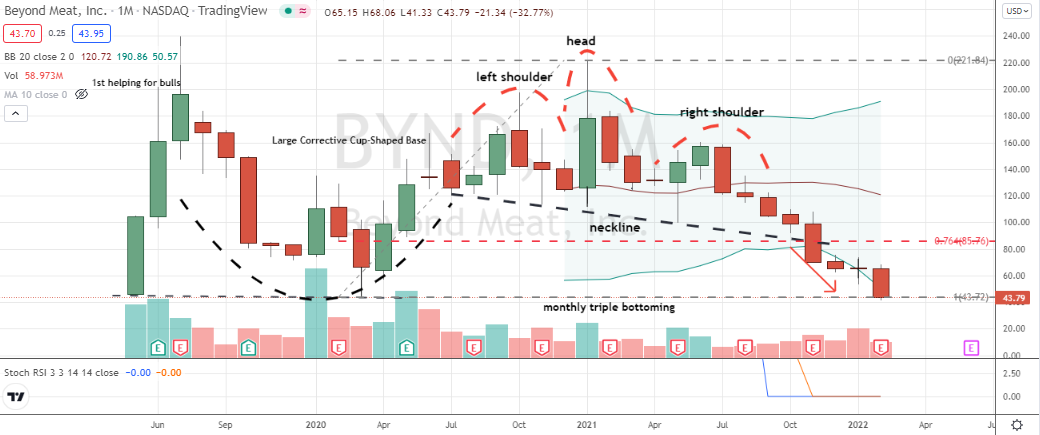 Source: Charts by TradingView
The last of our most-shorted stocks is Beyond Meat.
Following last night's quarterly release the mid-cap, next-gen meat giant has been bloodied by 9.50%.
A wider-than-forecast earnings loss and below-views sales guidance for 2022 appear to be the primary fodder for BYND stock's 35% bearish short interest.
But the monthly price chart of this most-shorted stock also warns the slaughter may be close to over.
With shares down 80% from their relative January 2021 peak and having made good on a bearish head-and-shoulders pattern, BYND is now in testing position of all-time-lows.
Bottom line and where one is still reddish in color, beginning next month the technical challenge in this most-shorted stock could play out as a triple bottom and healthier, green-colored food for bullish investors.
On the date of publication, Chris Tyler did not have (either directly or indirectly) any positions in the securities mentioned in this article. The opinions expressed in this article are those of the writer, subject to the InvestorPlace.com Publishing Guidelines.
Chris Tyler is a former floor-based, derivatives market maker on the American and Pacific exchanges. For additional market insights and related musings, follow Chris on Twitter @Options_CAT and StockTwits.