For many Nasdaq stocks, the rousingly good Roaring '20s of the past two years has taken on a new grizzly persona in 2022. And buyer beware — there could be more fat for bears to chew on.
But there's always a bull market somewhere. The past two years have seen record-breaking all-time-highs and historic, above-average, double-digit gains. On Wall Street, the coronavirus pandemic has proven quite the tribute to this past century's post-1918 Flu, go-go stock era.
To be sure, there are prime and influential examples of that determination. That includes stocks like Tesla (NASDAQ:TSLA), Apple (NASDAQ:AAPL), Home Depot (NYSE:HD) and Microsoft (NASDAQ:MSFT).
At the same time, participation in the bull market has been anything but a reality for many companies' share prices — even for many top stocks. The following three Nasdaq stocks price charts are already serving up wildly overdone buying opportunities:
In select Nasdaq stocks, the good news is this year's additional bearish posturing offers investors a vicious, yet delicious Roaring '20s market experience to sink their teeth into.
Nasdaq Stocks to Buy: Lucid Motors (LCID)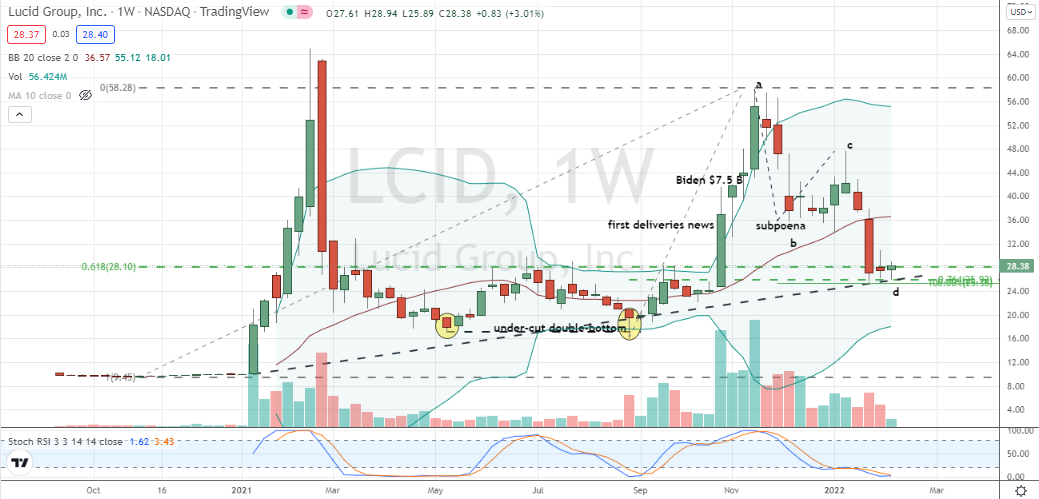 Source: Charts by TradingView
It's time to say, "Enough, already!" with our first Nasdaq stock, Lucid Motors. Since the second half of November, shares of the luxury electric vehicle (EV) play have been chopped down by more than 50%.
That's not just an ordinary correction — this Nasdaq stock has been mauled by a bear.
Cheaper isn't always better, of course. But when it comes to LCID stock, a well-supported bottoming pattern strongly hints at growth colliding with value. That makes this a strong buying opportunity.
Technically, shares of this Nasdaq stock are now forming a second inside weekly candlestick backed by a pair of 62% and 76% retracement levels. There's more to this bullish setup, too.
This week's smallish hammer is also part of a completed Fibonacci-based two-step pattern that's testing angular trend support. And with an oversold stochastics just now crossing over, there are plenty of reasons to see the upside in this Nasdaq stock today.
Meta Platforms (FB)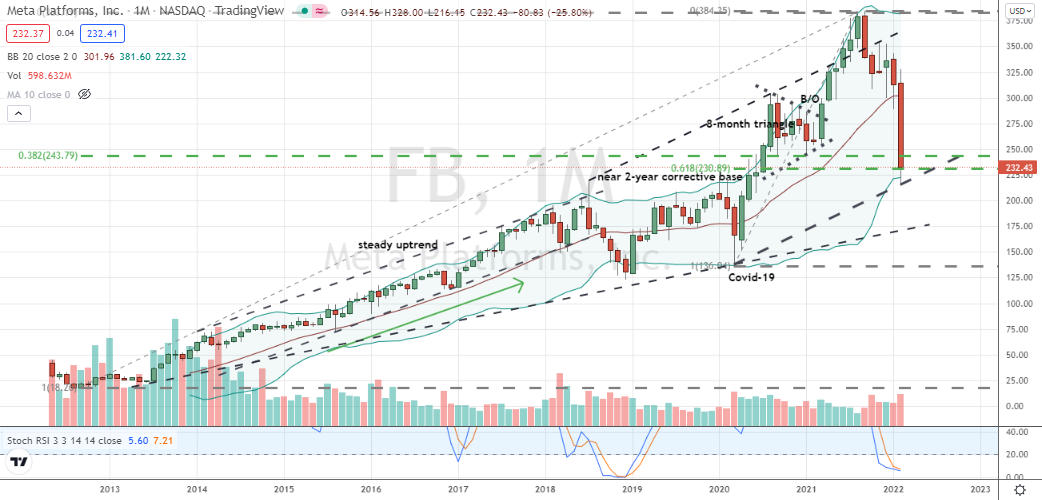 Source: Charts by TradingView
Meta Platforms saw a damaging 26% plunge on the back of disappointing Q4 guidance last week. Since then, FB stock has put together a bear market correction of nearly 44% in depth since its early September all-time-high.
Technically, the steeper decline for a Nasdaq stock of Meta's caliber is offering investors a chance to grab shares on a rarer test of FB's lifetime 38% Fibonacci level and 62% retracement from the stock's Covid low.
By my estimation, the price action is shaping up as a buy. But don't expect the Tik Tok crowd to be posting their own FB purchases anytime soon. ByteDance's popular app is siphoning off Facebook's Generation-Z demographic, and some believe this is part of a longer-term issue with this Nasdaq stock.
For others, the "do not proceed" warning that's been showing on FB stock's price chart may have to deal with a regulatory tangle in Europe. It could also have to do with long-time board member Peter Thiel's departure from Meta's board.
Still, with Meta Platforms showing its commitment to Web 3.0 and the metaverse, don't count FB stock out just yet. And according to Tigress Financial, investors should actually expect an out-of-this-world double from shares.
FB stock received a "strong buy" rating and $466 price target reiteration today. The investment shop cited similar past growth warnings turned into attractive spots to buy shares.
Given still-pending stochastics confirmation on both the weekly and monthly time frames, I like the August $260/$290 bull call spread over friending FB stock as an investment.
Nasdaq Stocks to Buy: PayPal (PYPL)


Source: Charts by TradingView
The last of our Nasdaq stocks whose days in a bear market appear numbered is PayPal. Last week's guidance led to a crash of around 25%. Since then, PYPL stock has taken an already-formidable bearish cycle and gone down as much as 62% from last July's all-time-high of $310.16.
As convinced as bullish investors were on the ride up out of Covid, today it's the bears who are looking piggish and at-risk in this fintech giant.
On the monthly price chart, PYPL stock is trading through its lower Bollinger Band and stationed in-between its lifetime 62% and 76% retracement levels.
If you need more convincing of this Nasdaq stock's opportunity, it's there to be found. The company has a historically cheap price multiple, huge free cash flow and rising user engagement. That and a Venmo payments partnership with Amazon (NASDAQ:AMZN) set to launch later this year should help with a purchase decision.
On the date of publication, Chris Tyler did not have (either directly or indirectly) any positions in the securities mentioned in this article. The opinions expressed in this article are those of the writer, subject to the InvestorPlace.com Publishing Guidelines.
The information offered is based upon Christopher Tyler's observations and strictly intended for educational purposes only; the use of which is the responsibility of the individual. For additional market insights and related musings, follow Chris on Twitter @Options_CAT and StockTwits.