AI technology is revolutionizing countless aspects of life, from machine learning to smart applications, autonomous vehicles, and whatnot. Investing in the hottest AI stocks can be a great vehicle for long-term growth as more and more industries are turning to AI for their everyday operations. Hence, AI stocks will likely be one of the biggest trends on Wall Street for the foreseeable future.
Stock markets across the globe have taken a colossal beating in 2022, and the volatility has created multiple buying opportunities. AI stocks and other relatively risky bets have shed a ton of value this year and currently trading at multi-year lows.
According to Zion Market Research, AI will continue to take off and grow from $59.7 billion to $422.4 billion over the next 7 years. Therefore, it's perhaps an ideal time to add some of the hottest AI stocks to your portfolio for their massive upside potential.
| | | |
| --- | --- | --- |
| AI | C3Ai | $13.13 |
| SPLK | Splunk | $91.11 |
| PATH | UiPath's | $13.11 |
| UPST | Upstart's | $16.76 |
| DUOT | Duos Technologies Group | $2.08 |
| TWLO | Twilio | $50.63 |
| NVDA | Nvidia | $176.11 |
C3Ai (AI)
C3Ai (NYSE:AI) has revolutionized the way companies use artificial intelligence.
Its software-as-a-service applications enable customers to efficiently deploy enterprise AI projects at any scale, giving them a unique advantage in an increasingly competitive global marketplace.
With C3.ai's rapidly increasing customer base, it is clear that organizations of all sizes are jumping on board to take advantage of its solutions. This indicates both the value of their services and the strong potential impact they will have on the industry.
The firm signed 25 new customers and a massive $10 million deal in its second quarter of fiscal 2023. Revenue growth is up over 27% for the year, with its consumption-based model starting to bear fruit.
As the firm builds up its consumption revenue base, it can effectively start looking at building a growing revenue funnel again compared to the need to sign massive subscription deals. The greater flexibility is expected to increase its customer base down the road substantially.
Splunk (SPLK)
Splunk (NASDAQ:SPLK) is a juggernaut in Big Data, providing AI-driven insights to thousands of companies worldwide. It's grown its customer base at a rapid pace and has quickly become one of the industry-leading data providers.
The firm is transitioning to a cloud-based services model in seizing an exciting opportunity to expand its positioning further. The transition will allow margin expansion into the future and elevate Splunk's path toward success.
Splunk serves 90% of the companies on the Fortune 100 list. Customers spending over $1 million on its services annually have increased by double-digit margins each quarter.
The firm's cloud services continue to drive growth, comfortably beating analyst estimates each quarter. Therefore, the transition is already paying dividends for Splunk and will continue to do so for the foreseeable future.
UiPath (PATH)
UiPath's (NYSE:PATH) success in the field of robotic process automation (RPA) is undeniable. Investors have had confidence in UiPath's successful growth trajectory due to its established presence as a market leader in a thriving multi-billion dollar sector.
Companies of all sizes are now turning to UiPath and its AI capabilities to bridge the gap between employees and technology and automate routine activities.
UiPath's results have been highly encouraging over the past several years. Its recurring revenues and net retention rates have stayed above 50% in recent quarters.
Its third-quarter results showed earnings per share of five cents, comfortably beating the consensus target of a loss of four cents. What's more, analysts at Grand View Research predict that RPA as a whole is estimated to be worth a staggering $30.85 billion by 2030, pointing to UiPath's massive growth runway ahead.
Upstart (UPST)
Founded in 2012, Upstart's (NASDAQ:UPST) online lending platform has pioneered the use of machine learning algorithms to assess creditworthiness and provide customers with a new way to access financing.
This technological efficacy enabled Upstart to expand its services, book more customers and join the ranks of some of the top companies in its niche last year. Until the first quarter of this year, the firm had been generating triple-digit sales growth, with superb improvements in its earnings margins.
The lending activity of late, though, has been slow. However, the platform's reach into multiple loan sectors provides stability in such times. Whether personal, auto or other types of loans, Upstart's technology streamlines the lending process effectively. Therefore, it's poised to grow at a healthy pace once the headwinds clear out.
Duos Technologies Group (DUOT)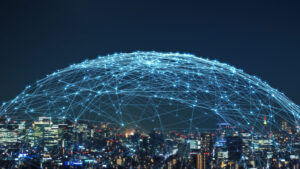 Duos Technologies Group (NASDAQ:DUOT) develops AI-based algorithms that deliver exceptionally accurate results. Its robust service offers multiple use cases, including railcar, truck, and aircraft inspection portals and 5G Edge data centers.
Its strong profile aligns with its aspiration of creating cutting-edge solutions to digital challenges while providing meaningful returns to its clients.
The opportunity for growth lies ahead for the company as it transforms its new CEO. Intending to improve its supply chain, organization, core capabilities, and talent, there is an expectation that this will pay off in the long run. Company results have been stellar in recent quarters, with triple-digit growth in sales.
Moreover, the firm reaffirmed its full-year outlook representing a spectacular 99% to 117% growth in sales on a year-over-year basis.
Twilio (TWLO)
Twilio (NYSE:TWLO) is a cloud-based communications software company that revolutionizes how businesses communicate.
This cutting-edge technology has caught the attention of some of the world's leading companies resulting in high levels of investment. By using industry expertise and offering advanced features, it has successfully unlocked value for clients.
Despite challenging economic times, Twilio is expected to keep growing at its extraordinary historical rate in the near future. What's truly remarkable is that in a cutthroat landscape, Twilio stands out for making savvy investments and developing cutting-edge technology along with truly exceptional services.
Recent results have been impressive for the firm as it marches toward profitability next year. It posted a 32.8% growth in sales during its third quarter compared to last year, but its stock dived. Its stock is down over 80% for the year, and it's perhaps the best time to scoop it up at a massive bargain.
Nvidia (NVDA)
Nvidia (NASDAQ:NVDA) provides the processing power needed to run AI applications.
As an example, one of the world's fastest supercomputers is powered by Nvidia graphics processing units – Leonardo.
Furthermore, Facebook's parent company Meta Platforms, is on the way to building the world's largest AI supercomputer, already equipping it with 6,080 A100 NVDA graphics processing units in its Quantum InfiniBand system.
Nvidia is quickly becoming a powerhouse in the AI software industry. It has been utilizing its advancements with AI technologies to drive growth in its data center segment, as well as developing groundbreaking SDKs for vehicle route planning, logistics, and natural language processing.
This indicates that Nvidia is not just looking at short-term successes but is planning for the long term with its eye on the metaverse. With its cutting-edge graphics and AI capabilities, Nvidia is likely to lead the charge in using these new virtual spaces.
On the date of publication, Muslim Farooque did not have (either directly or indirectly) any positions in the securities mentioned in this article. The opinions expressed in this article are those of the writer, subject to the InvestorPlace.com Publishing Guidelines