Stocks have staged a huge comeback rally from its June lows, rallying nearly 10% over the past month alone. Investors have bet that any economic slowdown that does arrive in 2022 will be shallow and temporary. However, that rally ran into some serious resistance yesterday, after Walmart (WMT) warned that customers are spending less on everything outside of food.
Deep recession fears were reinvigorated. Stocks dropped.
After the closing bell yesterday, tech titans Microsoft (MSFT) and Alphabet (GOOG, GOOGL) reported better-than-feared numbers with healthy guidance and positive management commentary. It underscored that while economic activity is slowing today, the slowdown is very gradual and shallow.
They weren't alone. Chipotle (CMG) reported great numbers, too. So did Visa (V) and solar energy leader Enphase (ENPH).
Stocks are rebounding swiftly.
As I write this, the Invesco QQQ Trust (QQQ) — a proxy for the tech-heavy Nasdaq — is up 1.5% in after-hours trading, recouping nearly all its Tuesday losses.
The rebound rally has resumed. Believe it or not, this rally is just getting started.
Recent earnings underscore that two types of tech stocks will soar over the next three to 12 months.
If I were you, I'd be a big buyer of these two groups of stocks today. You could easily double your money over the next 12 months.
Here's a deeper look.
Cloud Stocks Look Ready to Soar
One of the consistent big themes in the Microsoft and Alphabet earnings reports — the cloud industry remains red-hot.
A lot of tech trends are slowing right now. Digital advertising, consumer electronics and semiconductor growth trends are all slowing.
But cloud growth trends remain as robust as ever.
Specifically, in Alphabet's print, we saw YouTube ad revenue growth rates plunge to 5% in the quarter. But Google Cloud growth rates stayed hot at 36%. Over in Microsoft's print, its core cloud business, Azure, grew by a very impressive 46% year-over-year. Its advertising and hardware revenues got crushed.
This makes complete sense. Even if consumers are spending less on tech gadgets and brands are advertising those gadgets less, consumers and brands are still engaging every single day. Therefore, cloud infrastructure demand shouldn't dwindle with the economy. It should remain strong.
We're seeing just that.
And we don't think that Microsoft and Alphabet will be alone in reporting cloud strength. We believe most cloud companies will report excellent numbers this quarter. And that could spark a big breakout rally in cloud stocks over the next few months.
Just look at this chart. Cloud stocks look primed for a breakout. The First Trust Cloud Computing ETF (SKYY) is forming a bullish ascending triangle ahead of all these earnings reports. This should catalyze a bullish breakout of the ascending triangle and could kickstart a big multi-month recovery in cloud stocks.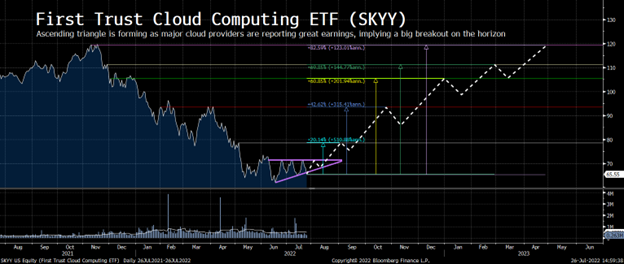 For these fundamental and technical reasons, we are very bullish on cloud stocks over the next few months.
Solar Stocks are Primed for a Breakout
Microsoft and Alphabet stole all the headlines. But the most impressive earnings report announced last night came from solar energy giant Enphase Energy.
Enphase smashed revenue and earnings estimates. Management also guided higher on next quarter's revenues and margins.
Moreover, the company's key performance metrics are all moving in the right direction. Shipment and revenue growth rates are accelerating. Gross margins are expanding, and profit growth is hastening. And the guidance implies that all these trends are set to continue.
Our read on this print? The solar industry is on fire.
This makes complete sense. The White House has essentially put a pause on new solar tariffs. The Russia-Ukraine war is exacerbating energy security issues. And Chinese supply chains are rapidly normalizing as COVID-19 restrictions ease. This is all leading to a surge in solar project development activity in the U.S. and Europe.
We expect this surge to persist for at least the next 12 months, if not longer. As it does, we think solar stocks will soar higher.
The chart agrees with our analysis.
The Invesco Solar Portfolio ETF (TAN) is about to run into two points of critical resistance — its multi-quarter downtrend line from early 2021 and the top of an ascending triangle it's formed over the past three months.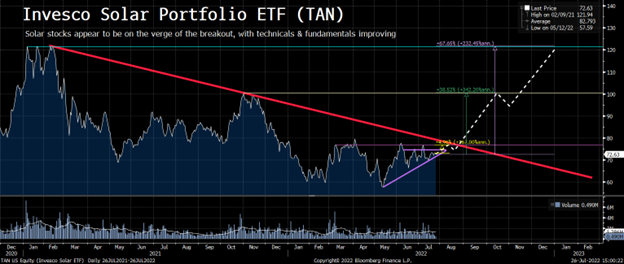 Enphase's strong results could cause a short-term breakout above both those resistance lines. If those are followed by strong peer reports, solar stocks could rip significantly higher into the end of the year.
The Final Word on Tech Stocks
The more data we see, the more convinced we become that tech stocks have bottomed and are ready to soar.
That's really exciting.
Bear to bull market transitions offer the best money-making opportunities in stock market history.
Over the past 50 years, the Nasdaq has risen more than 40% in a year just five times. It happened in 1991, 1999, 2003, 2009 and 2020. All five years occurred after a bear market, in the early stages of a bear to bull market transition.
In 1990, tech stocks plunged into a bear market. And in 1991, they soared 57%.
In 1998, tech stocks plunged into a bear market. And in 1999, they rose 86%.
In 2002, tech stocks were languishing in a bear market. And in 2003, they popped 50%.
In 2008, tech stocks crashed into a bear market. And in 2009, they rose 44%.
In 2020, tech stocks fell into a bear market. That same year, they ended up soaring 44%.
Over the past 30 years, a massive rally has followed every bear market in tech stocks. And on average, tech stocks then soared 56% the following year.
The implication for us today? Tech stocks are likely to soar more than 50% in 2023. And that big rally could be getting started today.
If you're tired of this bear market, plug into the coming bull market breakout with stocks that could soar 2X, 3X or even 5X-plus over the next year.
On the date of publication, Luke Lango did not have (either directly or indirectly) any positions in the securities mentioned in this article.