Hey, Luke Lango here.
I know, I'm a new face and name to some of you folks. So, in order to get to know each other better, I figured a great place to start our journey in MoneyWire is for me to tell you about my investment philosophy and how we will build on what you are accustomed to.
Fortunately, it's very simple — and very profitable. And if you follow just one big secret, I'm positive you'll be able to score 10X returns in the stock market — not just once, but time and time again.
But… before I get to sharing that big secret with you… let me tell you a story so we can get better acquainted…
Three months ago, shares of space tourism pioneer Virgin Galactic (NYSE:SPCE) were reeling.
Insiders were selling the stock in droves — the company's founder (Richard Branson), the venture capital investor who took the company public (Chamath Palihapitiya), and the fund manager who focuses on growth stocks like Virgin Galactic (Cathie Wood — many of you may recognize her as the CEO of ARK Invest) collectively sold about $400 million worth of stock over the course of a month — and competitor Blue Origin had just announced it was going to start selling tickets for rides on its own space tourism rocket.
Virgin Galactic stock collapsed from over $60 in February, to a low of $14 in mid-May.

Everyone was bearish on the stock… well, everyone except me.
I wrote around that time that Wall Street was being unnecessarily short-sighted, and that insider sales and increased competition in an early-stage company on the cusp of doing something no one has ever done before — commercially flying people into space — were non-news.
I told investors to take a step back, look at things from the 400-foot-view, and understand that over the next decade, Virgin Galactic is going to create a huge, one-of-a-kind, never-seen-before space tourism business that will generate billions of dollars in annual revenue and hundreds of millions of dollars in net profits.
And so, I told folks to buy the dip.
A few weeks later, Virgin Galactic successfully completed a flawless test flight into space. Days after that, Virgin won FAA approval to commercially fly paying customers into space. A month after, the company flew Richard Branson into space in a flight that has been 15 years delayed.
And, amid all those developments, Virgin Galactic stock soared from $15 to over $50, more than tripling the money of investors who listened to me and bought the dip in May.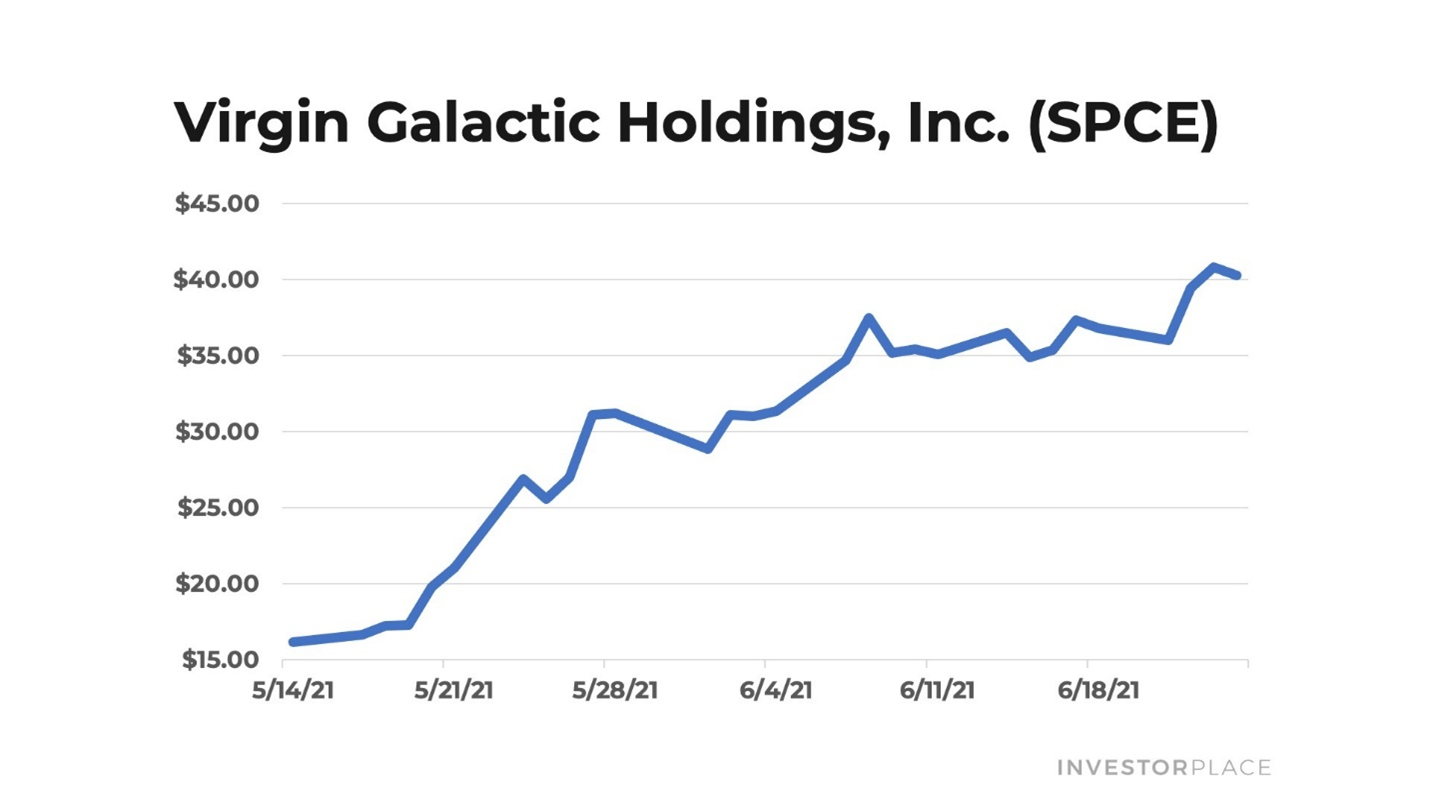 OK… but why am I telling you all of this?
Because the secret to scoring 10X returns and unlocking generational wealth in the stock market lies in the lesson of the Virgin Galactic story.
You have to understand: This is not an isolated incident. My investment career — which counts 21 stock picks that have soared 10X or more in just the past five years alone — is littered with examples of Wall Street being unnecessarily short-sighted on a stock, and me taking advantage of that.
As a MoneyWire reader, you already know that buying hypergrowth companies on unwarranted dips is key to long-term wealth building. It's so important that you will continue hearing it from me in the days, weeks and months ahead.
Back in 2015, Wall Street was saying that a small semiconductor company by the name of Advanced Micro Devices (NASDAQ:AMD) was going to go bankrupt — but I pounded on the table that the company was on the cusp of pioneering a CPU breakthrough that would forever change the fortunes of the company.
Since then, AMD stock has soared as much as 4,962%.
In 2016, Wall Street was hating on little-known Chegg (NYSE:CHGG) as a struggling textbook company with a cash-burn problem — but I was screaming at the top of my lungs about the long-term potential of Chegg's digital education platform that had an opportunity to fundamentally change how students learn.
Since then, Chegg stock has soared as much as 2,554%.
In 2017, a famous short-seller called e-commerce solutions provider Shopify (NYSE:SHOP) a "get-rich-quick scheme," while Wall Street analysts were doubting a small payments company by the name of Square (NYSE:SQ). But I was telling folks that Shopify was creating the future building blocks of online retail, while Square was ushering in a new era of cashless commerce that would antiquate cash transactions.
Since then, Shopify stock has risen as much as 1,521%, while Square stock has shot up as much as 1,449%.
In 2018, it was The Trade Desk (NASDAQ:TTD) — a programmatic advertising company that Wall Street doubted but which I said had enormous long-term potential to create a new form of smarter, better, and faster advertising. In 2019, it was Tesla (NASDAQ:TSLA) — the electric vehicle (EV) giant that everyone doubted but which I always said would redefine the auto industry.
Both of those stocks have soared more than 10X since I told investors to buy them.
And, in 2020 when the Covid-19 pandemic struck and Wall Street was freaking out, I told everyone to sit back, relax, buy the dip and go all-in on next-gen work-from-home, digital media, telehealth and e-commerce stocks that would thrive in a social-distancing environment.
It was all those stock picks that earned me the title of the world's #1 stock picker in 2020, according to TipRanks, where I beat out over 15,000 other analysts.
Certainly, you get the point…
The common thread here is "big picture thinking" — or the ability to zoom out, ignore the day-to-day noise that Wall Street loves to pay attention to, and hyper-focus on the long-term secular trends driving consumer and business behavior.
This is what venture capitalists do.
While hedge fund managers get caught up in the day-to-day noise of "this earnings report beat" and "that economic report missed," venture capitalists ignore all that noise, make investments exclusively based on long-term trends, and stick with those investments through thick and thin.
It's no wonder that VC investors return 20% per year, while hedge fund managers return only 10% per year…
Short-term thinking is the bane of long-term success in the financial markets.
In order to truly "win" in the stock market and score 10X, 20X, even 30X returns, you need to adopt long-term thinking — you need to adopt the VC mentality.
And that's what I like to think of myself as — a VC investor in the stock market… a person who always zooms out, ignores the noise, looks at the big picture, invests in emerging hypergrowth trends, sticks with those trends through volatility and unlocks long-term wealth creation along the way… while hedge fund managers are stuck returning 10% per year.
That's my investment philosophy in a nutshell.
And once again, I know it's a philosophy that you as a MoneyWire reader already know well. And it has undoubtedly helped you make money.
I am very excited about what we will do together, and I can't wait to talk more with you about the strongest hypergrowth themes on the planet and the best companies that are leading the way.
In fact, I'll be back in touch tomorrow with a story straight out of science fiction that is turning into a disruptive reality… and creating enormous investment opportunities.
This is going to be fun… and profitable!
On the date of publication, Luke Lango did not have (either directly or indirectly) any positions in the securities mentioned in this article.