By now, I bet you're sick of "Best Stocks for 2017" articles.
That makes two of us.
So today, we're going to take the long view, starting with a strategy you can use to steadily bulk up your nest egg—even if you're 10 years or less out from retiring—and trigger a reliable income stream once you do.
Then I'm going to reveal 5 of my favorite dividend-growth retirement stocks to buy now.
"Wait a minute," you're may be thinking. "Aren't dividend payers going to get crushed as interest rates rise?"
2 Keys to Beating Rising Rates
I have two answers to that.
First, as I mentioned in a column earlier this week, this year's rate hysteria looks a lot like last year's, when Janet Yellen said she'd raise rates four times in 2016. The futures markets were betting on two.
In the end, we saw just one, in December … and here's how the iShares Core High Dividend ETF (HDV) performed over the past year, compared to the benchmark SPDR S&P 500 ETF (SPY).
Rate Hikes Disappoint; Dividend Payers Win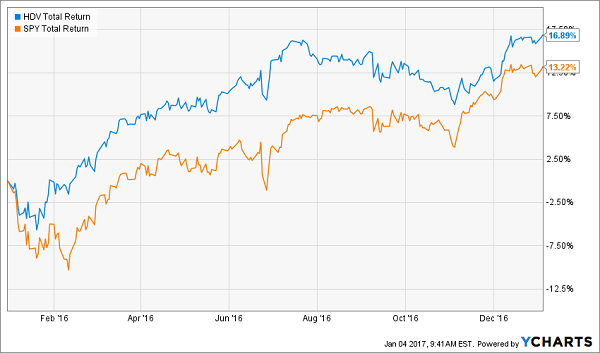 Could history repeat? It seems likely.
Today, for example, we have the Fed making noises about three rate hikes this year. The futures markets again see two—in June and November: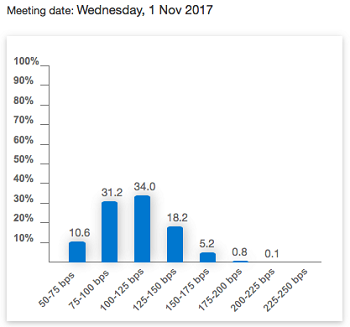 Given their track records, I'm going to take the "under" on both predictions. And two quarter-point hikes aren't much of a threat to dividend stocks.
As for the yield on the 10-year Treasury, it's jumped since Election Day, but its run is starting to look long in the tooth:
"Trump Bump" in Treasury Yields Goes Flat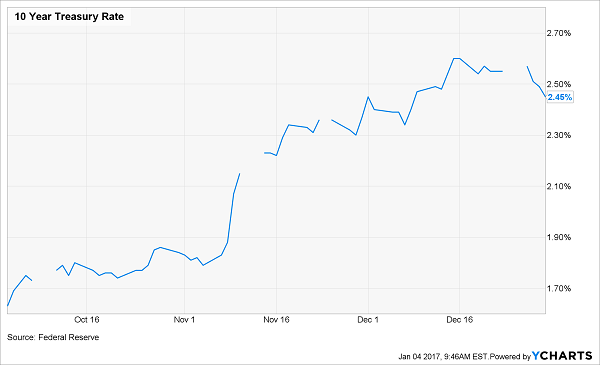 The bottom line? Now is the time to get greedy for yield and dividend growth—starting with the five stocks I'll show you in a moment.
All five are already out of favor and cheap today. That gives you some downside protection, no matter what happens with rates.