First Trust Rising Dividend Achievers ETF (RDVY)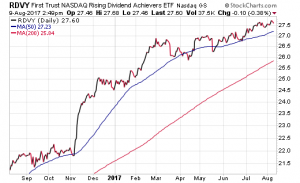 Click to Enlarge First Trust Rising Dividend Achievers ETF (NASDAQ:RDVY) takes the notion of dividend growth to the next level by incorporating additional fundamental security selection criteria in its index makeup. This "smart beta" ETF starts with the Nasdaq U.S. Benchmark of the largest 1,000 domestic stocks.
It then narrows down the field by screening for trailing three and five-year dividend growth, positive earnings per share, low debt ratios and attractive payout ratios.
The result is a portfolio of 50 large-cap stocks that are equal weighted and rebalanced quarterly. The ETF is also reconstituted on an annual basis to ensure the underlying holdings are adhering to its fundamental criteria. At present, this includes well-known companies such as Apple Inc. (NASDAQ:AAPL), JPMorgan Chase & Co. (NYSE:JPM) and Boeing Co (NYSE:BA).
As is the case with many First Trust ETFs, the expense ratio is a little on the higher side at 0.5%. However, this is generally the industry norm with a more complex index methodology.
It's worth noting that RDVY has posted stronger net returns than both VIG and NOBL over the past three years, despite the higher embedded costs. Because of its more concentrated portfolio, it may be best served as a tactical position to augment more diversified core exposure.