Historically, energy stocks have been a pretty boring bunch. Producing steady returns and trading for traditionally very low price-to-earnings metrics when compared to the broad market. Energy stocks like Exxon (XOM) and Chevron (CVX) exemplify these traits.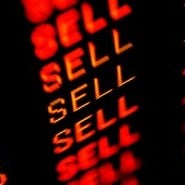 Then the hydraulic fracturing revolution changed all that.
As many energy stocks begin to tap our shale abundance, the normally sleepy oil and gas industry became a huge growth sector for portfolios. Share prices have surged as many E&P firms continue to frack their way into formations like the Eagle Ford and Bakken. That production is causing some producers of energy to trade at some pretty lofty metrics.
While that might not be reason enough to sell these energy stocks outright, trimming shares of these high-priced energy producers could make some sense going forward. Especially when you consider just how volatile the markets are getting these days.
So which ones could be prime candidates to trim or sell? Here are four energy stocks that have gotten a bit frothy.
Energy Stocks to Sell: Whiting Petroleum (WLL)

Make no mistake, drilling activity in the Bakken shale is hot hot hot. The region is one of the main ways America is catching up to the likes of Russia and Saudi Arabia in terms of total energy production. That fact has caused a variety of energy stocks in the Bakken to trade at "rich" values compared to many of their peers.
Take Whiting Petroleum (WLL), for example.
The energy stock has long been touted as the next big buyout in the Bakken for some larger oil major. This fact has caused WLL shares to trade at a forward P/E higher than many of its Bakken sisters. Unfortunately, the buy-out hasn't happened yet, and Whiting is currently expensive given its growth potential.
WLL currently trades for a forward P/E of 16. Meanwhile, rival Oasis Petroleum (OAS) can be bought for just 11 times forward earnings.
What's more troubling is that WLL recently reported a 50-cent-per-share loss during the fourth quarter. That compares to a 69 per share profit in the year-ago period. The culprit? Rising exploration cots and interest expenses.
Adding in its loss and the fact that WLL stock has gained about 24% over the last six months, it may be time for investors to say goodbye and move into cheaper energy stocks in the Bakken.
Energy Stocks to Sell: EOG Resources (EOG)

Let's be clear: EOG Resources (EOG) has been one of the most successful unconventional energy stocks in the United States. By tapping the Eagle Ford and Bakken, EOG has become the energy stock to beat when it comes to rising oil production.
It also means that EOG is getting really expensive.
EOG stock managed to produce a hefty 15% return so far this year. That's on top of the 30% gain it logged in 2013 and the 20% pop it racked-up in 2012. All in all, early investors are sitting on some pretty hefty capital gains. And as they say "pigs get slaughtered. Trimming back some of your EOG stock makes a whole lot of sense after such huge back-to-back-to-back wins.
And besides, EOG is one of the most expensive energy stocks you can buy. Shares are currently trading for a P/E of nearly 24, and forward price-to-earnings metrics are still an industry high at 18. EOG isn't a bad stock — in fact, it has been great. However, EOG is just getting to be too pricey. Longer-holding investors may want to lighten up a bit and lock in some gains.
Energy Stocks to Sell: Cabot Oil & Gas (COG)

The sheer abundance of natural gas in Pennsylvania's Marcellus shale has made early investors quite a fortune. It has also made for some expensive energy stocks as well.
Take Cabot Oil & Gas (COG) for example. The natural gas player current trades for a P/E of 52 and forward P/E of nearly 20. And 52 times earnings is quite expensive for some of the issues at COG.
Cabot is sitting on an ocean of Marcellus natural gas. The problem is that the lack of infrastructure is making it tough for COG to sell that fuel. More importantly, that problem is preventing Cabot from selling what it can at good prices. And considering that the cold winter has driven up natural gas prices to very profitable numbers, this fact is very troubling for COG shares. Especially when investors are pricing a huge amount of growth in the firm.
While the infrastructure issues will eventually subside, it'll take plenty of time for these pipelines and gather systems to be built. Until then, COG represent one of the most pricy energy stocks for investors in the Marcellus.
It might be time to move to greener pastures.
Energy Stocks to Sell: Chesapeake Energy (CHK)

Turnaround plays often make for some of the best gains in a portfolio, and beleaguered natural gas firm Chesapeake Energy (CHK) is a prime example.
CHK stock managed to surge nearly 35% last year as investors hoped that the ouster of CEO Aubrey McClendon would help CHK lead energy stocks once again. But all it actually seemed to do was make CHK stock quite expensive relative to its peers — CHK currently trades for a P/E of nearly 36.
What's troubling is that the ghosts of McClendon past continue to haunt the firm. High debt, falling production and continued asset sales are still going on in spades at the former natural gas stock giant. And given just how expensive CHK is trading for currently, that doesn't exactly make it a bargain buy at these levels.
For investors who bet on a turnaround last year, the time to sell CHK is now.
As of this writing, Aaron Levitt did not hold a position in any of the aforementioned securities.