Warren Buffett has made billions of dollars by simply buying stocks and holding them for the long term.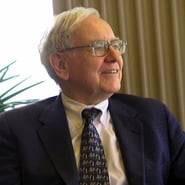 In fact, he's made more than $70 billion through his buy-and-hold investing style, and ranks as the third-richest person in the world according to Forbes.
While you may not be able to become a multibillionaire like the Oracle of Omaha, replicating his strategy isn't hard to do. When he bets, he bets big — more than 63% of Warren Buffett's portfolio is allocated to just four stocks — and he usually wagers correctly.
Luckily for us common folk, the acquisitions that Buffett makes through his holding company, Berkshire Hathaway Inc. (NYSE:BRK.A, NYSE:BRK.B), are disclosed to the SEC and become public knowledge the quarter after their purchase.
Last quarter, Buffett snapped up the following five stocks at a blistering pace. Two stocks were already owned by Berkshire, while three of them were entirely new additions to the portfolio.
Warren Buffett's 5 Recent Stock Buys: Restaurant Brands International Inc (QSR)

Market Capitalization:$7.8 billion
Position: New
Restaurant Brands International Inc (NYSE:QSR), the parent company of the fast food chain Burger King and the Canada-based restaurant Tim Horton's, saw Buffett snap up $3 billion worth of preferred shares as well as common stock valued at $330 million. But the specific terms of the deal are what make Buffett the legend that he is.
First of all, his preferred shares pay a 9% dividend annually, a rate that's essentially impossible to find in investments with a similar risk profile, especially in today's low interest rate environment. Through his $3 billion investment, Berkshire controls 13% of the voting shares in the company.
But what's far more interesting is the $330 million in QSR common stock Buffett now owns. As part of his agreement with QSR, Berkshire was given warrants to buy 8.4 million shares of common stock for 1 cent per share. With the QSR stock price trading around $32 at the time, Berkshire exercised its warrants for a cost of about $84,000, making $275 million overnight.
While retail investors will never be able to swing these type of sweetheart deals, it could bode well for QSR stock. Back in 2011, Bank of America Corp (NYSE:BAC) turned to Buffett for a $5 billion capital injection. At the time its shares traded for $7.55 a pop, and less than four years later they have more than doubled.
Warren Buffett's 5 Recent Stock Buys: Precision Castparts Corp. (PCP)

Market Capitalization: $30 billion
Position: Increased
Buffett's Berkshire already owned a few million shares of Precision Castparts Corp. (NYSE:PCP), but it increased its holdings by 37% last quarter. Buffett likes large, predictable businesses that won't go out of style any time soon, and PCP certainly fits that mold.
The company makes castings, fasteners and other parts that are widely used by industrial and power companies to make end products of their own. The large majority of PCP's customers hail from the aerospace industry, with Boeing Co (NYSE:BA) and Airbus Group (OTCMKTS:EADSY) registering as some of the company's largest clients in the commercial space.
PCP also sells to the military, with 11% of total sales coming from that division last year. PCP stock is down 16% in the last year, so investors have a rare chance to buy the stock at a cheaper price than Buffett himself did with his most recent purchase.
Warren Buffett's 5 Recent Stock Buys: Charter Communications, Inc. (CHTR)


Market Capitalization: $20 billion
Position: Increased
Warren Buffett also hiked his investment in cable company Charter Communications, Inc. (NASDAQ:CHTR) considerably last quarter, upping his stake by 25%.
CHTR competes with a handful of large-cap rivals in the area, such as Time Warner Cable Inc (NYSE:TWC), DirecTV (NASDAQ:DTV), Dish Network Corp (NASDAQ:DISH) and others. (Buffett also owns DirecTV stock and increased that position by 4.5% last quarter.)
While Charter isn't currently profitable, it's growing. Revenue growth has actually been accelerating for the last three fiscal years, increasing from 2% per annum in 2011 to more than 11% annually in 2014.
In a cutthroat industry that's increasingly consolidating, I wouldn't be shocked to see a CHTR stock buyout in the next few years. Unless the cord-cutting trend swiftly upends cable as we know it, Charter should be a safe stock pick going forward — Buffett's favorite.
Warren Buffett's 5 Recent Stock Buys: Twenty-First Century Fox Inc (FOXA)


Market Capitalization: $73 billion
Position: New
Warren Buffett continues to go long on the media industry. Through Berkshire, Buffett purchased 4.7 million shares of Twenty-First Century Fox Inc (NASDAQ:FOXA) stock in the fourth quarter.
On top of initiating a position in FOXA and increasing his take in CHTR and DTV stock, he also boosted his investment in Liberty Global (NASDAQ:LBTYA) — a cable provider in Europe, Chile, Puerto Rico and other countries across the globe.
Ironically, it's not news that Buffett is crazy for media companies; Berkshire owns 30 daily print newspapers in 11 states. FOXA owns Fox-branded networks including Fox News and Fox Sports, and also produces TV shows and movies.
Although FOXA is expected to see slumping revenues this year, EPS is projected to jump 9.6% in fiscal 2015 and 21% in fiscal 2016. Trading at 8 times earnings and dishing out a 0.8% dividend, the stock looks like a steal at current levels.
Warren Buffett's 5 Recent Stock Buys: Deere & Company (DE)


Market Capitalization: $30 billion
Position: New
Last and most certainly not least, Buffett made a major addition to his portfolio, accumulating 4.5% of all outstanding shares in Deere & Company (NYSE:DE), the business behind the iconic John Deere brand.
DE stock is now one of the 15 largest positions in Berkshire's portfolio and it's already starting to pay off. Not only does DE stock boast a 2.7% annual dividend that Berkshire will be enjoying for years to come, but Berkshire's already seen more than $100 million in capital gains since its purchase last quarter.
As InvestorPlace feature writer Dan Burrows notes, Deere is in many ways a classic Buffett investment. With crop prices suffering, farmers have less money to spend on equipment, so Deere hasn't been doing so hot recently. But agriculture is a notoriously cyclical area, and Buffett loves to buy at the bottom.
Plus, the company is managing this pullback better than it has previously:
"Deere & Company is forecasting a much better performance in 2015 versus prior downturns in the agricultural market. From 1990 to 1992, Deere & Company's net income fell about 90%. In the downturn of 1998 to 1999, net income tumbled roughly 77%.

But as for this latest round of retrenchment — from 2013 through 2015 — Deere & Company expects net income to fall less than 50%."
So, there you have it. The five newest additions to Warren Buffett's portfolio. What do you think about the Oracle of Omaha's most recent buys? Leave your thoughts in the "comments" section below.
As of this writing John Divine held no positions in any of the stocks mentioned. You can follow him on Twitter at @divinebizkid or email him at editor@investorplace.com.
More From InvestorPlace