On Wednesday, stocks closed higher, resulting from earnings gains in technology stocks.
Microsoft Corporation (NASDAQ:MSFT), up 5.31%, pushed the S&P technology sector to a gain of 1.4%. And since Mr. Softie is also a Dow Jones Industrial Average stock, it helped the index gain 0.4%, maintaining its winning streak of nine consecutive closing highs.
Microsoft's better-than-expected earnings were reported after the closing bell on Tuesday. Better results from technology companies were not confined to the U.S.; German software maker SAP SE (ADR) (NYSE:SAP) gained over 5%. Chip-maker Marvell Technology Group Ltd. (NASDAQ:MRVL) rose 14.1% after beating estimates, and Qualcomm, Inc. (NASDAQ:QCOM) and Intel Corporation (NASDAQ:INTC) gained 1.2% and 1.5%. Both reported earnings after yesterday's close.
Morgan Stanley (NYSE:MS) jumped 2.1% following better earnings and revenues than expected.
Biotechnology stocks appear to be shaken from their slumber: The iShares Nasdaq Biotechnology ETF (NYSEARCA:IBB) rose 2.4% with Mylan NV (NASDAQ:MYL) leading the group, up 5.1%.
At the close the Dow Jones Industrial Average rose 36 points at 18,505, the S&P 500 Index gained 9 points at 2,173, Nasdaq Composite gained 54, up 1.06%, closing at 5,090 and the Russell 2000 closed at 1,210, up 9 points.
The New York Stock Exchange's primary exchange traded 750 million shares with total volume of 3.2 billion shares. Nasdaq crossed 1.0 billion shares. On the Big Board advancers outpaced decliners by 2-to-1, and on Nasdaq advancers led by 2.2-to-1. Blocks on the NYSE increased to 4,918, up from 4,768 on Tuesday.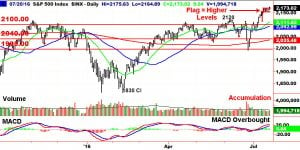 Click to Enlarge



Note the "high tight flag" on the S&P 500. This rare pattern is so obscure that I missed it. It was brought to my attention by a friend at Raymond James; Jeff Saut, their chief investment strategist, highlighted it on Tuesday morning, noting its origin is from the Investor's Business Daily.
I admittedly ignored it for a day but now can't deny the fact that the 500 was launched to a new high yesterday from the pattern.
Conclusion
Jeff goes on to quote the IBD saying, "The tight flag is also a rare pattern often found in some of the more powerful (upside) moves. It begins with a strong run-up in price (up to 100% or more in one or two months). This creates the "flagpole" of the high tight flag."
I won't burden you with the examples of other "tight flags."
However, like Jeff, after the Brexit bashing when the 500 jumped from its 1991 low to a peak at about 2170, up about 9%, in a market that appears to be overbought, I gave it a closer look. And after yesterday's break from the pattern, I had to bring it to my readers' attention.
The IBD goes on to say that after a consolidation, which could last two to three weeks, many moves of 200%-plus can be documented from the IBD's chart book.
Today's Trading Landscape
To see a list of the companies reporting earnings today, click here.
For a list of this week's economic reports due out, click here.