If you're looking for stocks to short, you should focus on companies whose business models are being made obsolete by new trends and/or new technologies. That's the best way to find an ideal target.
Comcast Corporation (NASDAQ:CMCSA), Walt Disney Co (NYSE:DIS) and Kohl's Corporation (NYSE:KSS) stock certainly fall into that category. All three are facing some dangerous headwinds as tastes shift and customers begin to shift their money elsewhere.
A Comcast executive vice president recently disclosed that the company would lose as many as 150,000 video subscribers this quarter. Although the company's CEO, Brian Roberts, tried to blame the decline on the hurricanes that hit the U.S. recently, data collected before the hurricanes made landfall clearly showed that the cord cutting phenomenon was accelerating. It's a trend you can profit from.
And by shorting Kohl's, you get the added bonus of being able to bet against a stock that has gone up due to unfounded takeover speculation. That could well beat just betting on the SPDR S&P 500 ETF Trust (NYSEARCA:SPY).
Here's a closer look at all three.
Stocks to Short: Comcast (CMCSA)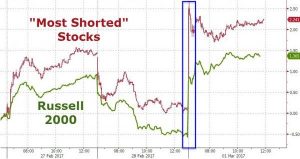 Click to Enlarge As millennials and younger generations become a greater percentage of the population and competition from internet TV platforms accelerates, the cord cutting trend will accelerate further, cutting Comcast profits and causing CMCSA stock to drop in the process. Comcast stock has fallen less than 10% since the announcement on expected Q3 subscriber losses was made on Sept. 7, and CMCSA stock is still trading at a fairly robust forward price-to-earnings ratio of around 17. All of these factors make CMCSA an excellent stock to short.
Moreover, in the past CMCSA was helped by the performance of its NBC unit. That may be changing.
"Research firm Cowen recently warned that the declines in (the) margins of traditional media companies would intensify," The Fly reported on Sept. 21. Specifically, the EBITDA margins of TV networks covered by Cowen will drop nearly 1.4 percentage points this year, estimated Doug Creutz, a Cowen analyst. The broadcasters' revenue is "decelerating" amid tougher competition from new players like Netflix, Inc. (NASDAQ:NFLX) and Amazon.com, Inc. (NASDAQ:AMZN), The Fly quoted Creutz as saying.
Competition from internet ads is also playing a role in the networks' downturn, he wrote. So NBC, which used to help boost Comcast's results, could start to contribute to declines in its top and bottom lines.
Finally, as I've warned previously, even the cable companies' internet businesses don't look so impregnable. Alphabet Inc's (NASDAQ:GOOGL, NASDAQ:GOOG) Google Fiber is apparently down but not out, and Facebook Inc (NASDAQ:FB) as of July was still working on Internet access technology. So long-term shorts of Comcast stock could get a huge bonus if Facebook, Google, or another company accelerates its Internet technology efforts and starts using it to offer Internet access in the U.S.
Stocks to Short: Disney (DIS)

Like Comcast, Disney owns a broadcast network. In Disney's case, it's ABC. So DIS is also vulnerable to the accelerating downward margin trend for TV networks identified by Cowen.
But unlike Comcast, DIS doesn't have the (for now) saving grace of being an Internet Service Provider. Furthermore, as I pointed out in a prior column, "Cable Networks accounts for the lion's share of the company's profits." Finally, another one of Disney's major businesses, movies, is also flailing.
Despite all these mounting negative catalysts, DIS stock is still up over 5% over the last year, and the price to earnings ratio of DIS stock is still over 17.
The tough competition DIS is facing on many fronts, along with its still-elevated valuation, make it an excellent stock to short.
Stocks to Short: Kohl's (KSS)

Of course, like almost all retailers, KSS is being hurt by the Amazon phenomenon. Last quarter, the company's revenue, comparable store sales, and net income excluding non-recurring items all fell.
All indications are that the trend toward e-commerce and away from big-box retailers like KSS will accelerate,causing the company's results to deteriorate , hurting Kohl's stock in the process, and making it a very good stock to short.
And yet Kohl's stock has jumped over 20% in the last three months, and it's up 4% in the last year. The stock's recent jump came after Kohl's agreed to allow Amazon to sell products in ten of its stores and accept Amazon returns, triggering takeover speculation. But there's zero evidence that Amazon's partnership with Kohl's will solve the department store chain's primary problem i.e. people love the convenience of shopping on Amazon and getting products delivered to their homes.
The partnership led to takeover speculation, as the Street wondered if KSS could become "the next Whole Foods." But Amazon probably took over Whole Foods for two main reasons: to acquire a significant number of physical distribution points and to gain control over the grocery chain's highly respected organic food products.
AMZN has accomplished the first goal through the Whole Foods deal, and many if not most of Kohl's brands seem to be made by independent wholesalers (think Reebok and Lee Jeans) who probably would be more than happy to sell their products to Amazon. (Conversely, there was no reason for Whole Foods to help Amazon take away its business by selling it food.)
Furthermore, given the hostility of President Trump to Amazon, the e-commerce gorilla probably isn't going to jump to make another huge deal for a long time after the Whole Foods transaction.
You can make your arguments about the whole sector, as represented by the SPDR S&P Retail (ETF) (NYSEARCA:XRT). But the combination of unfounded takeover speculation and intense competition from Amazon make KSS one of the great stocks to short.
As of this writing, Larry Ramer did not own shares in any of the companies mentioned.