U.S. large-cap stocks notched new record highs on Tuesday, pushing the S&P 500 past the 2,600 level on an intraday basis for the first time ever, in relatively quiet trading. Felt like machine-driven, central-bank funded algorithmic demand with a gap and rise at the open with nary a hint of volatility or texture.
Everywhere you look, there was froth to be seen. The cryptocurrency market is red hot, undisturbed by reports of thefts and frauds. The art market is out of control. Startups continue to get easy funding terms. And the big-cap tech stocks like Amazon.com, Inc. (NASDAQ:AMZN) and Apple Inc. (NASDAQ:AAPL) continue to go vertical, enjoying gapped rises out of their late October lows.
In the end, the Dow Jones Industrial Average gained 0.7%, the S&P 500 gained 0.7%, the Nasdaq Composite gained 1.1% and the Russell 2000 gained 1%. Treasury bonds were mixed, the dollar was down, gold gained 0.5% and crude oil gained 0.7%.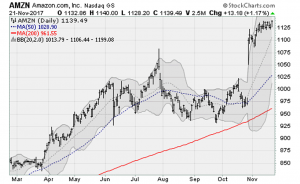 Click to EnlargeBreadth was positive, with advancers outpacing decliners by a 2.1 to 1 ratio while volume was a little light, at 97% of the NYSE's 30-day average.
Technology stocks led the way with a 1.2% gain while telecoms were the laggards, down 0.5%, amid the ongoing fallout from the DOJ's decision to stop the AT&T Inc. (NYSE:T) and Time Warner Inc (NYSE:TWX) tie up.
Mellanox Technologies (NASDAQ:MLNX) gained 10.7% on the confirmation of a stake by Starboard Value and general M&A hype in the semiconductor space right now. Palo Alto Networks Inc (NYSE:PANW) gained 4.8% on a quarterly earnings beat.
Medtronic plc. Ordinary Shares (NYSE:MDT) gained 4.8%, also on earnings. And AK Steel Holding Corporation (NYSE:AKS) gained 4.8% on an upgrade by Credit Suisse analysts.
On the downside, Campbell Soup Company (NYSE:CPB) lost 8.2% after quarterly earnings and revenue missed estimates on weak margins.
On the economic front, existing home sale beat expectations slightly, hitting their strongest pace since June. But on an annual basis, they were down 0.9% for their second-consecutive 12-month decline.
Conclusion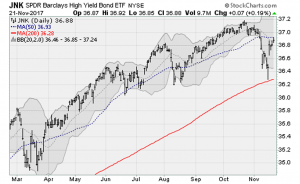 Click to Enlarge Overall, the day's rise had a very forced, artificial feel. And indeed, the most-shorted stocks in the market led the way higher to a degree not seen in 11 months.
This despite falling earnings expectations, an ongoing collapse in the yield curve, and an uncertain future for the Senate GOP's tax reform bill after the Thanksgiving holiday.
As a sign of the ridiculousness reports that German Chancellor Angela Merkel's efforts to form a new coalition government have failed — after suffering electoral losses — has actually encouraged a rally in Germany's markets.
If the bulls are serious, watch for buying to continue to focus on high-yield corporate bonds, which were the center of last week's unpleasantness. The Barclays High Yield Bond ETF (NYSEARCA:JNK) is right up against overhead resistance at its 50-day moving average.
Check out Serge Berger's Trade of the Day for Nov. 22.
Today's Trading Landscape
To see a list of the companies reporting earnings today, click here.
For a list of this week's economic reports due out, click here.
Tell us what you think about this article! Drop us an email at editor@investorplace.com, chat with us on Twitter at @InvestorPlace or comment on the post on Facebook. Read more about our comments policy here.
Anthony Mirhaydari is the founder of the Edge (ETFs) and Edge Pro (Options) investment advisory newsletters. Free two- and four-week trial offers have been extended to InvestorPlace readers.