U.S. equities are rallying on Thursday, pushing the S&P 500 once more away from its 200-day moving average thanks to the ongoing flow of positive earnings results.
Facebook, Inc. (NASDAQ:FB) is in one of the biggest earnings winners today, up 9.4% to hit its best level in six weeks thanks to better-than-expected earnings and double-digit user growth. There were solid results form Visa Inc (NYSE:V) and Advanced Micro Devices, Inc. (NASDAQ:AMD) as well, pushing the stocks up 5.1% and 11.6% respectively.
But not all areas of the market are participating in this earnings season rally. Here are four stocks that are Thursday's earnings losers:
Thursday's Earnings Loser #1: AT&T (T)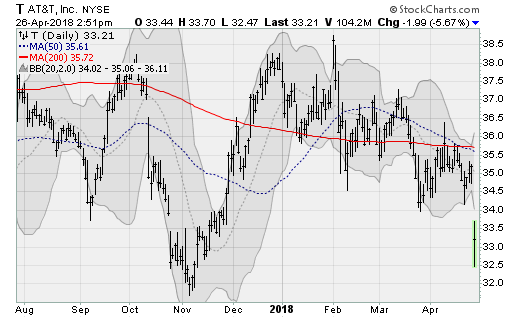 AT&T Inc. (NYSE:T) did not have a good day. Following disappointing earnings, T shares are dropping hard, down 5.5% in mid-day trading returning to lows not seen since November.
Earnings of 85 cents per share missed estimates by three cents on a 3.4% drop in revenues. The top line was pressured by a decline in wireline services, domestic video and wireless service. Analysts at Hilliard Lyons downgraded T shares to neutral as a result.
The company will next report results on July 25 after the bell.
Thursday's Earnings Loser #2: American Airlines (AAL)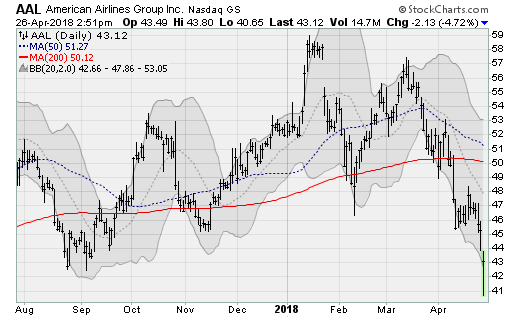 American Airlines Group Inc (NASDAQ:AAL) shares are down 4.8% as I write this, recovering from an even steeper loss earlier in the session, after issuing disappointing guidance.
Earnings of 75 cents per share beat estimates by four cents on a 5.9% rise in revenues. Revenue per seat mile increased for the sixth consecutive quarter.
But looking ahead to the full fiscal year, the company lowered its earnings-per-share estimate to $5.00 to $6.00 from $5.50 to $6.50 previously. Analysts were looking for $5.76.
Thursday's Earnings Losers #3: Raytheon (RTN)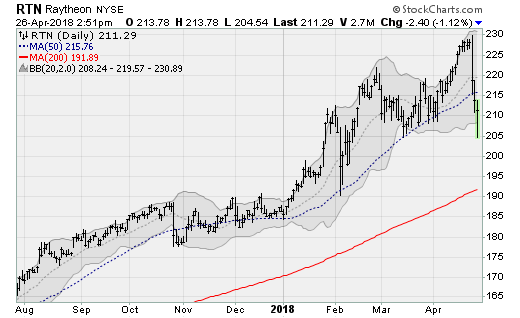 Raytheon Company (NYSE:RTN) is down 1.4% in trading testing lows not seen since March, falling further below their 50-day moving average.
The company reported earnings of $2.20 per share, nine cents ahead of estimates, on a 4.4% rise in revenues. Forward guidance was good too.
But revenues were only in-line with estimates, which seems to have disappointed the whisper expectations on the Street.
Thursday's Earnings Losers #4: Altria Group (MO)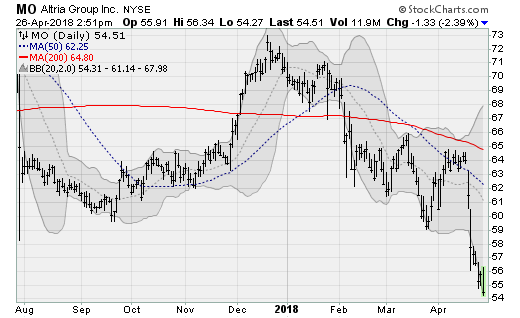 Altria Group Inc (NYSE:MO) was also down after earnings, despite meeting estimates.
MO shares are down 2.4% in mid-day trading, falling back to lows not seen since early 2016. This caps a decline of more than 28% from the highs set in the summer of 2017.
The company reported earnings of 95 cents per share, four cents ahead of estimates on a 1.8% rise in revenues. Guidance was reaffirmed and revenues were in-line with estimates, both of which disappointed investors.
On its post-earnings call, the company wondered if the recent rise in gas prices dinged sales.
Anthony Mirhaydari is founder of the Edge (ETFs) and Edge Pro (Options) investment advisory newsletters. Free two- and four-week trial offers have been extended to InvestorPlace readers.