More bullish follow through on Thursday is giving investors some confidence, as key stock market leaders continue to burst higher. The key now? What will Apple (NASDAQ:AAPL) stock do when it reports earnings? Not surprisingly, it's the first name on our list of top stock trades.
Top Stock Trades for Tomorrow #1: Apple

Shares of Apple are roughly flat as the company's fourth-quarter results are due up about 30 minutes after the stock market's close. Investors will watch to see which way this $1 trillion market cap stock leans, likely dragging the rest of the market with it.
For Apple and stock trading in general, let's keep it simple. Right now the market is factoring in an $11.30 move in either direction. Above and that puts us near the $230 highs. Below and that puts us near $208.
If support near $205 holds up, investors have a limited risk/reward buy. Over channel resistance (blue line), as well as the 20-day and 50-day moving averages, Apple has a shot at taking out the $230 highs and rallying to its all-time high near $233.
Top Stock Trades for Tomorrow #2: NXP Semi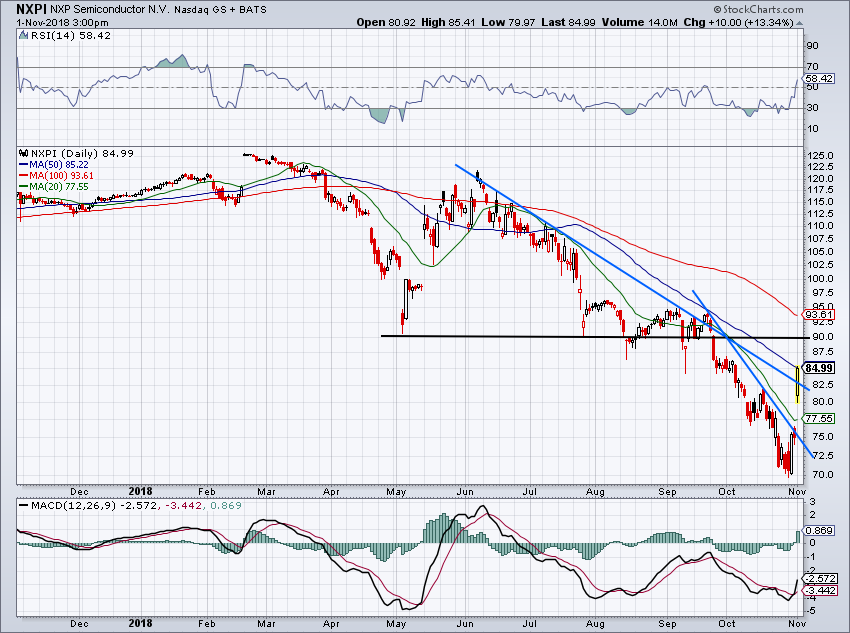 What a sight for a sore eyes this rally in NXP Semi (NASDAQ:NXPI) is. Shares are up 13% after the company reported earnings and provided in-line guidance. The stock is cheap and has solid growth forecasts for 2019, but is getting no love at the moment.
Part that's due to the beating in the semiconductor group, the other comes after the acquisition of NXP by Qualcomm (NASDAQ:QCOM) failed to gain approval. If you recall, QCOM had to revise its bid higher to $127.50 a share because its initial deal price didn't value NXP high enough.
Now shares are at $85 and recently hit a low of $70. Oh yeah, did I mention it trades at sub-10 times forward earnings?
It doesn't matter. On the charts, we have trouble. While shares have cleared downtrend resistance, they are running full steam into the 50-day moving average — and halting. I don't love that action, especially as the 50-day has been resistance in the past.
Some follow through and/or consolidation near current levels would be a next great step for the stock. I'd expect $90 to give NXP some trouble and while not all that related, Apple's impact on tech over the next few days may be the deciding factor for NXP. I'd be cautious on NXP below $82.50 and even more so below Thursday's lows. At the very least, it needs to stay above its 20-day moving average.
Top Stock Trades for Tomorrow #3: Fitbit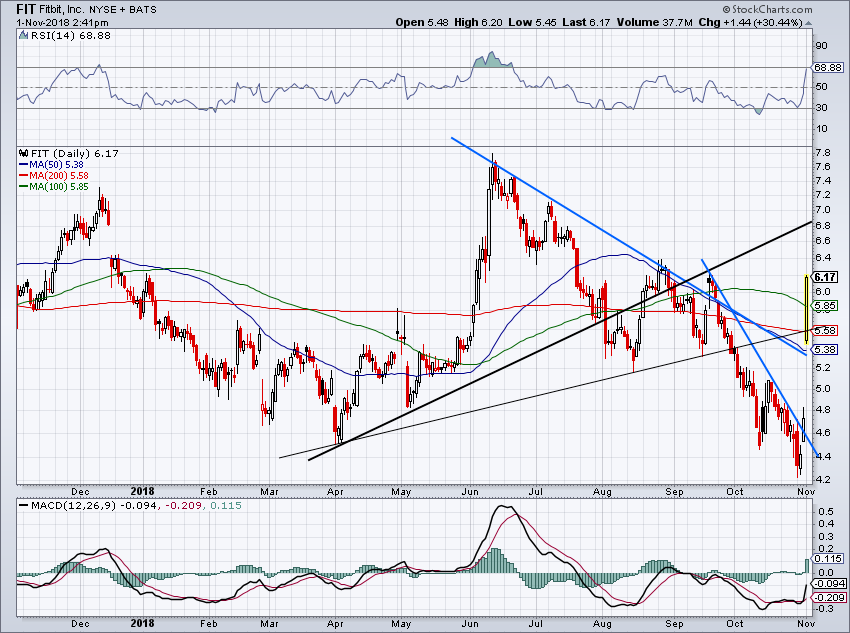 What a power move by Fitbit (NYSE:FIT), which is rallying nearly 30% post-earnings and into its vital holiday season. With momentum back, I think we can see a move up to the $6.80 to $7 range. Above and we get the recent highs of $7.75 on the table.
Will it happen? Gapping above all three major moving averages and downtrend resistance certainly makes the chart look much healthier. They key will be holding onto these gains and squeezing higher from here.
Unfortunately, it's too volatile of a name for me to take a position in and with Apple's earnings on deck — it has the Apple Watch, don't forget — I'm leery of Fitbit. Plus, the risk/reward is tough to justify right here. I just can't find a reasonable stop-loss point, not from Thursday's level anyway. That leaves too much potential risk on the table for me, and regardless of the potential reward, that's what's matters most.
Let's see how it settles out over the next few days. Good jobs, bulls.
Top Stock Trades for Tomorrow #4: Goldman Sachs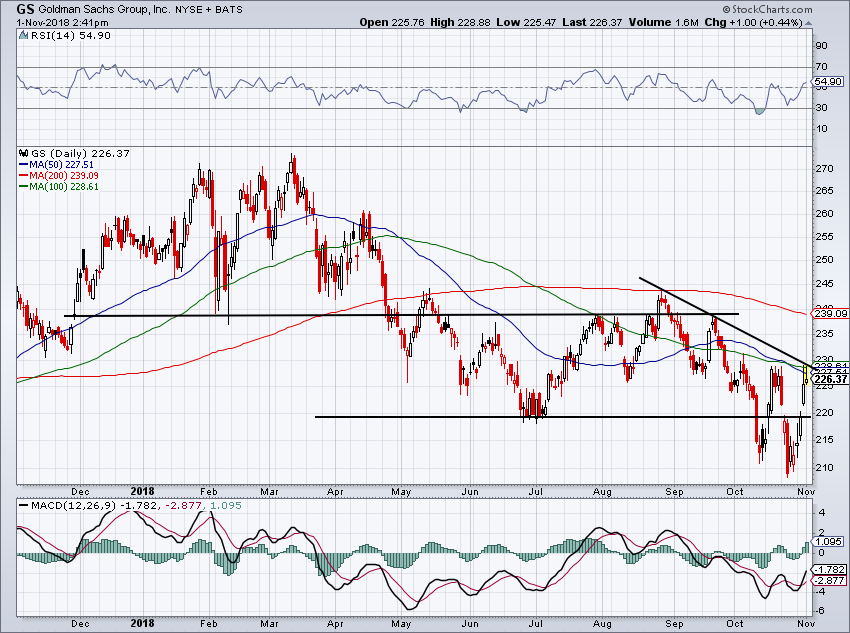 A nice rally over the past few days has elevated Goldman Sachs (NYSE:GS) off its lows. For shorts though, it's giving them an opportune risk/reward.
A close above downtrend resistance, the 50-day and 100-day moving average can act as the stop-loss. Should they hold as resistance though, Goldman looks like it's heading lower, at least temporarily. A close above this mark can get investors in on the long side, as they look for a rally up to the 200-day.
Top Stock Trades for Tomorrow #5: Alibaba

Positive comments from President Trump regarding Chinese-U.S. trade relations sparked a rally in Chinese equities — even if they have nothing to do with trade. Stocks like Huya (NASDAQ:HUYA), Sogou (NYSE:SOGO), iQiyi (NASDAQ:IQ) and others all surged. So too did Alibaba (NYSE:BABA) and JD.com (NASDAQ:JD). As for the latter, we've mapped out the perfect buy zone on this stock at least a dozen times here on InvestorPlace, which called for a buy at $22 to $23. So what do we do with Alibaba then?
Alibaba is trickier and even though shares up more than 5% so far today, we will need more follow through to repair these charts. Remember, this thing was beaten badly. It will take more than a day to fix it.
Shares are rallying into downtrend resistance and short-term resistance near $150. I would love to see another strong day and for BABA to get up over the 50-day. If anything though, getting above and staying above $150 would be a great first start. From there, we can target the key $165 to $170 area, but this would be an important first step. Keep in mind, Alibaba reports earnings on Friday before the open and we're less than two weeks away from Singles' Day.
All that said, I wouldn't chase BABA up 20 points from where it traded a few days ago. Let's see the earnings and go from there.
Bret Kenwell is the manager and author of Future Blue Chips and is on Twitter @BretKenwell. As of this writing, Bret Kenwell is long AAPL and NXPI.