The world has changed, but this time it's for the better. But amid a market made up of stocks and some of which are bound to outperform on both an absolute and relative basis, three 'stay away' companies are making breakouts worthy of being stocks to buy for your portfolio today.
Wall Street received a much needed break with Monday delivering terrific Covid-19 vaccine news from Pfizer (NYSE:PFE) and Moderna (NASDAQ:MRNA). The way investors saw it, there were plenty of stocks to buy following each report.
In summary, separate and truly compelling vaccine results with efficacy rates of 90% and 94%, and the critical ability to get those drugs into the general population as early as next spring, is a massive win for individuals, families, businesses, and the economy at large. Yes, the world has changed again and it's appreciably improved.
Yet amid the brokerage orders for stocks to buy, which sent the S&P 500 and Dow Jones Industrials to all-time highs for the first time since the market's ghastly pandemic-driven plunge, the dynamics of the playing field also changed.
Amazon (NASDAQ:AMZN), Zoom Video (NASDAQ:ZM), Teladoc (NYSE:TDOC) and other large-cap technology names which benefited from Covid-19's socially-distanced normal have traded lower in the aftermath of both reports. It's called a sector rotation.
So, what's an investor to do right now? In our observation it's the same as it ever was. Kind of. With the rotation underway and based on the price charts of three grounded market leaders, betting on those stocks to buy is offering favorable odds for smoother sailing into 2021.
Stocks to Buy: Delta (DAL)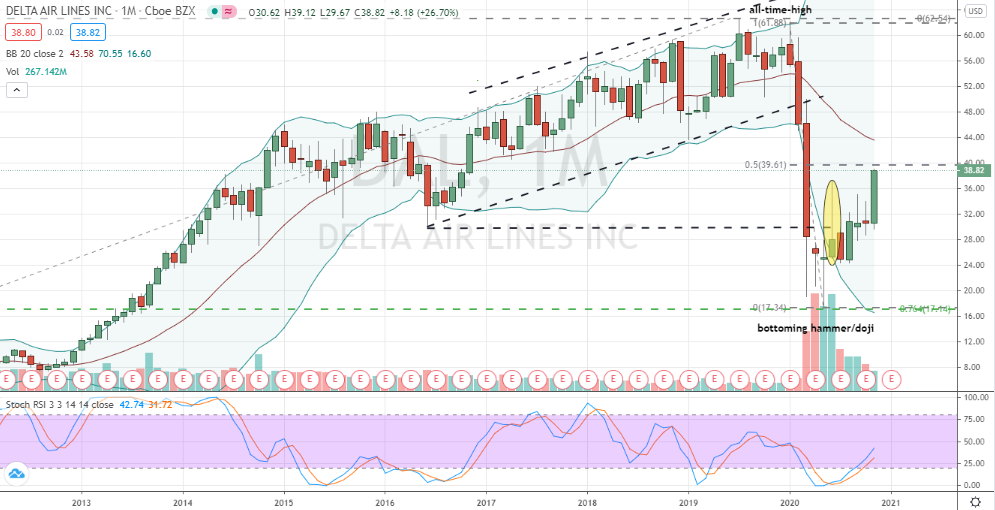 Source: Charts by TradingView
The first of our stocks to buy is Delta. It's common knowledge Warren Buffett's Berkshire Hathaway (NYSE:BRK.B) dumped its entire airline stake early on in the pandemic while warning the world had changed for the industry. Not quite.
To be fair, airlines are still obviously in the midst of a challenging environment. But Delta has proven itself to be one of the strongest and with the tailwind of the PFE and MRNA news, it's looking increasingly like a bump in the road for the stock.
Technically, this market leader's price chart is showing signs of agreement. Shares of DAL broke above key resistance the past week as the stock cleared June's slightly ominous monthly candlestick shooting star formation. It's bullish, but staying safe with long exposure in this volatile stock to buy remains prudent as investors aren't entirely out of the woods.
Currently the 50% retracement level from January's all-time high to May's Buffett-inspired multi-year low is nearing a challenge. Given its historical tendencies, investors should brace for likely turbulence in the near-term. Overall though and with stochastics backing up the price action, a continued rally looks good for this stock to buy.
Favored Strategy: Out-of-the-money intermediate-term bull call spread.
MGM Resorts (MGM)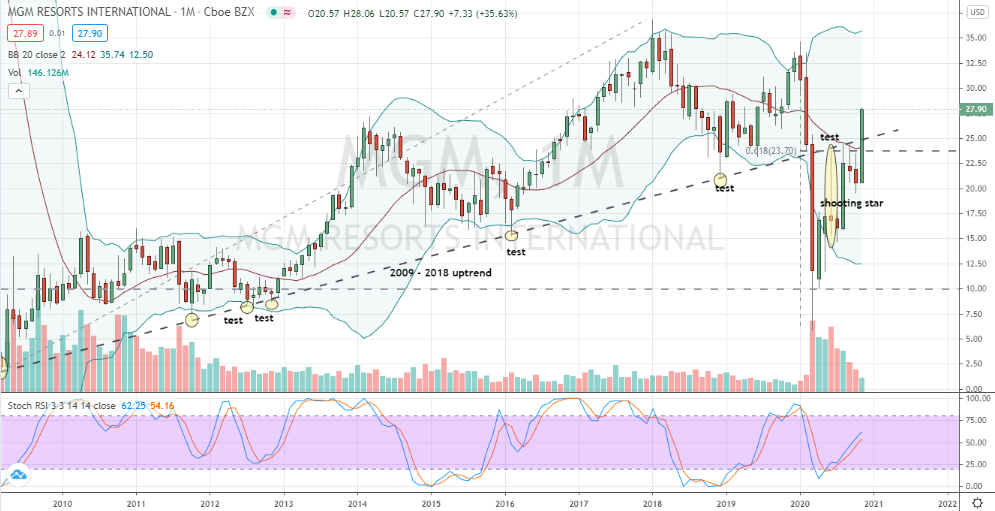 Source: Charts by TradingView
The next of our stocks to buy is MGM Resorts. The casino operator's shares got slammed by the coronavirus and rightfully so. Initially, at least. It was tough to know if reopening venues safely would pan out.
Not only has MGM managed to rise up to those challenges, but the outfit has also muscled its way into the growing online sports betting market with its BetMGM business. It's a huge market and one with massive growth potential. Alongside DraftKings (NASDAQ:DKNG), nobody is doing a better job at laying down big stakes in this exciting arena than MGM.
Technically, MGM's prowess is revealing itself in its share price. The price action is quite similar to Delta's bullish takedown of its shooting star pattern. But with MGM also clearing its 62% retracement level, reclaiming prior trend support and its trending stochastics setup, this stock to buy is showing its own great odds for higher prices.
Favored Strategy: Out-of-the-money intermediate-term bull call spread.
Royal Caribbean (RCL)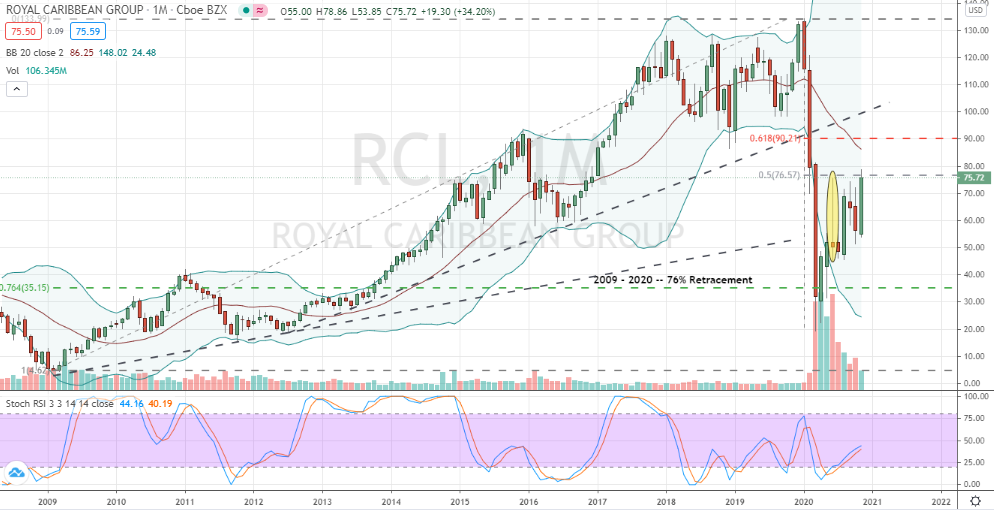 Source: Charts by TradingView
The last of our stocks to buy are shares of Royal Caribbean. Of the three, this submerged cruise line operator is my least favorite. You won't find me on the lido deck anytime soon, nor would you even prior to Covid-19. You also won't find others relaxing out there either, at least not today. Royal Caribbean remains closed for business, but that's not to say RCL isn't a stock to go long.
Bottom-line, RCL has a balance sheet to weather the current environment. And hopefully that won't be a prolonged affair. There are the Pfizer and Moderna vaccines to consider. The cruise liner also plans to resume its operations early next year. In the interim, there's been solid interest by would-be passengers despite all of 2020's setbacks. That's a plus to be sure. And the company's 'mock' dry runs have attracted thousands of volunteers, further indicating RCL's business will successfully navigate through the pandemic.
Technically speaking, it should come as little surprise shares of this stock to buy might look like DAL and MGM. And RCL does fit the bill. Based on potential overhead resistance, I'd set my sights on $90 – $100 by February. And as with the others, purchasing an out-of-the-money intermediate-term bull call spread for unmatched benefits that include defined and reduced risk and solid leveraged upside profit potential makes a world of sense.
Stocks Owned: On the date of publication, Chris Tyler holds, directly or indirectly, positions in DraftKings (DKNG) and its derivatives, but no other securities mentioned in this article.
Chris Tyler is a former floor-based, derivatives market maker on the American and Pacific exchanges. The information offered is based on his professional experience but strictly intended for educational purposes only. Any use of this information is 100% the responsibility of the individual. For additional market insights and related musings, follow Chris on Twitter @Options_CAT and StockTwits.