Everyone wants to do better than the market. And the ARK Innovation ETF (NYSEARCA:ARKK) has been doing just that. But if you want to really beat the major bellwethers, these three ARK Innovation stocks are currently offering investors more secure, risk-adjusted exposure, off and on the price chart. Let's explore below.
The stock market had a pretty nice 2020 when all was said and done. Historically, a return of 16% in the broad-based S&P 500 is nothing to sneeze at. It's even more impressive in light of the Covid-19 pandemic, which sank the well-followed index by 21% at its worst last March. But many investors managed to do even better for themselves.
Amazon (NASDAQ:AMZN). Microsoft (NASDAQ:MSFT). Zoom Video (NASDAQ:ZM). You're of course familiar with those technology giants. With those companies' services and products becoming even more critical in our lives amid a socially-distanced normal, the tech-heavy, large-cap Nasdaq Composite led the charge for market indexes as it soared 43% to record-breaking highs. Now that's where our money should have been invested! Right?
Those performances pale next to the ARK Innovation ETF. ARKK gained 157% this past year. Furthermore, the fund is up nearly 22% in 2021. So, what is ARKK all about? Headed by the incredibly prescient and outspoken Cathie Wood, the $22 billion fund boasts a fairly concentrated basket of cutting-edge companies inside many of today's most important growth markets.
Genomics. Energy storage. Autonomous tech. Next-gen internet. Fintech. Those five areas and the fund's willingness to bet aggressively on top innovators Tesla (NASDAQ:TSLA), Square (NYSE:SQ), Teladoc (NYSE:TDOC) and others are the secret sauce behind Ark Innovation's success. To be sure, it's volatile and not always a one-way street. Mindfully, ARKK shed 46% during last year's brief, but over-the-top, pandemic-driven bear market.
Today, let's examine three of the fund's top holdings. Despite ARKK's determined leadership and worries about the broader market's health, the following ARK Innovation stocks have put together unavoidable pattern corrections in recent weeks and months, which set up attractive entry points for buy decisions in conjunction with well-aligned, hedged options strategies.
ARK Innovation Stocks to Buy: Spotify (SPOT)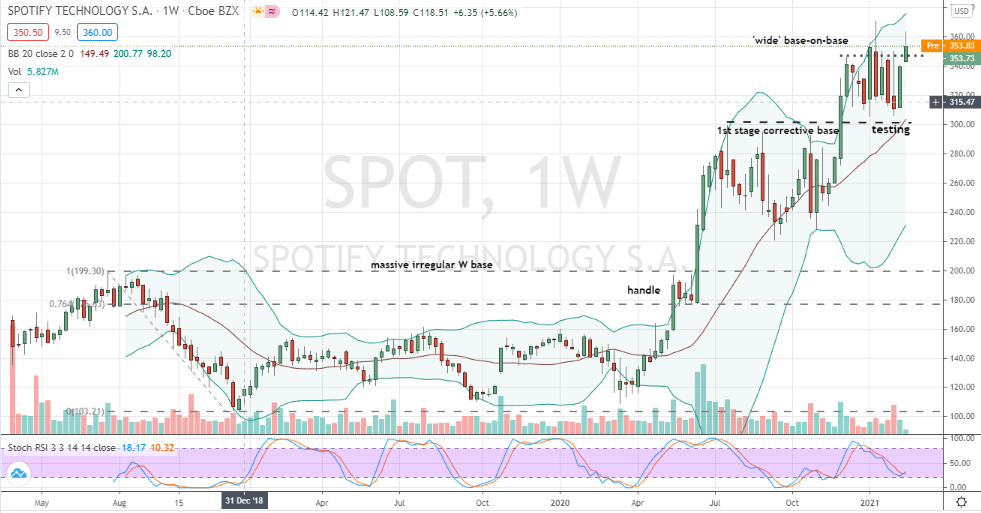 Source: Charts by TradingView
The first of our ARK Innovation stocks to buy is Spotify Technology. The world's largest music-streaming platform is ARKK's eighth-largest holding at 3.26% of the fund's portfolio. A couple weeks ago a mixed, but poorly-received earnings announcement sent shares down 8%. The crashing sound didn't last long, though. The alarm bells signaled in Spotify were quickly replaced by a successful test of SPOT's prior pattern highs shown on the provided weekly chart.
Today and technically, shares of this ARKK stock have just re-crossed the initial high of a modestly irregular, but healthy, base-on-base pattern. Alongside a bullish stochastics crossover signaling just above oversold territory, this ARK Innovation name is one to buy right now.
Favored Strategy: Long SPOT with April $340/$300, put spread hedge into legged collar
Crispr Therapeutics (CRSP)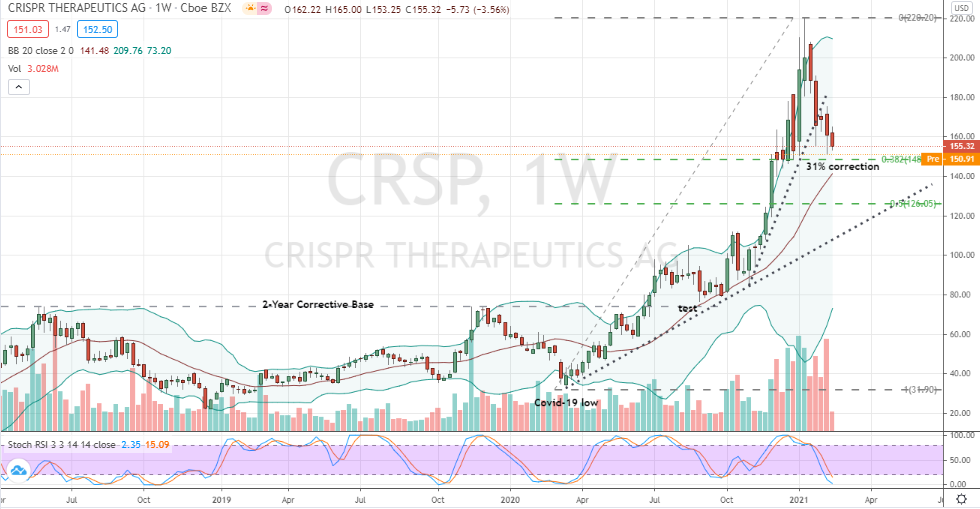 Source: Charts by TradingView
Crispr Therapeutics is the next of our ARK Innovation stocks to buy. All stocks correct. Oftentimes those declines can lead to corrections of 30% for a stock of CRSP's caliber. And that's during the best of times within a healthier bullish market. Today, or really over the past few weeks, that's more or less how the price action has played out.
Technically, in after-hours trading, this biotech offering with a $11 billion market capitalization is under modest weakness after reporting a weaker-than-forecast loss. The pressure on shares of this ARK Innovation stock promises to undercut last week's corrective pivot low. Combined with stochastics just entering oversold territory and not yet showing any signs of stabilizing, I'd simply monitor this fairly classic-looking correction for a well-discounted bottom to emerge beginning as soon as next week.
Favored Strategy: March or April collar to start
Pure Storage (PSTG)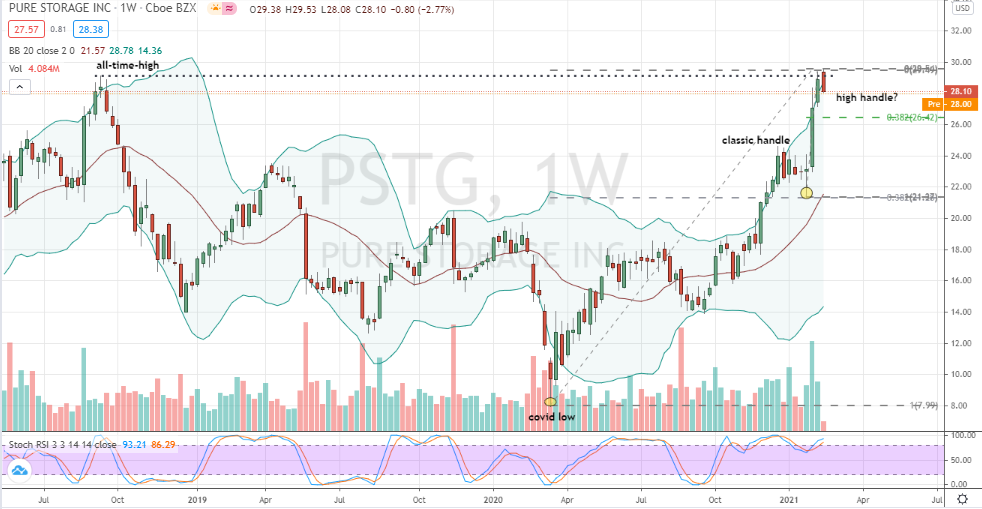 Source: Charts by TradingView
Pure Storage is the last of our ARK Innovation stocks to buy. At this point, most of us have heard of Reddit and r/WallStreetBets. The forum was the breeding ground for a David vs. Goliath battle of retail bulls taking on much larger institutional bears in GameStop (NYSE:GME). And for what it's worth, this $7.6 billion enterprise software outfit was hailed as Cathie Wood's favorite sleeper stock this past December.
Currently, PSTG maintains a weight of 2.12% in ARKK. Could it become exponentially larger? Today's price chart does look favorable, with shares forming a large corrective cup-shaped base since putting in a top back in September 2018. February's price action staged a breakout, but PSTG has pulled in after establishing narrow fresh highs.
Technically, there is the reality that Pure Storage may be forming a bearish double top. But given ARK Innovations recent buying in shares, I'm optimistic that a bullish high or loose handle can develop. For that to be confirmed, reasonably, shares should remain above $26.50 without calling into question the integrity of the larger base or lower classic handle pattern.
Favored Strategy: Monitor for "bottoming" and March $25/$35 collar
On the date of publication, Chris Tyler does not hold, directly or indirectly, any positions in securities mentioned in this article.
The information offered is based upon Christopher Tyler's observations and strictly intended for educational purposes only; the use of which is the responsibility of the individual. For additional market insights and related musings, follow Chris on Twitter @Options_CAT and StockTwits.