Blackberry (NYSE:BB). It was all the rage back in the day. And no, I'm not referring to this past January, although that's true as well. But for tomorrow's investors is there a chance for another comeback? Let's see what's happening off and on the price chart of BB stock, then offer a risk-adjusted determination aligned with those findings.
"They're back!!??" Over the past week a volatile uptick within the ranks of the market's most heavily-shorted stocks led by GameStop (NYSE:GME), AMC (NYSE:AMC), Koss (NASDAQ:KOSS), SunPower (NASDAQ:SPWR) – and not easily explained away by the broader market's own zigs and zags – has occurred.
For its part, GME shares soared more than 300% at their best in the span of several hourly chart candlesticks on the price chart. But again, GameStop has – and remains – the group's top dog in this high-octane thematic trade. Not among those stocks targeted as worthy of stealing from deeper pocketed shorts by Robinhood and Wallstreetbets merry band of retail marauders were shares of BB. But as far as the eye can tell, that put Blackberry in good, if not still smothered company.
Tootsie Roll Industries (NYSE:TR). Revlon (NYSE:REV). Bed Bath & Beyond (NASDAQ:BBBY). Each of the once iconic but suffering brands and heavily-shorted stocks remain 50% to upward of 80% off their January peaks following a brief period when news anchors and late-night hosts were able to replace the day's top story with something other than the novel coronavirus and politics. And BB stock is right up there with the best of them, well, in an ugly sort of way.
Chance of a Revival
Shares of BB are down more than 60% from their Jan. 27 high of $28.77 produced during an epic eight-session rally of nearly 300%. Specifically, after a "modest" rally backed by solid gains in the broader market, shares of Blackberry recently finished up 8.56% at $10.91. But is there a chance for a more meaningful revival of BB?
Blackberry. Back in the mid-2000's it was the mobile device of choice for business. It was an era when the internet was still called the world wide web, referring to a website's name included saying "www" rather than taking it for granted, and our phones were mostly just called cell phones. Then in 2007, along came the iPhone from Apple (NASDAQ:AAPL). And it changed everything for worse as far as BB stock was concerned.
With each iteration of the iPhone, Lingchi or death by a thousand cuts followed for BB. There were glimmers of hope for BB along the way. But ultimately, promising new devices and more recently the company's pivot from hardware into software for endpoint security, the automotive industry, or Internet of Things (IoT) applications and aimed at restoring growth have yet to bear fruit.
BB Stock Weekly Price Chart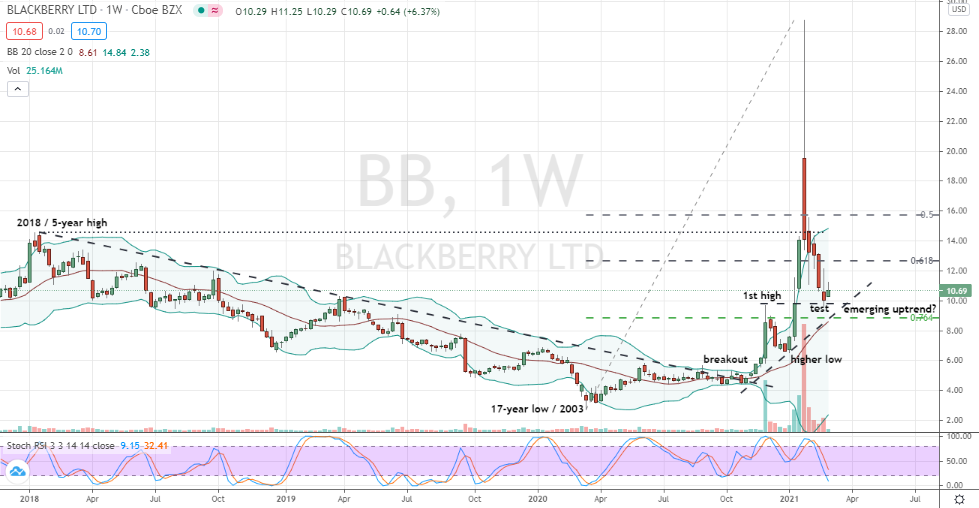 Source:
Charts by TradingView
Not all bulls have given up the ghost in BB stock. More than a few of my colleagues at InvestorPlace see Blackberry's long-game into software as one which will pay off. One key tailwind appears to be the company's partnership with Amazon (NASDAQ:AMZN) to create technology for connected vehicles. It could take years. Still, as a forward-looking price mechanism, today's price chart does support the idea bullish BB investors may have a leg to stand on.
Technically, the provided weekly chart of BB reveals the deep correction of the past month could be shaping up as a candlestick pivot low within an emerging uptrend. As it stands, shares are in a testing position of key price, trendline and Fibonacci support from roughly $8.75 to $9.75. At the same time, stochastics is entering oversold territory, but still pointing down with no indication of flattening.
Bottom-line and to make a buy decision in Blackberry an arguably stronger one to defend, I'd like to see a confirmed weekly pattern low, alongside a bullish crossover signal from stochastics. When and if that day does arrive and given BB stock's disappointing track record, an intermediate-term, "show-me-the-money!" out-of-the-money bull call spread would be the favored approach for taking on reduced, ironclad, and well-constructed exposure in Blackberry.
On the date of publication, Chris Tyler does not hold, directly or indirectly, any positions in securities mentioned in this article.
Chris Tyler is a former floor-based, derivatives market maker on the American and Pacific exchanges. The information offered is based on his professional experience but strictly intended for educational purposes only. Any use of this information is 100% the responsibility of the individual. For additional market insights and related musings, follow Chris on Twitter @Options_CAT and StockTwits.