A rising market tide hasn't lifted all stocks. And among that sinking investment cargo is Castor Maritime (NASDAQ:CTRM). But is now a good time to buy CTRM stock when others are jumping ship?
Let's take a look at what's been happening off and on the price chart, then offer a risk-adjusted determination meant to keep investors afloat.
Doomed for Failure?
GameStop (NYSE:GME). Churchill Capital (NYSE:CCIV). Virgin Galactic (NYSE:SPCE). Riot Blockchain (NASDAQ:RIOT). In hindsight it's easy to condemn much of 2021's out-the-gate investment schemes driven by aggressive Reddit and Robinhood traders as doomed for failure.
And for the most part, much of it has worked out that way, including for CTRM stock bulls.
From over-the-top short squeezes, high-octane SPACs or crypto miners soaring by leaps and bounds past a raging bull in Bitcoin (CCC:BTC-USD) or Ethereum (CCC:ETH-USD), extraordinary gains have turned into unremarkable, but painful lessons of payback.
Amid those thematic trades, more than a few low-priced, smaller capitalization stocks were also in on the action. Sundial Growers (NASDAQ:SNDL). Atossa Therapeutics (NASDAQ:ATOS). Zomedica (NYSEARCA:ZOM). American Resources (NASDAQ:AREC). And among those lowly-ranks is Castor Maritime.
A Look at CTRM Stock
On the surface and away from a submerged CTRM stock chart, Castor Maritime is engaged in dry bulk seaborne transportation. From iron ore to steel, fertilizers, cement, scrap metals, sugar and the likes, Castor will move it from one shore to another for the right price. And in a low but rising rate environment where inflation is becoming a thing, CTRM is seemingly in the right place at the right time. But is it?
On occasion there comes a point where taking advantage of one's good fortune, looks a good deal more like taking advantage of others. This appears to be the worrisome situation in CTRM where multiple secondaries have abusively increased the company's share count by a staggering 580% since the end of 2020.
And CTRM stock bulls are paying the price.
Tapping the markets to raise capital for the right reasons often is a good thing after getting past Wall Street's common "share dilution" panic attack. But Castor's continued feeding from that trough, and its CEO's potential misaligned incentives at the cost of shareholders, are enough to heed going down with a more permanent sinking of CTRM stock.
CTRM Daily Chart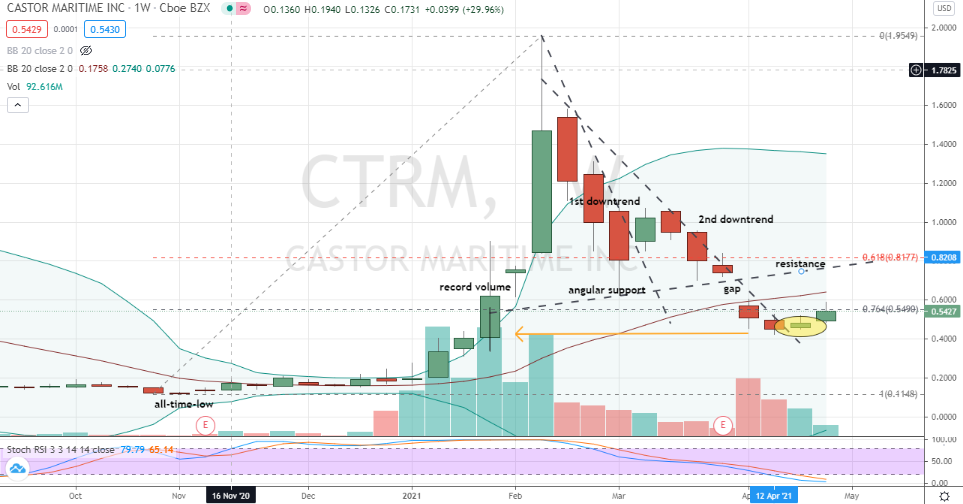 Source:
Charts by TradingView
Getting in on the ground floor or aboard the next Apple (NASDAQ:AAPL) or Tesla (NASDAQ:TSLA) is the dream of any investor. And that's regardless of one's orientation of where value lies. But CTRM isn't going to excite either value or growth investors.
Moreover, Castor is simply one of those more speculative investments in the broader universe of risk assets and not a company to get overly-excited about. Sorry.
If there's any good news, and for more today's more active and carefree traders, CTRM stock's price chart may prove marginally capable of some upside. Just don't hold your breath for new highs to emerge.
Technically, CTRM stock has broken a downtrend line from its February high of $1.95 and confirmed a pair of bottoming candlesticks on the weekly price chart. The fully-developed pattern also held a key candlestick from late January as shares hit relative highs of 56 cents on record-breaking volume of nearly 775 million.
Avoid Misplaced Hope With CTRM Stock
Coupled with a stochastics indicator in oversold territory, a bullish crossover could help propel CTRM shares to rally. How much higher?
The observation is 75 to 85 cents in CTRM would be a target for profit-taking and likely area for pattern resistance to be confirmed. I'll leave Castor Maritime's upside prospects at that. But if that's the kind of trade that still floats your boat, I'll leave you with, "bon voyage" and the message to keep CTRM's risk capital tethered to the chart rather than likely misplaced hope for something more.
On the date of publication, Chris Tyler holds, directly or indirectly, positions in Grayscale Bitcoin Trust (GBTC), Grayscale Ethereum (ETHE and ETCG), but no other securities mentioned in this article.
Chris Tyler is a former floor-based, derivatives market maker on the American and Pacific exchanges. The information offered is based on his professional experience but strictly intended for educational purposes only. Any use of this information is 100% the responsibility of the individual. For additional market insights and related musings, follow Chris on Twitter @Options_CAT and StockTwits.
On Penny Stocks and Low-Volume Stocks: With only the rarest exceptions, InvestorPlace does not publish commentary about companies that have a market cap of less than $100 million or trade less than 100,000 shares each day. That's because these "penny stocks" are frequently the playground for scam artists and market manipulators. If we ever do publish commentary on a low-volume stock that may be affected by our commentary, we demand that InvestorPlace.com's writers disclose this fact and warn readers of the risks.
Read More: Penny Stocks – How to Profit Without Getting Scammed