It hasn't benefited from the novel coronavirus. It's even kinda, sorta failed to be part of a recent and more defensive rotation on Wall Street. But when it comes to today's General Electric (NYSE:GE), shares may be ready to bring more good things to life for bullish investors. Let's examine what's happening in GE stock both off and on the price chart, then offer a well-aligned, risk-adjusted way to position more smartly.
General Electric. Unlike technology outfits such as Amazon (NASDAQ:AMZN) or Zoom Video (NASDAQ:ZM), which profited from the pandemic and made life easier for their shareholders, GE can make no such claim. AMZN and ZM shares are up 48% and 88% respectively above their pre-coronavirus February highs. Of course, each of those champion investments are up even more from their ubiquitous late March bear market lows just over one year ago.
By comparison, GE stock is just barely above its February 2020 pre-Covid peak. It's up about 2%. In fairness, that wasn't much of a peak, either. Shares were already 55% removed from their relative post financial crisis high set in late 2016. It kinda, sorta gets worse though, too.
Shareholder Suffering
Adding more insult to General Electric's shareholder woes, as a former widows and orphans stock and last original blue-chip investment to be axed from the Dow Jones Industrials, more recently the diversified conglomerate has barely participated in that bellwether's leadership.
A rotation into value and defensive-oriented investments over the past month saw the Dow jump nearly 7% to all-time-highs on the backs of Caterpillar (NYSE:CAT), Honeywell (NYSE:HON), 3M (NYSE:MMM) and others. But the relative and absolute strength failed to make a real impression on GE investors. Shares of General Electric mustered up a much cooler monthly gain of 4.78% while finishing in an indecisive doji pattern and matchy-matchy tie with last February's pre-Covid high.
What's been laid out may hint of a stock that's permanently lost its way. But in fact, nothing could be further from the truth. Some investors less interested in income and slightly irrelevant comparisons are already up nearly 150% from GE's delayed May 2020 take-off adversely impacted by one-time, troubled aerospace giant and customer Boeing (NYSE:BA). And conditions continue to look up for General Electric.
Infrastructure Plan Impact
Today, there are continued recoveries in the GE's key aviation and healthcare businesses. These are setting up the company's transformation into one owning long-term, profitable growth. And toward that end, the Biden administration's massive infrastructure plan may also help reinforce General Electric's balance sheet and income statements.
The country's infrastructure overhaul proposal, one widely viewed as a platform for clean energy initiatives, could further lift GE's turnaround. GE's wind turbine investments have been a sizable priority for the outfit under CEO Larry Culp. And the company's renewable energy business is expected to post mid-single, digit revenue growth for 2021. Pop the champagne and watch out Siemens (OTCMKTS:SIEGY) or Vestas Wind Systems (OTCMKTS:VWDRY)!! OK, not quite.
In walking or inching down the aisle toward the "multi-trillion dollar far left wish list", GE's brand of renewable energy prowess isn't exactly disruptive growth like you might find under the hood of Tesla (NASDAQ:TSLA) shares. And some analysts are skeptical of even those more modest gains playing out regardless of a tailwind from government-driven infrastructure spend. Still and while it may not be a bullet train, GE stock is on track to continue chugging along.
GE Stock Monthly Price Chart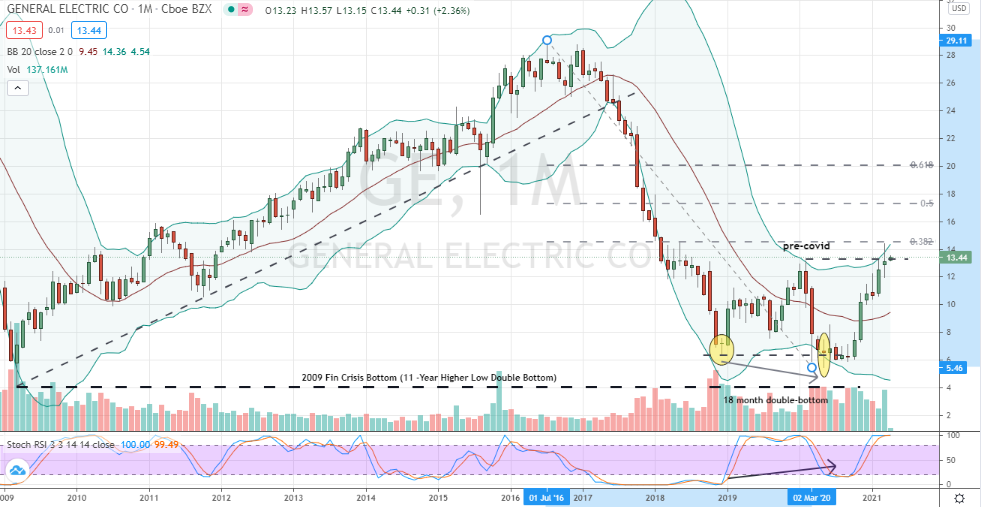 Source:
Charts by TradingView
"All aboard!!??" Technically and as the GE stock monthly chart attests, there's probably little chance shares are going to become out of reach overnight. For one, General Electric remains beneath its 38% level after last month's challenge of resistance. Also and in a name not known for momentum, stochastics are in overbought territory.
Still and optimistically, Wall Street is a fickle place where sentiment can and often does change. Further and with earnings later this month, a disruptive shift in crowd psychology to enhance a breakout and rally toward untested retracement levels near $17.50 or even $20 over the next couple to few months looks possible.
Bottom line though, and in case the GE choo-choo train simply doesn't disembark, a June $13/$17 collar combination on GE stock looks well-positioned to bring better things to life in investors trading accounts, irrespective of the price chart's next monthly stop.
On the date of publication, Chris Tyler does not hold, directly or indirectly, positions in any securities mentioned in this article.
Chris Tyler is a former floor-based, derivatives market maker on the American and Pacific exchanges. The information offered is based on his professional experience but strictly intended for educational purposes only. Any use of this information is 100% the responsibility of the individual. For additional market insights and related musings, follow Chris on Twitter @Options_CAT and StockTwits.