After veering off course Nio (NYSE:NIO) is showing positive signs of being able to turn the corner for investors. Let's look at recent developments in NIO stock, then offer a well-aligned, risk-adjusted way to hope on board a more bullish trend, while avoiding further crash test dummy challenges.
It's been a tough 2021 for large-cap Shanghai-based EV and battery play Nio as its stock decline of roughly 18.50% attests. Want more of a stress test? At its low of $31.91 this past month NIO gave back just over 50% of its yearlong rally off its pandemic bottom.
The good news? It would be hard to ignore this year's challenging environment follows 2020's near 1,200% surge in NIO stock and even larger gains from the outfit's low of $2.50 a share set last March. Appreciatively, Nio's challenging stock performance is also far from unique and not company-specific. Roku (NASDAQ:ROKU). Enphase (NASDAQ:ENPH). Teladoc (NYSE:TDOC) or EV giant Tesla (NASDAQ:TSLA). They're but a handful of tech stocks that have felt similar pinching price action in recent weeks.
A sweeping rotation from higher multiple growth stocks into cyclical, value stocks Honeywell (NYSE:HON), Caterpillar (NYSE:CAT) and others has pressured the tech-heavy Nasdaq into a full-blown price correction it's still struggling with, while the likes of the blue-chip bellwether Dow Jones Industrial has rallied to new highs in three of the last four weeks.
But the stock may be readying to take over the pole position for bulls once more. Unlike some of its broader peer group, today's Nio is now offering a combination of catalysts which should act to drive shares higher in the coming weeks and months.
Delivery Data
Off the price chart and immediately in front of the three-day Easter holiday, Nio announced its March and quarterly deliveries data. And similar to recent months, the numbers were terrific. Despite fears of a global chip shortage impacting production, a bullishly strong trend remains intact.
By the numbers, the EV outfit revealed a 30% month-over-month increase on deliveries that reached 7,257 vehicles in March. The increase also represents a 373% jump from the year-ago period. At the same time, quarterly deliveries of 20,060 units rose 423% from 2020 and grew by 16% over the prior quarter.
Coupled with NIO stock's selloff, a thorough tire kicking of the data from InvestorPlace's Mark Hake estimates minimum upside of about 15% based on Monday's intraday market price of $39.50. And a fair value averaged forecast nearing $59 a share implies a gain of nearly 49% over the next year.
Could it get even better for Nio shareholders? Maybe. Trademark registration filed for a new high-end supercar called the EF9, which reaffirms the company's commitment to beating back the competition, and an almost fully-charged price chart could be the kind of stuff to throttle NIO toward Mark's fully-charged estimate of $72.04 a share.
NIO Stock Weekly Price Chart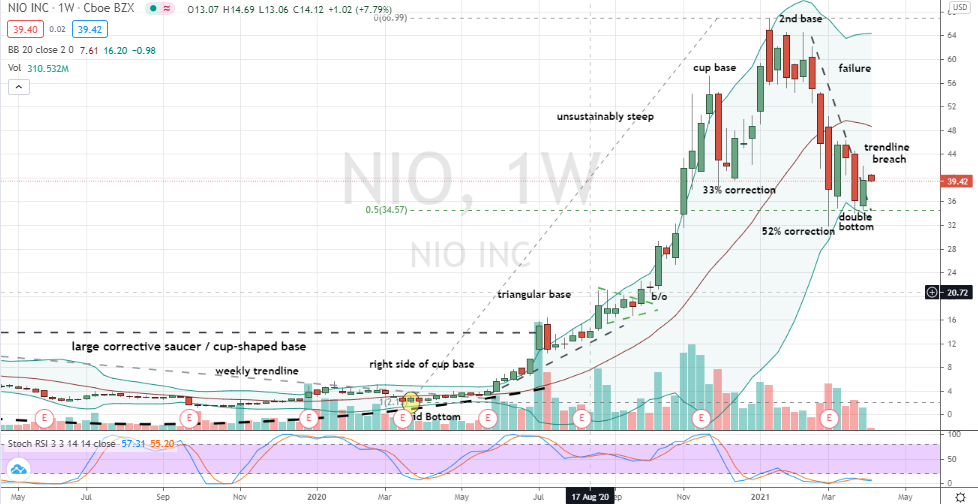 Source:
Charts by TradingView
Corrections like the one in NIO stock are challenging as they happen in real-time. But most often they also prove healthy longer term. Ultimately, the deeper value price action can act as a well-positioned catalyst for a new bullish cycle to emerge. And increasingly, this appears to be the case in shares of Nio.
Technically, Nio's corrective low from one month ago has given way to four weeks of inside candlestick trading activity. Supported by NIO's 50% retracement level, there's obvious reason to be upbeat. But there's more too.
NIO's price consolidation has raised the possibility of an intermediate low with the trading activity taking the shape of a bullish double bottom. And with last week's inside candlestick also managing to close above downtrend resistance, more and more, the weekly chart is favoring a larger rally as being in-the-works.
The Strategy
Today and classically, a pattern-driven buy would occur if shares can clear last week's inside candlestick high of $42.06 to confirm the double bottom's second pivot low. Investors may also wish to validate a purchase decision with a bullish stochastics crossover. Currently, the secondary indicator is oversold but bearishly aligned.
For investors that do elect to go that route, an adaptable and fully-hedged strategy such as the May $38 put/$50 call collar is a great way to safely ride a new bullish trend, while largely avoiding potential crash test dummy challenges down the road.
On the date of publication, Chris Tyler held, directly or indirectly, positions in Nio (NIO) and their derivatives, but no other securities mentioned in this article.
Chris Tyler is a former floor-based, derivatives market maker on the American and Pacific exchanges. The information offered is based on his professional experience but strictly intended for educational purposes only. Any use of this information is 100% the responsibility of the individual. For additional market insights and related musings, follow Chris on Twitter @Options_CAT and StockTwits.