If you thought Wall Street was craving a hot stock market, it doesn't hold a candle to the crypto market's Ethereum (CCC:ETH-USD). But is ETH still a good purchase? Let's take a look at what's happening in ETH both off and on the price chart, then offer a risk-adjusted determination aligned with those findings.
The Dow Jones just finished another strong week. Buoyed by strong weekly gains in constituents Caterpillar (NYSE:CAT), Nike (NYSE:NKE), Home Depot (NYSE:HD) and others, the blue-chip average jumped more than 2.50%.
The Dow posted record highs while seeing its year-to-date return grow by more than 13%. To say the least, the performance is historically impressive. But not compared to what the market for Ethereum has been up to in 2021.
Ethereum Makes a Shift
Ethereum or ETH for shorthand. It's been called the world's computer of digital assets. It's largely played the role of second banana to Bitcoin's (CCC:BTC-USD) popularity during the crypto bubble a few years back.
But in 2021, there's been a disruptive shift within this emerging market that's helping ETH take on newfound significance with investors of all kinds.
In recent weeks and while BTC has largely languished, Ethereum exploded higher. The price of ETH surged more than 90% over the last month to record highs and jumped 460% in 2021. By comparison, BTC is up just 3.60% in the past 30 days and flirting with a return of 100% on the year.
And not to complicate matters, Ethereum Classic is up more than 250% in just one month's time and more than 2,000 in 2021!
So, what gives? Part of investors' newfound enthusiasm for ETH is its decentralized finance or (DeFi) applications. While not unique to Ethereum, outspoken billionaire and Mavericks owner Mark Cuban thinks its blockchain technology has the strongest functionality. And if the street savvy businessman is correct once more, eventually, Ethereum's smart contracts should overshadow Bitcoin's use.
The Rise of NFTs
But another part of the token's relative strength that can't be overlooked is a fast-growing twist on ETH's technology used to create one-of-a-kind non-fungible tokens or NFTs.
NFTs? Think of NFTs as unique, digital properties comprised of video, audio and other files stored on the Ethereum's digital-ledger technology. It's akin to digital art. And as NFT's gain popularity, the more Ether tokens are in demand. More importantly, understand that some NFTs have already changed hands, digitally of course, for tens of millions of dollars.
Bottom line, major players from the NBA are hawking digital trading cards. Meanwhile, eBay (NASDAQ:EBAY) is looking to cash in on this trend. And the New York Stock Exchange creating NFTs celebrating historic debuts. These include Spotify (NYSE:SPOT), the market's first-ever direct listing, or this past year's prominent DoorDash (NYSE:DASH) IPO. The reverberations, more than Opening Bell ceremonies, sound long-lasting.
Weekly Price Chart of an Ethereum Proxy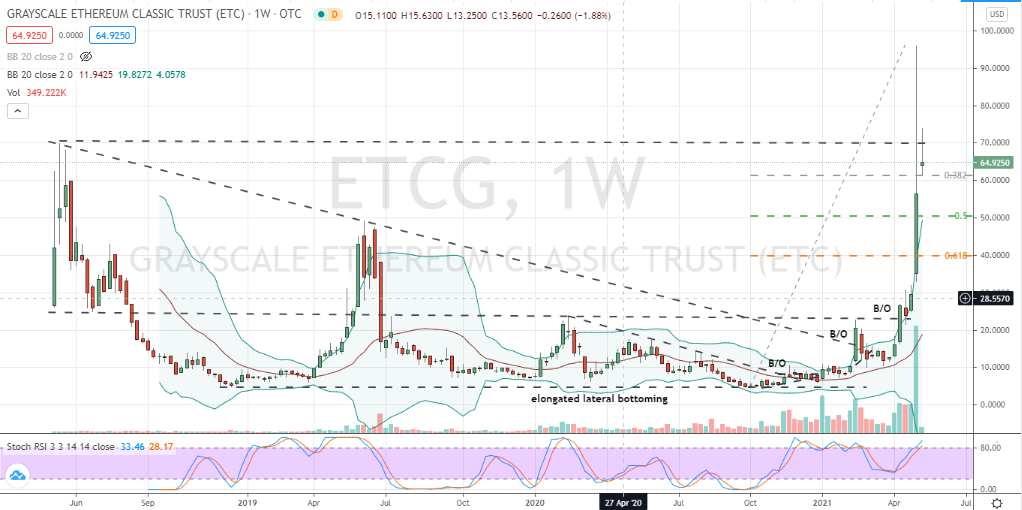 Source:
Charts by TradingView
Hoop dreams or slam dunk? One listed spot where Ethereum's ups and downs can be viewed and traded in regular brokerage accounts is Grayscale Ethereum Classic Trust (OTCMKTS:ETCG). And over the past month, it's become the de-facto leader within the ETH market with a gain of 300%.
But today that move comes with elevated risk.
To state the obvious, investors are interested in ETH and even more so in ETCG of late. Technically and in the short-term at least, the ultra-volatile price action has put shares in a dicey position despite a hard-hitting violent price reversal to finish the week.
This past Friday, the ETH proxy plummeted 37%. The dramatic selloff took shares into a test of ETCG's 50% retracement level tied to a bottom from October and for all intents and purposes, it's all-time-low.
Bulls Counterattack
Monday has seen a counterattack by bulls with a gap bid of about 15% that's mostly wedged in-between ETCG's prior bubble high and 38% Fibonacci support. But I wouldn't be so quick to think or see the worst as being over.
The odds are today's bid is mostly faster money operators trying to cash in on bargain-hunting. But given shares of ETH play remain well-above its weekly Bollinger Band and stochastics has entered overbought territory, I'd be inclined to wait for additional testing and for ETCG's extreme secondary conditions to cool off further before making a play on this Ethereum stock.
On the date of publication, Chris Tyler holds, directly or indirectly, positions in Grayscale Bitcoin Trust (GBTC) and Grayscale Ethereum Trust (ETHE), but no other securities mentioned in this article.
Chris Tyler is a former floor-based, derivatives market maker on the American and Pacific exchanges. The information offered is based on his professional experience but strictly intended for educational purposes only. Any use of this information is 100% the responsibility of the individual. For additional market insights and related musings, follow Chris on Twitter @Options_CAT and StockTwits.