Semiconductor shortage!! We've all heard about it. But when it comes to three of today's largest and most influential semiconductor stocks, there's no shortage of diversified trade ideas taking shape on the price chart, along with well-placed option strategies, to make bulls, bears and momentum-driven Redditors happy. Let me explain.
It's headline news in 2021. And there's good reason. Semiconductors may not be in the air we breathe, but they're everywhere else in today's digital world. From our treasured Apple (NASDAQ:AAPL) iPhones to the Tesla (NASDAQ:TSLA) in your driveway, semiconductors are critical to our latest consumer technologies. But it doesn't stop there.
Semiconductors are key to the factories which build those products, the grid systems that power them and our wired smart homes whose doors would otherwise remain locked. Semiconductors are even in June and Ward Cleaver products such as toothbrushes and toasters. They are everywhere.
In short, we're heavily reliant on semiconductors of all kinds, to make what's taken for granted, possible.
Today, it's also no secret supply chain issues tied to the pandemic, as well as global trade sanctions have put a bit of monkey wrench, semiconductor-powered of course, into the availability and cost of, quite simply, living as we know it.
When it comes to the stock market though, the semiconductor story is playing out a bit differently on our price charts. And quite arguably, the big picture for three of the market's largest semiconductor stocks shows there's no shortage of ideas to keep bulls, bears and even today's popularized momentum crowd profitably satisfied.
Semiconductor Stocks: Advanced Micro Devices (AMD)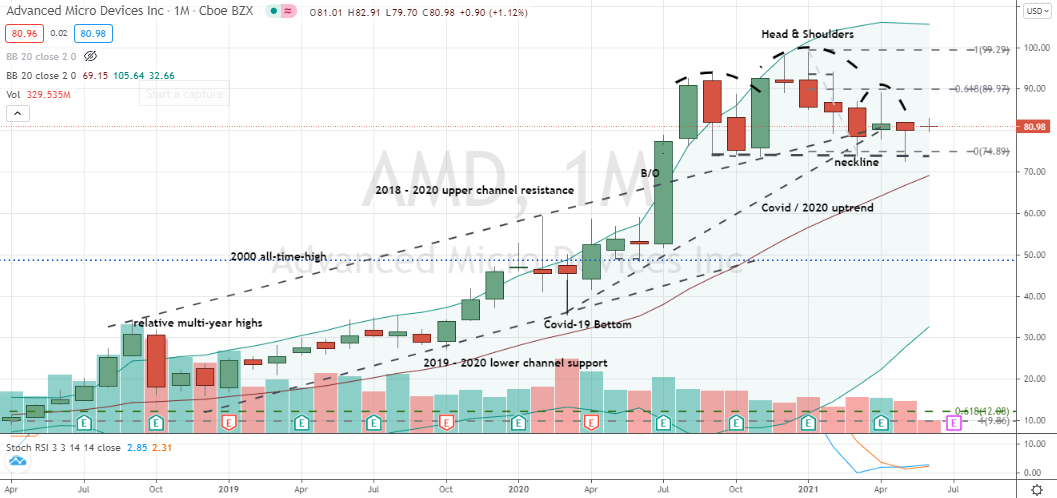 Source: Charts by TradingView
The first of our semiconductor stocks to trade are shares of Advanced Micro Devices. And today, following an ominous encounter with a bearish head-and-shoulders topping pattern on the monthly price chart, AMD stock is a buy.
By the numbers, AMD's bearish tryst has set the stock back by about 12% in 2021. The performance also pales on both a relative and absolute basis to the VanEck Vectors Semiconductor ETF (NASDAQ:SMH) which has added nearly 16% this year. It sounds and even looked really bad for this semiconductor stock not too long ago. But not anymore.
Technically and instead of a gloomy June furthering the bear's wrath on the AMD stock chart, the month has established a promising bullish pattern-busting spot to go long.
Specifically, a failure in May to break neckline support instead formed a bullish monthly hammer candle. And today the price action has improved with a stochastics crossover in oversold territory and bullish candlestick confirmation.
Pattern failures can be extremely powerful opportunities. The expectation is for a full-blown right shoulder failure in the coming weeks. And from there, new all-time-highs later this year would be easily attainable. Given the bullish assessment and size of the head-and-shoulders, the December $90/$105 bull call spread is one favored way to better protect and serve investors' trading accounts.
Intel (INTC)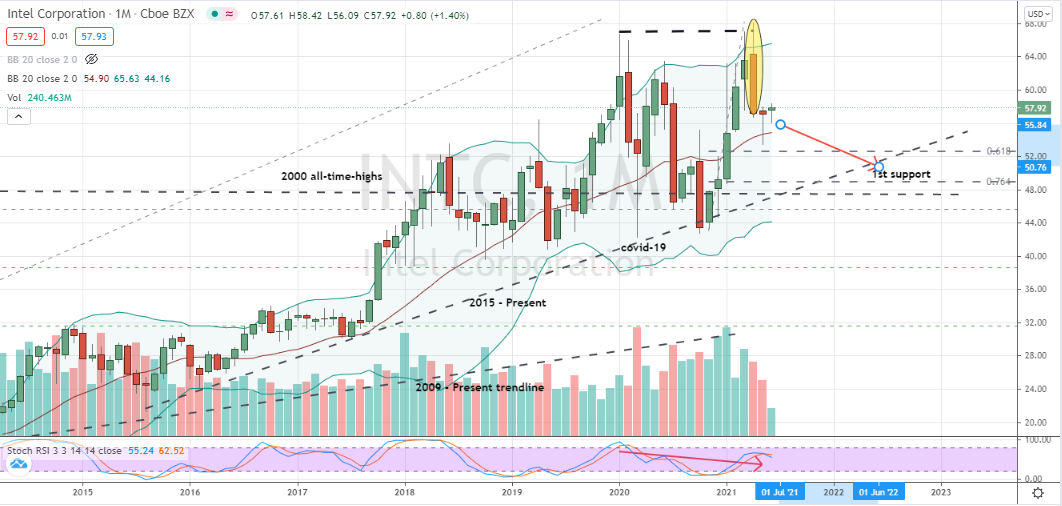 Source: Charts by TradingView
Intel is the next of our semiconductor stocks to trade. Unlike AMD stock though, Intel's index-trending 16% year-to-date gain appears in jeopardy of failing on an absolute and relative basis.
Technically, the observation is this chip stock's double top pattern hasn't finished with its bearish business. As much, INTC stock also looks like a bearish short.
To be fair and quite similar to Advance Micro, shares have formed a near identical two candlestick bottoming configuration. Unlike AMD though, which failed to break its neckline, I'm keen on respecting INTC's bearish May pattern confirmation, backed by an alarming stochastics setup in neutral territory.
This semiconductor stock is a short. However, to play the part of a smarter bear, I'd suggest a September $55/$52.50 bear put spread to fully appreciate a price correction in INTC stock toward price and Fibonacci support from roughly $47.50 to $52.50 a share.
Semiconductor Stocks: Nvidia (NVDA)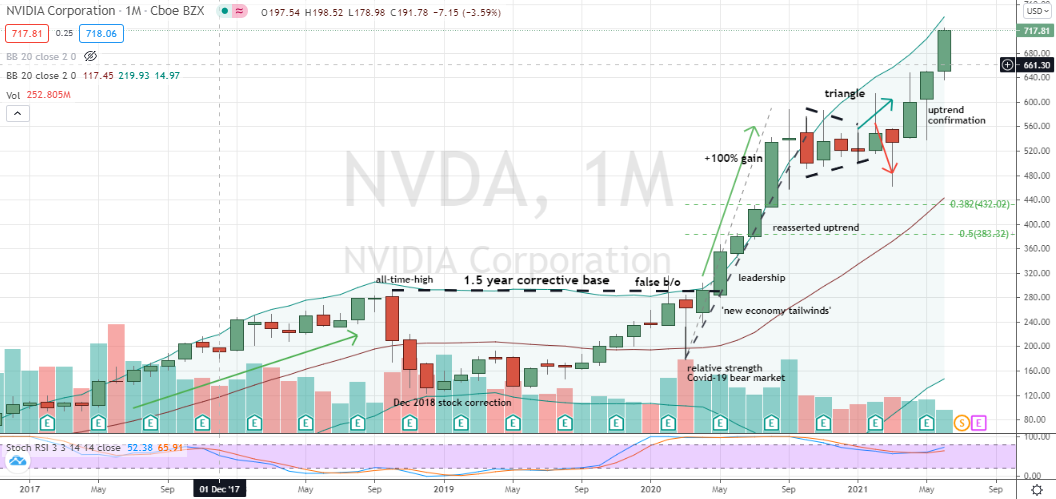 Source: Charts by TradingView
The last of our semiconductor stocks to trade is Nvidia. What can you say about the Nasdaq's most valuable chip play? If nothing else, it's that the price momentum responsible for adding nearly 37% in 2021 and ballooning NVDA stock's valuation to $450 billion isn't finished. And that makes Nvidia a buy today.
Technically, this semi has been painting the tape green for a third straight month. Shares are hitting record highs after a "gotcha" pattern above and below triangle support took both bulls and bears for unprofitable thrill rides. Today is a different story though.
Right now thrill seekers have every reason to buckle up for more upside with stochastics bullishly crossing over in neutral territory. And bottom line, NVDA's squiggly price line should make even Redditors typically focused on short-squeeze plays like AMC (NYSE:AMC) or cryptos such as Dogecoin (CCC:DOGE-USD) take notice.
To position for continued momentum in this semiconductor stock, I'd simply and smartly go with buying into NVDA's price strength with an August $730/$790 bull call spread.
On the date of publication, Chris Tyler holds (either directly or indirectly) long positions in Advanced Micro Devices (AMD) and its derivatives. The opinions expressed in this article are those of the writer, subject to the InvestorPlace.com Publishing Guidelines.
Chris Tyler is a former floor-based, derivatives market maker on the American and Pacific exchanges. For additional market insights and related musings, follow Chris on Twitter @Options_CAT and StockTwits.