It's September and a time when trimming portfolio exposure or taking on a bearish short or two has historically proven a decent strategy. And if you're wondering whether that tradition might persist in 2021, here are three large-cap tech stocks with price charts insisting history can repeat.
If you're invested in the stock market, this past quarter likely put a smile on your face. Well, if that risk allocation is tied to the one measured in the trillions upon trillions of dollars in companies we trust and rely upon for all our essential and non-essential goods and services and irrespective of the novel coronavirus.
You know who I'm talking about. Apple (NASDAQ:AAPL). Amazon (NASDAQ:AMZN). Tesla (NASDAQ:TSLA) and a host of other large-cap tech influencers.
And led by the Nasdaq's near 11% return for the period with many of those same constituent large-cap tech stocks helping propel the index to record highs – the market has continued to treat investors to a period of excessive positive returns since bottoming in March 2020.
Amid the Roaring Twenties festivities still largely playing out today though, there are signs of something else brewing.
Let's look at the price charts of three prominent large-cap tech stocks warning a fairly common seasonal correction could be lurking nearby and worth protecting against today.
Large-Cap Tech Stocks to Sell: Shopify (SHOP)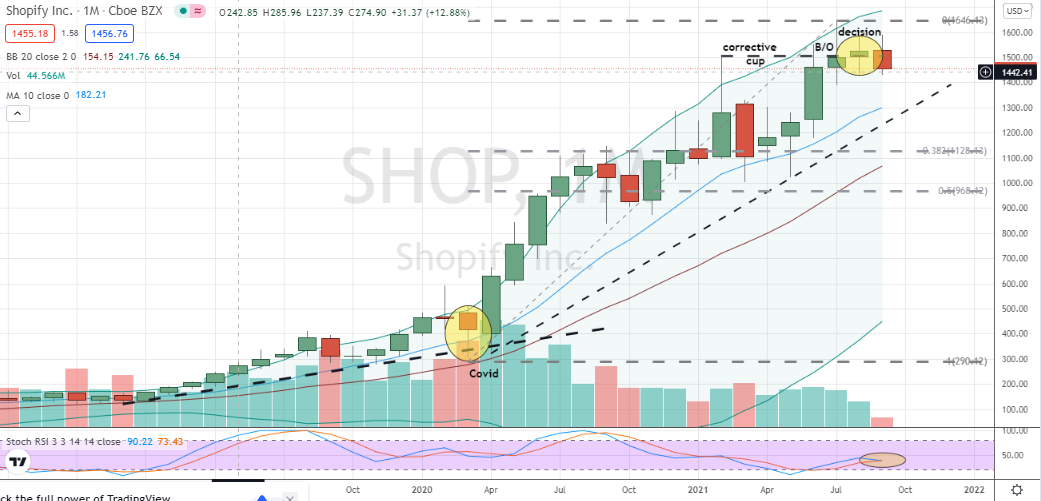 Source: Charts by TradingView
The first of our large-cap tech stocks to sell are shares of Shopify. The merchant e-commerce platform has been a darling of Wall Street, but it's looking like a great time both off and on the price chart to exit.
Items such as SHOP stock selling investors on its $181 billion valuation, forward price multiple of 278 and sales ratio of nearly 49x Shopify's market price are certain proof that now is a good time to reduce exposure to this large-cap tech stock.
There's also a topping pattern following a rally of more than 330% since Covid's March bear market low that's caught our eye.
Technically, this large-cap tech stock to sell has put together a monthly cup breakout during June and July. But the classic base failed to live up to its bullish reputation. Instead, shares retreated into a doji decision candle formed around the cup's high.
Worse and today, shares are faltering further. In September's first half SHOP stock has formed a weak inside candlestick.
With stochastics ominously on the cusp of a bearish crossover in neutral territory, a correction and perhaps a larger bear market cycle towards trendline or Fibonacci support appears increasingly likely for this large-cap tech stock to sell.
Nvidia (NVDA)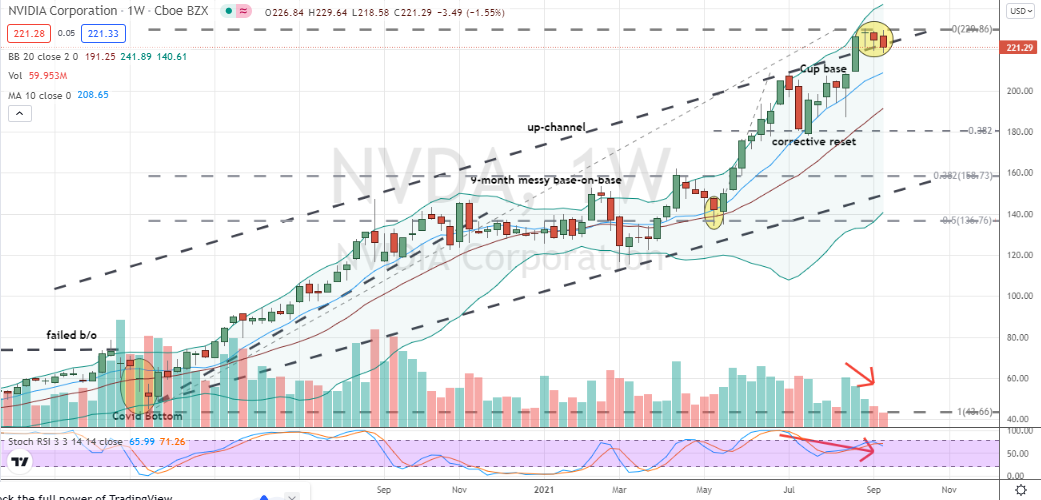 Source: Charts by TradingView
The next of our large-cap tech stocks to sell is Nvidia. The semiconductor giant is a sacred cow on Wall Street these days, but it's high time to trim the fat, lock in profits or even short NVDA stock.
Similar to Shopify, NVDA's valuation in excess of $550 billion combined with a fairly stiff forward P/E of 55 and market price fetching 25x sales are features warning of too many bullish chefs in the kitchen.
The provided weekly chart shows a confirmed two-candlestick reversal pattern on the heels of a cup base breakout which also cleared channel resistance. That's the good news. So is the fact those bullish investors are still in-the-money. But don't be stingy.
Also detailed, volume and stochastics failed to support the bullish price action and along with NVDA's princely pricing, the advice to sell when others are greedy makes sense.
Bottom line, today's NVDA looks like a large-cap tech stock prone to giving investors more than just a reason to pause for a couple daily or weekly candlesticks.
Large-Cap Tech Stocks to Sell: Alibaba (BABA)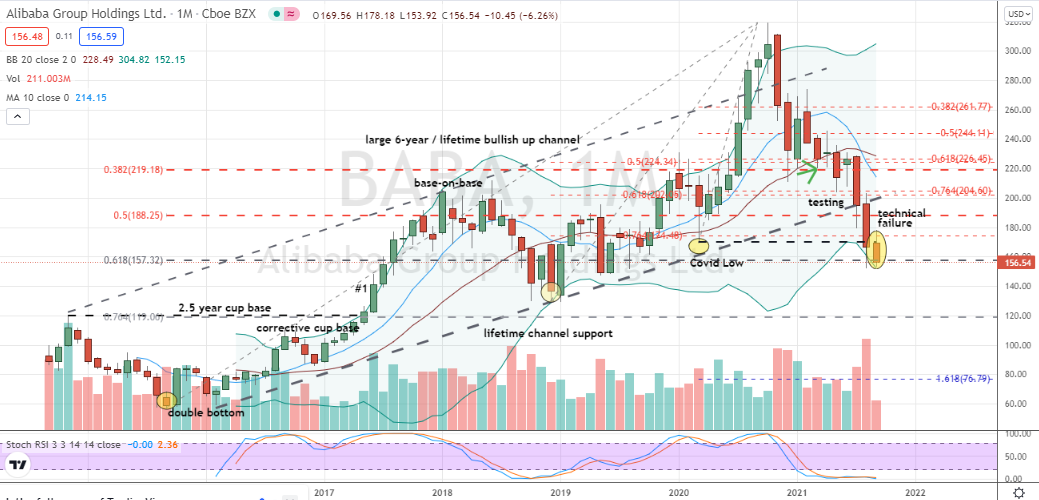 Source: Charts by TradingView
The last of our large-cap tech stocks to sell are shares of Alibaba. It's no secret China's version of Amazon has been under pressure this year.
BABA investors have struggled with U.S. delisting worries, as well as Chinese regulators ongoing witch hunt against tech companies perceived as threats to national security. OK, so what's new, right?
In the case against BABA and assisting in the stock's relative and absolute underperformance, there's also founder Jack Ma's outspoken and disrespectful dialogue against authorities.
Today and as much as we'd like to embrace clemency for this large-cap stock to sell, it would be without paying respect to BABA stock's bearish price chart.
Despite a significant year-to-date loss of 33% and appearance of fundamental value, a failure of lifetime trendline support, multiple Fibonacci layers and BABA's Covid bear market low, are warning this large-cap tech stock is still one to sell.
Currently, shares of Alibaba have formed an inside candlestick in September set on top of the stock's lifetime 62% level.
For positioning, I'd play this large-cap tech stock with a pattern short entry below $152.80, use a trailing stop-loss of 13% and begin taking profits if a downside objective of $100 to $120 comes into play first over the next few to several months.
On the date of publication, Chris Tyler did not have (either directly or indirectly) any positions in the securities mentioned in this article. The opinions expressed in this article are those of the writer, subject to the InvestorPlace.com Publishing Guidelines.
Chris Tyler is a former floor-based, derivatives market maker on the American and Pacific exchanges. For additional market insights and related musings, follow Chris on Twitter @Options_CAT and StockTwits.