This article is excerpted from Tom Yeung's Moonshot Investor newsletter. To make sure you don't miss any of Tom's potential 100x picks, subscribe to his mailing list here.
Prediction Countdown to 2022
As promised, we're back with the other winning topic from last week's reader poll:
3 Predictions for the Crypto Market in 2022
But before we jump in, let's make a deal.
Unlike the folks at J.P. Morgan (NYSE:JPM) and other crypto outfits, I'm not going to try dazzling you with Bitcoin (CCC:BTC-USD) price targets that I can't guarantee. Anyone can say BTC is going to $250,000, but who actually invests based on fingers-in-the-air predictions?
Instead, I'm going to give you three actionable predictions for 2022 that are grounded in reality. Regular Moonshot readers will know my 2021 picks — with the notable exception of Internet Computer (CCC:ICP-USD) — have outperformed because I favor coins with either 1) real-world value or 2) major meme potential.
2022 will see more of the same. So instead of guessing whether Bitcoin will go to $250,000… or $2,500… why not pick from among the Dogecoins (CCC:DOGE-USD) and Cardanos (CCC:ADA-USD), the corner of the Crypto Cinematic Universe that made Moonshot's 2021 such a profitable one?
The Predictability of Crypto Markets
On Monday, AABB Gold Token (CCC:AABBG-USD) briefly hit No. 1 on the "top trending" tickers on Stocktwits, a lively online investment forum.
"Stay strong 💪, our time is here," wrote one trader. "The battle to multiple dollars starts now.. get your $AABBG.X coins while you can!"
Moonshot readers might have foreseen AABB's (OTCMKTS:AABB) 70% rise. Here's what I wrote back in September:
"Most of AABB's claims are likely exaggerated. But for Reddit investors seeking a thrill ride, the long-term truth might not matter. When other unknown firms like Hello Pal International (OTCMKTS:HLLPF) can rise 4,500% after announcing cryptocurrency dreams, why wouldn't companies like AABB do the same?"

– Moonshot Investor, September 27
The note proved prescient. AABB continued adding onto its list of red flags, including filing questionable financial returns and making AABBG look like a potential honeypot. But social media investors don't seem to care and have bought anyway.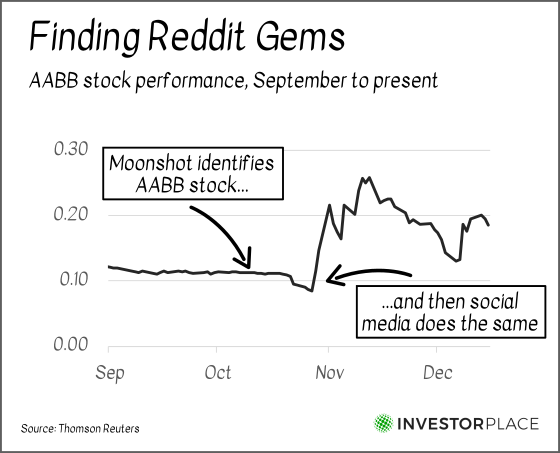 That's because meme investors are a consistent bunch.
January's gains in GameStop (NYSE:GME) would later send other mall retailers like Bed Bath & Beyond (NASDAQ:BBBY) on a tear. And investors who missed out on Dogecoin would eventually find thousands of other "Inu"-themed tokens to trade.
AABBG's rise follows a similar trajectory. People saw penny stocks from Hello Pal to Support.com (NASDAQ:GREE) succeed in crypto and figured AABB would be next.
As we round the corner into 2022, the consistency of meme investors paves the way for similarly useful fortune telling.
3 Predictions for the Stock Market in 2022: Ethereum Wins at Tokenization
In October, I introduced a concept that will shape the next decade:
Tokenization.
It's a maddeningly simple idea. People create digital "tokens" to represent the IRL assets they own, and then trade those digital tokens for money.
But the concept's potential is massive. NFTs have already sent prices of digital art to the moon; talented artists can earn millions for their best pieces. And hard-to-swap assets — from carbon credits to energy futures — could soon change hands via the blockchain.
Now, it's hard to know which tokens will win. In the carbon credit space, CO2, UPCO2 and MintCarbon are all competing for the same prize, but all three could wind up losing anyway.
However, I can tell you one cryptocurrency that's sure to be a winner:
Ethereum (CCC:ETH-USD).
The "picks and shovels" play of tokenization now supports 97% of all NFT transactions, according to Cointelegraph Research. That includes all three of the carbon credit tokens mentioned, as well as a half-million other contracts. It's the reason I named Ethereum my top Crypto for 2021 in InvestorPlace's "If You Could Only Buy One" series. Ethereum prices have since risen 7x faster than Bitcoin's this year.
As we look towards 2022, Ethereum will continue to succeed.
Firstly, ETH benefits from a virtuous tokenization cycle. New NFT and token sellers want to find the largest pool of buyers to maximize demand, and therefore choose sites like Rarible and OpenSea, which operate on the Ethereum blockchain. Meanwhile, buyers are attracted to the same communities for their larger selection and the ability to resell goods. That makes Ethereum-based platforms even more attractive to sellers, a self-perpetuating loop.
Secondly, Ethereum is an unusually well-run protocol. Unlike Bitcoin, which gives miners an outsized vote, Ethereum considers the needs of all stakeholders when deciding what changes to pass. The cryptocurrency now looks set to convert to "ETH 2.0," an energy-efficient "Proof of Stake" (PoS) protocol (Bitcoin's miners would never allow a change that essentially cuts them out).
Taken together, that makes Ethereum a tokenization play to buy. NFT and token investors will increasingly use ETH to "park" their cash, making the cryptocurrency more valuable as time goes on.
Prediction 2: Fed Chair Jerome Powell Sends Meme Coins Into a "Taper Tantrum"
In October, I wrote a warning about crypto markets.
"No one rings a bell at the top of the market… America, however, does have someone who looks like a bell-ringer: Fed Chair Jerome Powell. And last Friday, he made his intentions clear: 'I do think it's time to taper.'"

– Moonshot Investor, October 27
Right on schedule, Bitcoin would soon drop a third to $42,000. Meme coins did even worse: if you had invested $10,000 into the top-5 trending coins on CoinMarketCap Oct. 27, your investment would be worth just $5,300 today.
In 2022, the warning bells will ring louder. Cheap knockoffs, from SafeMoon Inu (CCC:SMI-USD) to Baby Doge Coin (CCC:BABYDOGE-USD) will see their collective values shrink, even if the broader market recovers.
I write this not as a crotchety old investor (though I might sound like one), but as one who has seen similar shakeouts during periods of declining liquidity.
Consider the boom-and-bust of the dot-com era. In 1999, there were 1,100 e-commerce companies in the U.S., per the University of Pennsylvania. By 2004, that figure had fallen to 31, even as total online sales grew 3x. No matter how fast a market grows, shrinking liquidity has a knack for driving weak players out of business.
In 2022, meme coins will face a similar existential crisis. On Wednesday, the Fed ended its two-day meeting with clear intentions to wind down its $120 billion per month bond-buying program. And economists now expect three rate hikes in 2022.
In other words, the punch bowl is running dry and the party hosts are flicking the lights. Time to take the hint and drop your holdings of Shiba Inu (CCC:SHIB-USD) and Floki Inu (CCC:FLOKI-USD).
Prediction 3: Crypto.com and Dogecoin Both Make Big Comebacks
Whenever anyone asks me about finding the next Shiba Inu token, I give them the same warning. With over 33,000 cryptos sporting the term "Inu," guessing which one will go 1,000x is much like playing the Powerball lottery.
But I have good news: some meme tokens will survive the Fed's liquidity shakeout.
Crypto.com Coin (CCC:CRO-USD). The native token of Crypto.com has seen a stunning run since I flagged it as a Robinhood replacement. A combination of smart marketing and expanded crypto options has kept the Crypto.com app at the top of the "most downloaded" charts. As 2022 rolls around, CRO's popularity among crypto enthusiasts (particularly those who use its credit card) will keep it at the forefront of people's minds.
Dogecoin. The original meme coin still has no shortage of fans. Earlier this week, Tesla (NASDAQ:TSLA) CEO Elon Musk sent prices up by one-third after announcing that his company could start accepting DOGE. And on Wednesday, a Doge developer successfully minted an NFT on the Dogecoin blockchain.
These coins have two things in common.
First, people like these coins. Despite CRO and DOGE falling 50% and 75% respectively off their peaks, Coinbase still shows two-thirds of holders adding to their positions, buying on the dip rather than cutting their losses.
Second, both coins are generally well-liked because people enjoy holding them. Unlike the Floki Inus and Safemoons (CCC:SAFEMOON-USD) that rely on investor greed, CRO and DOGE investors are more likely to stick around for the smaller rewards they offer (CRO offers 14% staking rewards, and Dogecoin offers… well… the ability to say you own DOGE.)
In 2022, investor love will be more important than ever before. When the tide of financial liquidity eventually goes back out, meme coin investors will only hang onto the most beloved (and useful) coins.
Bottom line: Buy Ethereum (ETH), Crypto.com Coin (CRO) and Dogecoin (DOGE) for 2022 while ignoring meme tokens aiming for the moon.
What's In Store for 2022?
If you can't tell by now, I'm not a fan of absurd Bitcoin price targets, but here are a few:
$250K. VC investor Tim Draper
$560K. ARKK Invest's Cathie Wood
$1M. Kraken CEO Jesse Powell
These assumptions tend to revolve around the thinking, "if all the gold in the world is worth $7.5 trillion, Bitcoin must be worth some fraction (or multiple) of that."
But BTC isn't gold. A study by Morningstar found that long-run Bitcoin returns have more in common with the stock market than they do with inflation-protected assets.
So rather than guess where Bitcoin will be in a year's time, perhaps 2022 should involve a bit more guessing, "which crypto will beat Bitcoin at its own game?"
P.S. Do you want to hear more about cryptocurrencies? Penny stocks? Options? Leave me a note at moonshots@investorplace.com or connect with me on LinkedIn and let me know what you'd like to see.
FREE REPORT: 17 Reddit Penny Stocks to Buy Now
Thomas Yeung is an expert when it comes to finding fast-paced growth opportunities on Reddit. He recommended Dogecoin before it skyrocketed over 8,000%, Ripple before it flew up more than 480% and Cardano before it soared 460%. Now, in a new report, he's naming 17 of his favorite Reddit penny stocks. Claim your FREE COPY here!
On the date of publication, Tom Yeung did not have (either directly or indirectly) any positions in the securities mentioned in this article.
Tom Yeung, CFA, is a registered investment advisor on a mission to bring simplicity to the world of investing.